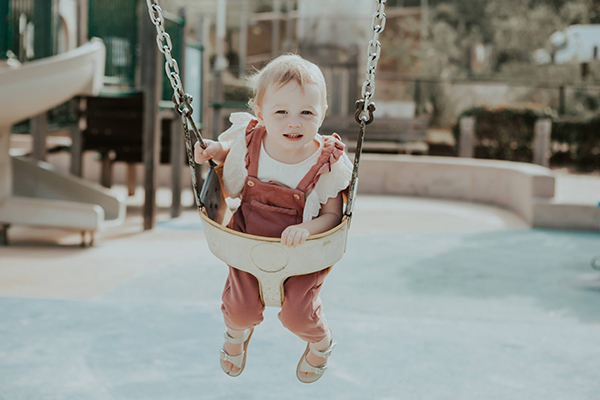 While San Diego does have some epic parks and playgrounds, they can be overwhelming for really little kids (and parents). Smaller, quieter playgrounds, which may be better suited for early walkers and toddlers, are often tucked away in residential neighborhoods, but they're worth the hunt. Here are a few of our family's favorite San Diego playgrounds for the littlest kids—hope you enjoy them as much as we do.
Trolley Barn Park
Normal Heights
If you have children who love to play in the sand, this park is for you. A handful of sand pits are surrounded by small walls, perfect for mom or dad to sit and watch as they play. Trolley Barn Park has a lot of shade thanks to the surrounding palm trees.
The smaller play structure is great for toddlers and early walkers: The stairs are designed so they can't fall through them and slides are just high enough to get apprehensive babies comfortable with sliding. This tends to be a quiet park—locals say it's their best kept secret.
Insider tips:
On your way to Trolley Barn Park, stop at Pop Pie Co. to pick up a savory pie for lunch. Grab a blanket from the car and picnic in the shade.
There are no bathrooms at Trolley Barn Park, so plan accordingly.
NTC Park
Liberty Station
NTC Park is home to not one, but two tot lots. Both are located along the water at Liberty Station, and are equipped with all the essentials to get little ones used to playgrounds. Bucket swings, smaller slides, fun climbing structures that are just the right size—you name it, they have it. Plus, there are opportunities for sensory play; with plenty of sand and rubber flooring, there is lots to discover just by walking around.
Insider tip:
One of San Diego's most mom-friendly fitness companies, Fit4Mom, schedules workouts at this park. It's a great way to meet other mamas and enjoy some playtime together.
Views West Neighborhood Park
Rancho Peñasquitos
Tucked away in the hills of Rancho Peñasquitos is a sweet, colorful, low-key playground at Views West Park. This playground has two play structures, including a tot lot with smaller slides and climbing structures, great for beginning climbers.
Insider tip:
This park is ideal for a first birthday party as it features shaded picnic tables and playgrounds for all ages.
Northmont Park
La Mesa
This brightly decorated, nature-inspired playground invites toddlers to engage with everything around them. From faux ladybugs on the railings to climbable mushroom structures, little ones have plenty to look at and explore through touch.
Insider tip:
Can't find it? Look up for the brightly colored faux flowers—you can't miss them!
Sienna's PlayGarden at Rolling Hills Park
Rancho Peñasquitos
This small play area for toddlers is truly one of a kind. The unique play cottage is perfect for ages 6–23 months and the butterfly climbing ramp gives bigger littles plenty of space to explore. If you have an older child with you, be sure to bring a scooter or bike as this park has a great "trike track" that encircles the playground area—stop signs included!
Insider tip:
This great playground is next to an elementary school, so while it's quiet in the mornings, it may get more crowded when school lets out.
San Dieguito Park (Tot Lot)
Del Mar
This massive county park spans 125 acres, offering hiking trails, sports fields, picnic areas and five separate playgrounds, including a tot lot made specifically for littles learning how to walk and climb in a safe zone. The tunnel and small tube slide are a huge hit! Find the tot lot close to the entrance on Highland Dr.—a short walk from the parking lot.
Insider tips:
The tot lot structure has a woodchip and rubber base, so be sure wear closed-toe shoes.
Bring the baby carrier and hike up Activity Hill for beautiful views.
Powerhouse Park
Del Mar
One of the best and most iconic toddler-friendly playgrounds (located at beachfront Powerhouse Park) is undergoing a full renovation. The sea life play structure is set to be completed and open soon, so keep an eye out.
San Diego mom blogger Sandra Page can be found adventuring on Instagram at @playdatesandpints.
Photo credit: Crystella Photography
Find tons more fun family adventures (local train experiences, parks with natural playgrounds, ocean animal adventures and much more) at www.sandiegofamily.com/things-to-do/out-about.
____________