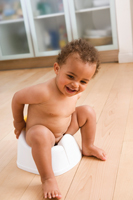 Parents often wonder, when is the right time to start potty training? There are many signs to look for, but a child must be developmentally ready. There is no magic age — children will be ready at different times. Potty training takes patience and commitment from parents and caregivers, so don't start too soon. Here are signs of potty training readiness and my tips for potty training success.
Signs Your Child is Ready for Potty Training
More Dry Diapers: When you start changing diapers less frequently, pay attention to how often your child wets his diaper. If he can go 2-3 hours (or more) with a dry diaper, this is a sign he might be ready for potty training.


Regular Bowel Movements: Your child's bowel movements become more predictable, possibly occurring the same time each day.


Verbal Cues: Children start verbalizing when they need to go potty. They might also say they have a dirty diaper or ask for a diaper change.


Hiding: My kids started hiding behind furniture because they wanted privacy when they had a bowel movement. They usually wanted a diaper change immediately.


Age: According to Dr. Peggy Manuel, pediatrician at Sharp Rees-Stealy San Diego, it is best to wait as long as possible to start potty training, usually between 1½ to 3½ years old.
How to Potty Train Using the Three-Day Method
Potty training is different for every family. I really like the Three-Day Method — it worked well for my kids. The Three-Day Method is exactly what it sounds like — potty training in about three days (but it took us closer to a week). Remember that every child will potty train at his own pace.
The three-day method requires a lot of commitment and might be more successful when two parents or caregivers are available to help. We started on a long holiday weekend. Our kids were completely unclothed (daytime only) for three days. It is best to stay at home during this time so you're ready for accidents and can run to the potty at a moment's notice. Being at home will make a child feel more comfortable, too.
Why go naked? Using diapers or pull-ups didn't dissuade my kids from peeing in them, despite my reminders to use the potty throughout the day. Since they didn't want to wet themselves or have an accident on the floor, being naked is what worked for us. With this method, the kids told me they needed to go potty before I even asked.
If the weather is nice and you have a private yard, having the kids play outside most of the day is a great option. It's much easier to clean up when they have an accident!
After a few days, the kids may fall into their own routine of asking to use the potty. If not, kindly remind them every hour or so. If they keep having accidents after a few full days of trying, they may not be ready. Wait a few more weeks (or months) and try again.
Naptime and Bedtime
For naptime and bedtime, we used diapers until my kids woke up with a dry diaper for three consecutive days. After that, puppy pads were a lifesaver! Consider putting them under crib sheets and in car seats and strollers to protect these surfaces from accidents. There will be naptime and nighttime accidents, but using puppy pads makes cleanup quick and easy.
Time for Underwear
Once my kids did well running around naked for three days, it was time for underwear. Letting them go to the store and pick out underwear ahead of time is fun and gives them something to look forward to. It's OK if there are accidents in the underwear. It's all part of the potty training process.
Focus on the Positive
It's easy to get frustrated when your child has an accident, but if you focus on successes instead of accidents, it will make both of you feel better about potty training. I bought a pack of M&M's and let my kids have one M&M each time they used the potty successfully. After a few days, we switched to a daily reward for having no accidents. Eventually, we offered a weekly reward.
Potty training can be intimidating for both children and parents, but the transition can also be fun and rewarding. Before starting, look for signs of potty training readiness, talk to your pediatrician and remember that every child is different.
-------------
Tabitha Frost is a Carlsbad-based blogger and freelance writer. She is a mom of three, former preschool teacher and breast milk donor.
Advice from Local Mom Experts
Your child is ready to be potty trained when they are (1) aware of their bodily functions (and even hiding to do their business), (2) able to communicate that they have already gone to the bathroom in their diaper or that they are about to, and (3) are capable of pulling their pants down to use the toilet. When they show readiness signs, jump at the chance!
- Christina Furnival of San Carlos
Ugh! Potty training is the worst. I promised I'd never do it, but bribe the heck out of your kid. Pee in the potty? Jelly bean. Poop in the potty? Popsicle. Throw a big fat party every time. Of course, your kid has to be ready and actually want to do it, but make it a big deal when they have success. Sticker charts, candy, whatever motivates them.
- Melissa Varela of Rancho Peñasquitos
-------------