Feeling Blue? 9 Tips to Help with Postpartum Depression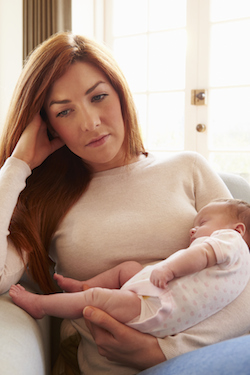 I had postpartum depression after I gave birth to my first child. I went from working a regular 9-to-5 job to staying home with a colicky, jaundiced, love-of-my-life baby and I felt so alone. My husband worked right across the street, yet I felt completely isolated from the rest of the world. I know other moms who felt the same, but were too embarrassed or sleep-deprived to say anything. I'm sharing what worked for me, with the hope that it will help you get out of bed today, tomorrow and in the days ahead.
1. Wash your face. I know it sounds simple, but it feels good. Even if you have to let the baby cry for a few minutes, your senses will thank you. Invest in a nice face wash that makes you feel clean and sparkly. You're ready to move on to the next thing in your day.
2. Wear something comfy. If you stay home, put on clothes that make you feel relaxed and comfortable. It will change your outlook and give you one less thing to worry about.
3. Make yourself a cup of coffee or tea. You probably feel tired from lack of sleep. Set the tone for the morning with your favorite hot beverage. Also hydrate with water in the morning and throughout the day. Getting enough fluids is important.
4. Take it slow. Unless you have somewhere to go, keep things simple. Your emotions and hormones are out of whack after giving birth. Having low expectations about what you can do sets you up for success.
5. Pick one thing to accomplish today. This might be hard for go-getters, but picking one thing and completing it—especially when you have postpartum depression—is truly an accomplishment. Not sure what to do? Try making your bed, then snuggle in it with your baby.
6. Call a friend. Calling a friend is one of the hardest things to do when you're feeling down. Just pick up the phone and tell your friend you are tired and need an accountability person. If you don't really feel like talking, be honest with her. Ask if she'll check in with you daily, either by text or a phone call.
7. Get some fresh air. If there's a summer heat wave, sit by the window and let the sun shine on your face. If it's wintertime, open the front door and breathe in the cold air. It's important to get sunshine on your face when you have postpartum depression. If you feel up to it, take a walk. Fresh air is good for babies, too.
8. See a counselor. This might seem impossible, but if you can, make an appointment with a counselor and share your feelings. Having an hour to talk to an adult who is trained to listen can make a huge difference for your self-esteem.
9. See a doctor, if necessary. Some people benefit from professional help and/or medication. It took me a long time to open up about needing medication for my depression. Now I talk freely about it because I want other moms to know there is nothing to be ashamed of. Whatever your situation, things will get better.
Having a baby is an amazing experience. Sometimes postpartum depression comes with the territory. If that is your situation, hang in there. Try these tips and work on getting out of bed tomorrow.
Meagan Ruffing is a parenting writer who finds purpose in sharing hard things with other moms to provide help and encouragement.