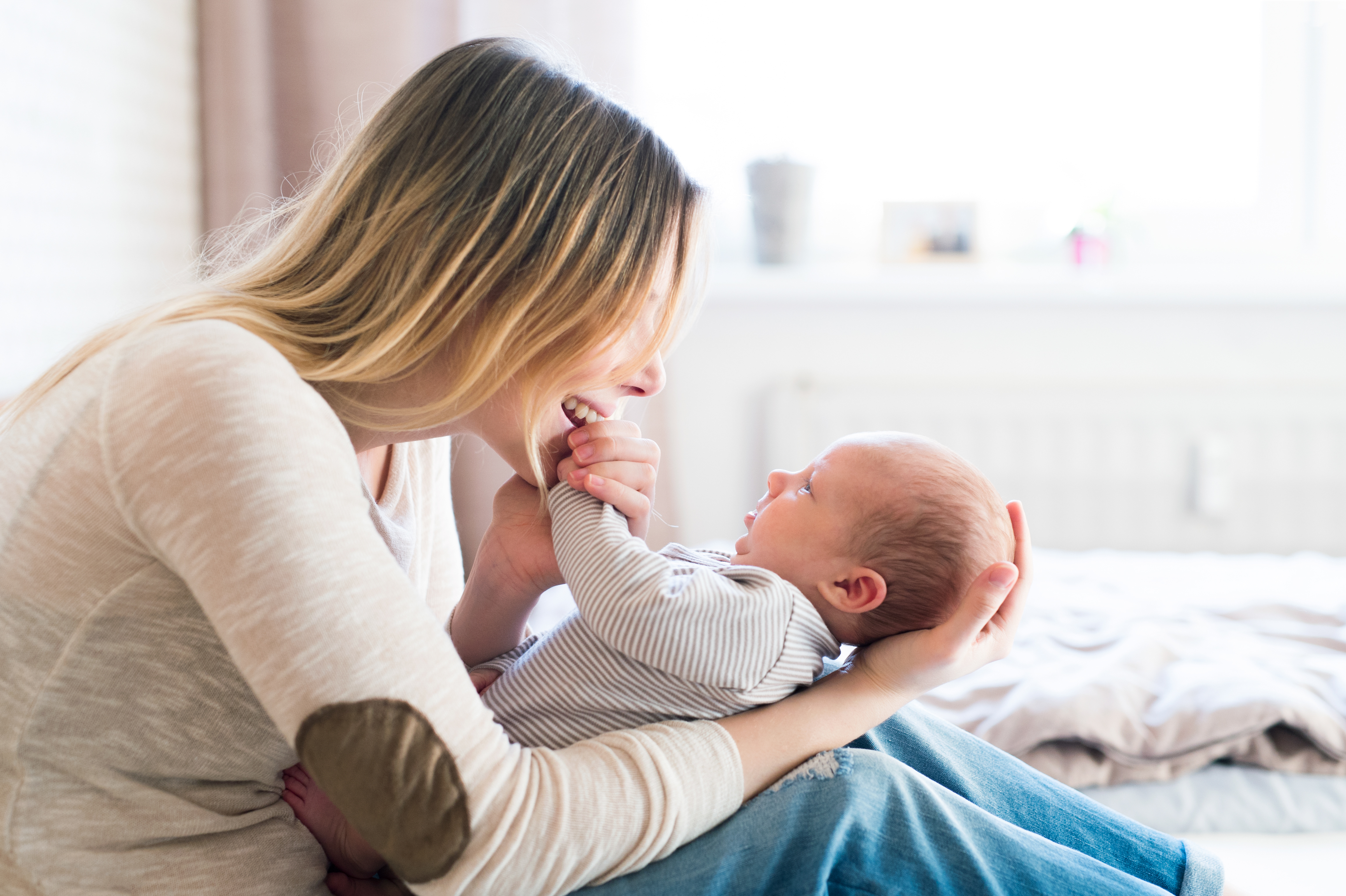 Baby Product Review. New parents can choose from a variety of products that can make every day with that bundle of joy just a little easier.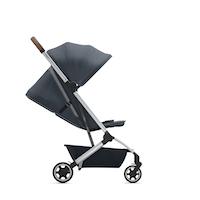 Joolz Aer Stroller
$399; Joolz.com
This compact travel stroller has a one-handed quick fold, patent pending comfort seat and only weighs 13.4 lbs. With our effortless fold, you can easily close the Joolz Aer and throw it over your shoulder in a matter of seconds. A comfortable elastic carry strap makes transporting the Joolz Aer easy, while its compact size fits in the overhead bins and in the trunk of the smallest cars. Provides superior support to your child's neck and back in all positions, including a five-point safety harness, an extended seat back, and an adjustable recline that gives kids 6 months or older a comfortable ride.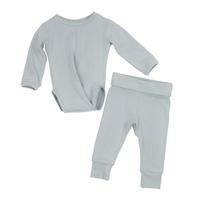 Peasy No Snap Infant Clothing
$18-$44; PeasyCo.com
The no snap onesie is sans snaps, buttons, zips, ties, magnets, or velcro for no-fuss diaper changes on-the-go. Peasy is defining infant and kids gear to provide efficiencies for parents, comfort for kids, and sustainability for the environment. Mom-invented; Ethically created in Carlsbad, California.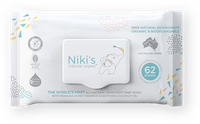 Niki's Natural Wipes
$7.95; Nikis.com
Made with antibacterial Manuka honey and enriched with coconut oil to nourish skin. The wipes have no alcohol, phenoxyethanol, chlorine, petrochemicals, formaldehyde, parabens or phenols. Help maintain the pH of baby's bottom, which is the first line of protection against harmful bacteria and infections.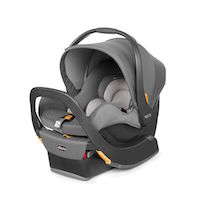 Chicco KeyFit 35 Extended-Use Infant Car Seat
$249.99; ChiccoUSA.com
Features an Easy-Extend Headrest System that adjusts with the no-rethread harness to easily and accurately accommodate growth up to 32" tall, allowing you to keep your little one in the same rear-facing car seat for longer. The integrated anti-rebound bar provides increased stability for every ride while offering more leg room for your growing baby. A removable ergonomic newborn head and body positioner is designed to fit babies weighing 4-11 pounds.

Motif Medical Maternity Compression Socks
$29.99; https://motifmedical.com/compression-socks/
Designed to expand with you during pregnancy and prevent swelling, circulation issues and varicose veins. They can reduce discomfort in your feet and ankles, support your cardiovascular system by promoting good blood flow, and help you stay more comfortable when you're on your feet for long periods of time.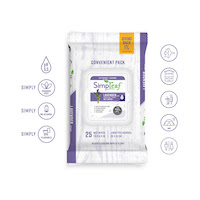 Simpleaf Wipes
$3.99; Amazon.com
Carefully designed to be gentle enough for all skin types, they are alcohol-free so it won't over-dry your skin as other wipes can. The safe formulation would not cause any rashes, allergies, irritation on your skin. Also, thicker than conventional wipes, you can rely on them for cleaning any mess.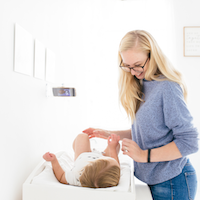 Diapertainment
$20; Diapertainment.com
A simple way to entertain a baby while diapering- it's a clear, angled phone tray that attaches to the wall at the perfect viewing angle for the baby. Play a video on your phone, slip it into Diapertainment and keep baby entertained so you can change their diaper much easier and safer- helping to keep babies still to prevent changing table falls or accidents.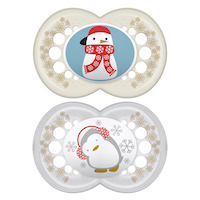 MAM Winter Pacifiers
$9.99; ShopMamBaby.com
Keep you child happy and festive with the Holiday Pacifiers. Designed for comfort and featuring fun winter designs, you'll want to keep these pacifiers handy all winter long. The Soft Silicone Nipple features an anti-slip texture to help it stay comfortably in your baby's mouth.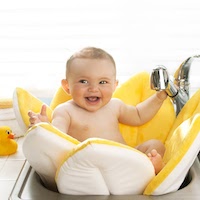 Blooming Baby Bath Lotus
$39.99; BloomingBath.com
The Blooming Bath Lotus has an elegant design, features four petals and a thinner foam. Why would anyone want to bathe their baby in a hard plastic tub when they could surround their little one in the cuddly softness of an adorable plush flower? The Blooming Bath is the winner of the Parent Tested Parent Approved Award.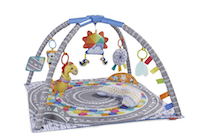 4-in-1 Twist & Fold Musical Mobile Gym
$49.99; Infantino.com
Babies will go gaga for this soft, engaging and stylish play space. Featuring four hanging toys, a musical mobile, tummy time bolster and mirror, this play mat has everything you need to keep your little one entertained. Best of all, you can twist and fold it up for on-the-go fun.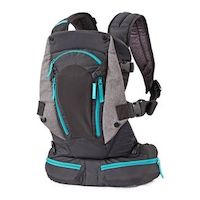 Carry On Multi-Pocket Carrier
$52.99; Infantino.com
Designed with practical pockets, this 4-position soft carrier comfortably holds baby and your essentials with six comfortably positioned, conveniently placed pockets.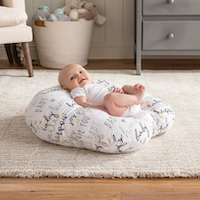 Boppy Preferred Newborn Lounger
$33; Boppy.com
Uniquely designed with a recessed interior for a newborn's bottom, this lightweight product is perfectly portable. Soft, wipeable fabric for easy clean up from spit-up and other "oops" messes. Designed for baby's awake time only. Handle for easy carrying and travel. Made for babies up to 16 pounds.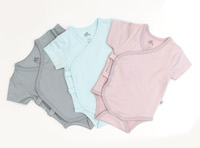 Ollie World Dailies Baby Bodysuits
$18-$22; TheOllieWorld.com
The exceptionally soft, moisture-wicking fabric, brings moisture away from the skin and through to the top of the fabric where it evaporates, leaving the skin dry and baby cool and comfy. The special fabric helps to regulate baby's temperature and prevent overheating as well as reducing rashes and irritations. Available in basic bodysuits and in a wrap style, in three colors; sky, lavender and stone.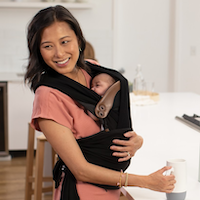 ComfyChic Baby Carrier
$75; Boppy.com
Designed with elegantly designed details such as vegan-leather trims, luxury accents and yoga-inspired fabric that fits your style while out and about or around the house. The thoughtfully designed adjustable underarm straps provide comfort and makes sharing among caregivers easy, even great for breastfeeding. Adaptable seat width, achieved through wrapping techniques, allow for four ergonomic carrying positions: newborn front face-in, front face-in, front face-out and side-hip carrying from 8-35 lbs. Breathable, performance mesh panels provide privacy while allowing for airflow.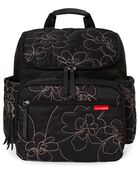 Forma Backpack Diaper Bag
$75; Skiphop.com
Skip Hop's lightweight, quilted backpack offers hands-free ease and special packing cubes for baby's gear. The spacious interior fits everything from snacks to spare outfits and the extra wide opening makes it easy to find essentials in a pinch.
Grab & Go Double Bottle Bag
$17; Skiphop.com
These insulated bags keeps two bottles warm or cold with included freezer pack. With an insulated interior, it's also great for keeping sippy cups and snacks chilled for hours.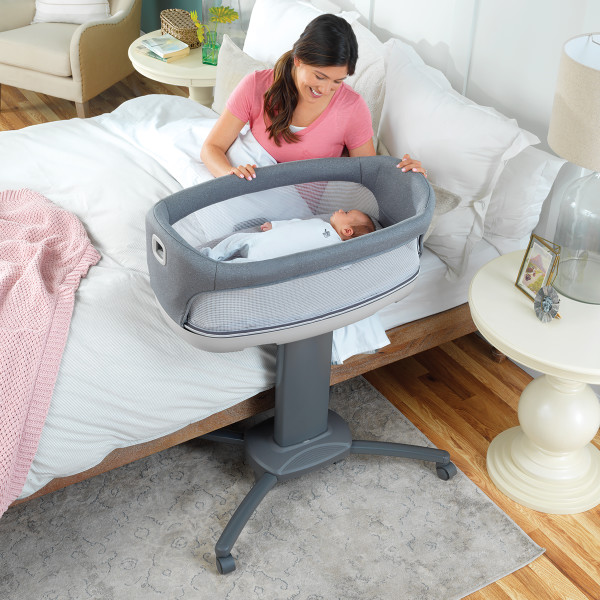 Close To You 3-in-1 Bedside Bassinet
$299.99; ChiccoUSA.com
The height-adjustable, portable bedside sleeper can be positioned right next to the bed to make nighttime feedings easier. It has everything moms want in a bassinet, with mesh side panels for visibility and ventilation, a comfortable, quilted mattress and swivel wheels for easy maneuverability. Ideal for 0–6 months for sleeping, then 6 months-18 months for changing table.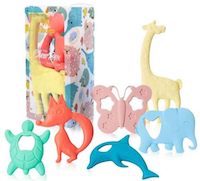 Chewbox Animal Edition Silicone Baby Teethers
$14.99; EvolvedParentCo.com
No more buying one teether at a time (because we all know our little ones are bound to lose at least one)!. Safely soothe your little one's gums with this set of fun-filled animal teethers. Set of 6.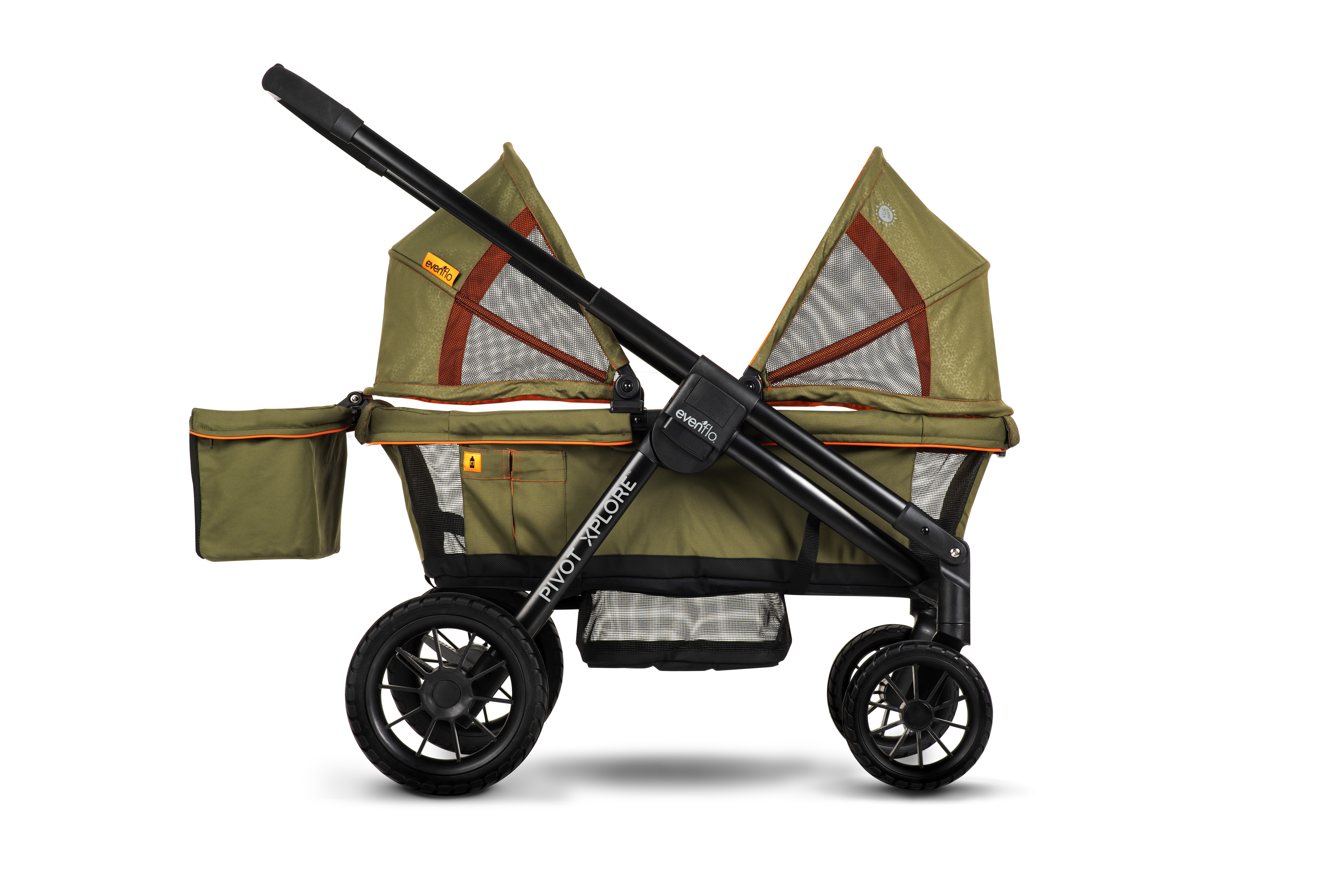 Evenflo Pivot Xplore All-Terrain Stroller Wagon
$349.99; Evenflo.com
Offers parents extended use by accommodating up to two children from ages 6 months to 5 years with each seat holding up to 55 pounds and 120 pounds total, with storage. Easily transforms from stroller to wagon by flipping the handle, giving parents ability to push as a stroller or pull as a handle. All-terrain wheels are built for adventure and everyday activities that gives you the freedom to go from pavements to beach and even the grocery store. Canopies with UPF 50+ helps shield child from the sun's harmful rays. Features a large, overhead canopy, extra-large storage basket and cup holders.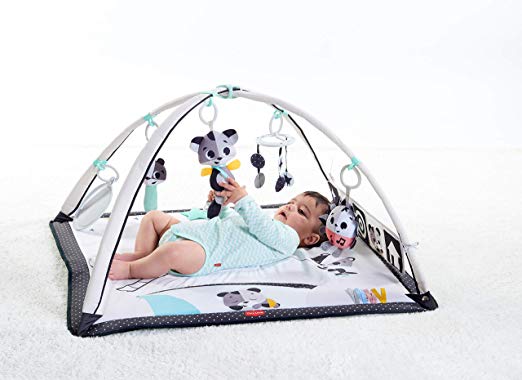 Tiny Love Black & White Gymini Deluxe Infant Activity Play Mat, Magical Tales
$47.99; Amazon.com
The contrasting black and white design provides the perfect visual stimulation for young babies. Its various textures, sounds and features provide ongoing auditory and tactile stimulation. Develop gross and fine motor skills; visual, auditory and tactile senses; language, communication, cognition and EQ. Adjust the arches to create the open arches mode, which offers the ultimate tummy time experience, boosting baby's physical and mental development. "We received two play mats at our baby shower and we've used both," says Brit, mom of a two-month old. "The level of interaction and engagement our baby has with the Tiny Love mat is eye-opening. We love it!"
Updated: November 2020