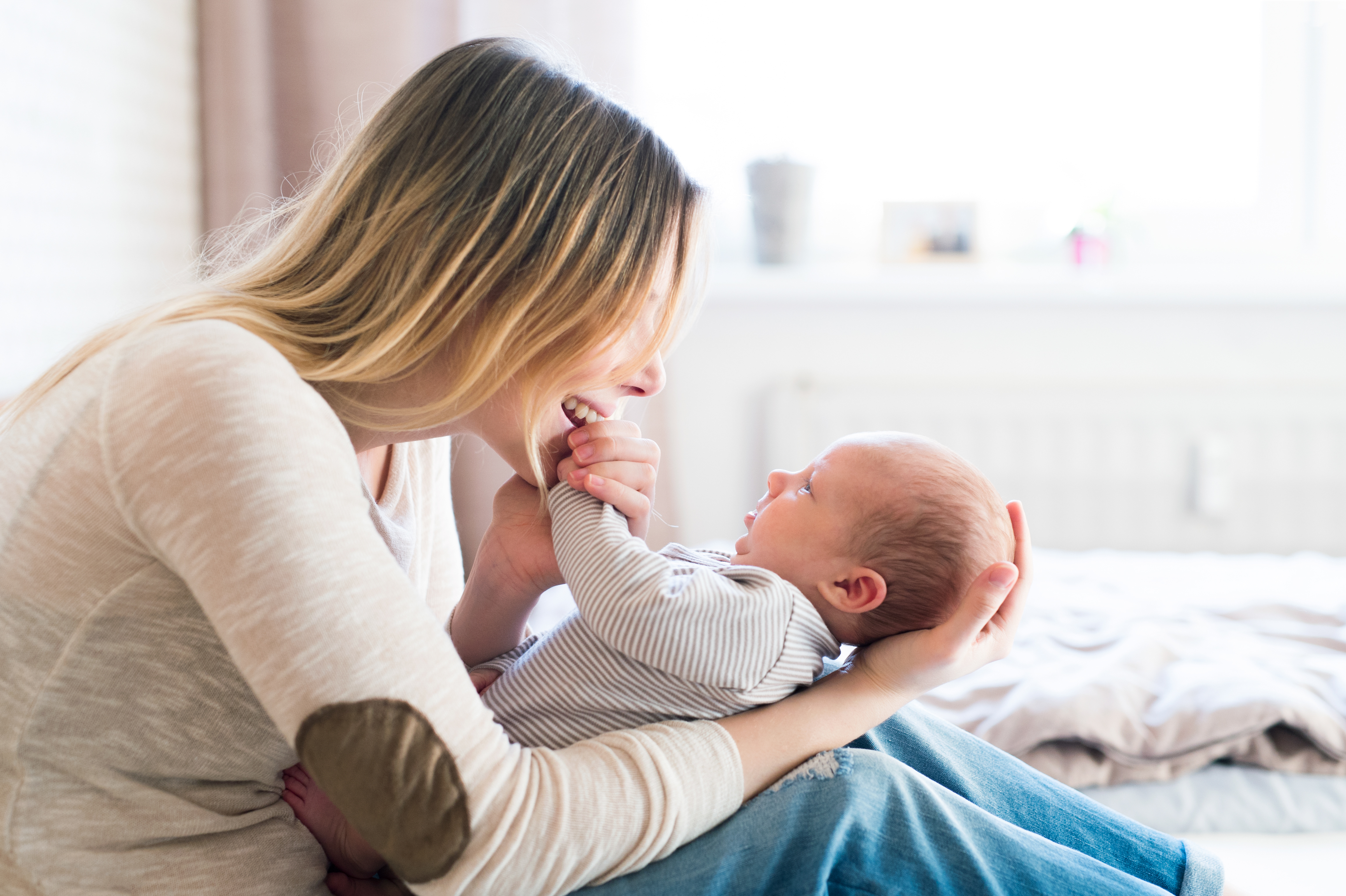 Baby Product Review. New parents can choose from a variety of products that can make every day with that bundle of joy just a little easier.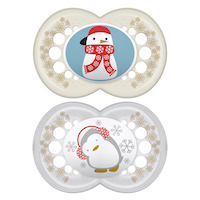 MAM Winter Pacifiers
$9.99; ShopMamBaby.com
Keep you child happy and festive with the Holiday Pacifiers. Designed for comfort and featuring fun winter designs, you'll want to keep these pacifiers handy all winter long. The Soft Silicone Nipple features an anti-slip texture to help it stay comfortably in your baby's mouth.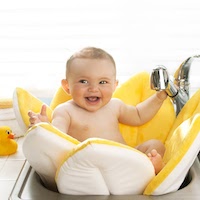 Blooming Bath Lotus
$39.99; Amazon.com
The Blooming Bath Lotus has an elegant design, features four petals and a thinner foam. Why would anyone want to bathe their baby in a hard plastic tub when they could surround their little one in the cuddly softness of an adorable plush flower? The Blooming Bath is the winner of the Parent Tested Parent Approved Award.
Piccolo Stroller
$229.99; Chicco.com
The super-compact, tri-fold design is ideal for travel and fits effortlessly into small spaces such as a vehicle trunk, closet or alcove. Piccolo™ opens and maneuvers easily with one hand, while all-wheel suspension and front-locking swivels provide a smooth ride. Includes a detachable cup holder and storage basket to keep essentials close by. Features a multi-position reclining backrest and mesh vented sides for improved airflow. A large, expandable canopy provides UPF 50+ sun protection.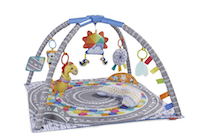 4-in-1 Twist & Fold Musical Mobile Gym
$49.99; Infantino.com
Babies will go gaga for this soft, engaging and stylish play space. Featuring four hanging toys, a musical mobile, tummy time bolster and mirror, this play mat has everything you need to keep your little one entertained. Best of all, you can twist and fold it up for on-the-go fun.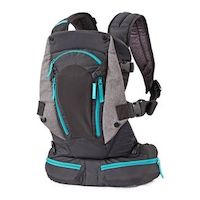 Carry On Multi-Pocket Carrier
$52.99; Infantino.com
Designed with practical pockets, this 4-position soft carrier comfortably holds baby and your essentials with six comfortably positioned, conveniently placed pockets.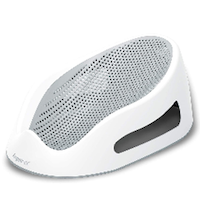 Angelcare Bath Insert
$24.99; Amazon.com
Takes the worry out of bath time. Designed for comfort, it features a soft ergonomic design. Quick-dry, hygienic and mildew- resistant material offers peace of mind. Features a built-in hook for convenient storage. Recommended for babies up to 6 months of age.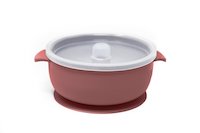 The Dearest Grey Suction Bowl
$12; TheDearestGrey.co
The bottom suction ensures a strong suction, these bowls also feature a quick release tab making clean up super easy, simply pull the quick release tab and the bowl releases with no mess. They are CPSIA Compliant, CPSC Tested, CPSC Certified and made with the highest quality food grade silicone and are free of BPA, lead, PVC, and phthalates.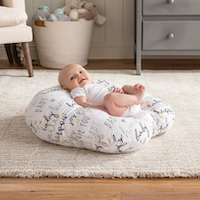 Boppy Preferred Newborn Lounger
$75; Boppy.com
Uniquely designed with a recessed interior for a newborn's bottom, this lightweight product is perfectly portable. Soft, wipeable fabric for easy clean up from spit-up and other "oops" messes. Designed for baby's awake time only. Handle for easy carrying and travel. Made for babies up to 16 pounds.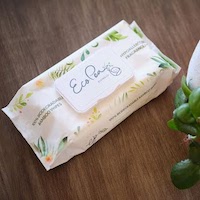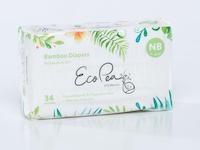 Eco Pea Diapers and Wipes
$4.99-$14.99; Ecopeaco.com
Dermatologist approved and hypoallergenic and antibacterial. Contain no harmful ingredients and no added fragrance. Made responsibly using bamboo and manufactured in a certified facility.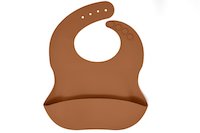 The Dearest Grey Rubber Bib
$12; TheDearestGrey.co
These bibs are buttery soft and feature a thin layer of silicone around the neck area. They are light weight and have an adjustable fit making them perfect for your growing baby. They feature a catcher at the bottom making clean up time a little easier. Made with the highest quality food grade silicone and are free of BPA, lead, PVC, and phthalates.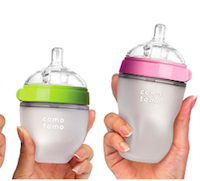 Comotomo Silicone Baby Bottles
$13.99 and up; Amazon.com
The naturally shaped, soft, silicone nipples feature anti-colic vents and mimic natural breastfeeding and are perfect for transitioning from nursing to bottle-feeding. The wide neck design makes for easy cleaning and dishwasher-safe.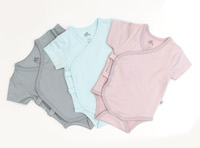 Ollie World Dailies Baby Bodysuits
$18-$22; TheOllieWorld.com
The exceptionally soft, moisture-wicking fabric, brings moisture away from the skin and through to the top of the fabric where it evaporates, leaving the skin dry and baby cool and comfy. The special fabric helps to regulate baby's temperature and prevent overheating as well as reducing rashes and irritations. Available in basic bodysuits and in a wrap style, in three colors; sky, lavender and stone.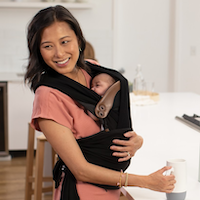 ComfyChic Baby Carrier
$33; Boppy.com
Designed with elegantly designed details such as vegan-leather trims, luxury accents and yoga-inspired fabric that fits your style while out and about or around the house. The thoughtfully designed adjustable underarm straps provide comfort and makes sharing among caregivers easy, even great for breastfeeding. Adaptable seat width, achieved through wrapping techniques, allow for four ergonomic carrying positions: newborn front face-in, front face-in, front face-out and side-hip carrying from 8-35 lbs. Breathable, performance mesh panels provide privacy while allowing for airflow.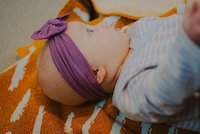 The Dearest Grey Brown Hair Ribbon
$10; TheDearestGrey.co
Thse bows are made with a stretchy nylon material. They are buttery soft and perfect for your growing babies. They are made from lightweight material and are also breathable. One size fits most.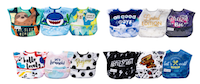 Mess-Proof Easy Bib 3 Pack Set
$18; TinyTwinkle.com
Soft, lightweight, water-repellent bibs that are perfect for meals and snacks. Easy to clean too. Just rinse and it will dry in minutes - also machine washable and colorfast. Ages 6-24 months.
Signature Baby Diaper Caddy Organizer
$30; ArabellaBaby.com
The perfect way to organize all your baby items. Available in four colors and made from sturdy, yet soft felt. Durable and will carry up to 20 pounds. Handles fold for easy storage.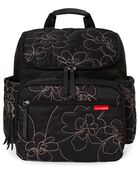 Forma Backpack Diaper Bag
$75; Skiphop.com
Skip Hop's lightweight, quilted backpack offers hands-free ease and special packing cubes for baby's gear. The spacious interior fits everything from snacks to spare outfits and the extra wide opening makes it easy to find essentials in a pinch.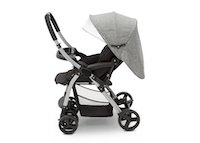 Rubix Reversible Handle Stroller
$119.99; DeltaChildren.com
Designed to adapt to your child's growth, it can be used as travel system with any compatible infant car seat, as a parent-facing stroller or as a forward-facing stroller. Without disturbing your child, the reversible handle flips, and allows your little one to face you for interaction or face forward to discover the world. Additional features like a compact fold, full coverage UPF 50+ canopy for sun protection, and removable child tray with cup holder help make your everyday adventures effortless.
Grab & Go Double Bottle Bag
$17; Skiphop.com
These insulated bags keeps two bottles warm or cold with included freezer pack. With an insulated interior, it's also great for keeping sippy cups and snacks chilled for hours.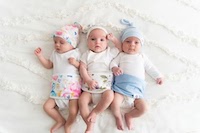 MEMEENO Belly Bands
$26.95; Memeeno.com
The MEMEENO belly band applies the optimal amount of coverage, gentle compression and natural warmth on your baby's belly. This self-heating band gives your baby womb-like security and just enough hug around the tummy to ease out gas and relieve aches, making it one of the safest, most effective external remedies for gas and colic symptoms. The band uses premium organic cotton and water-based dyes in all the beautiful prints.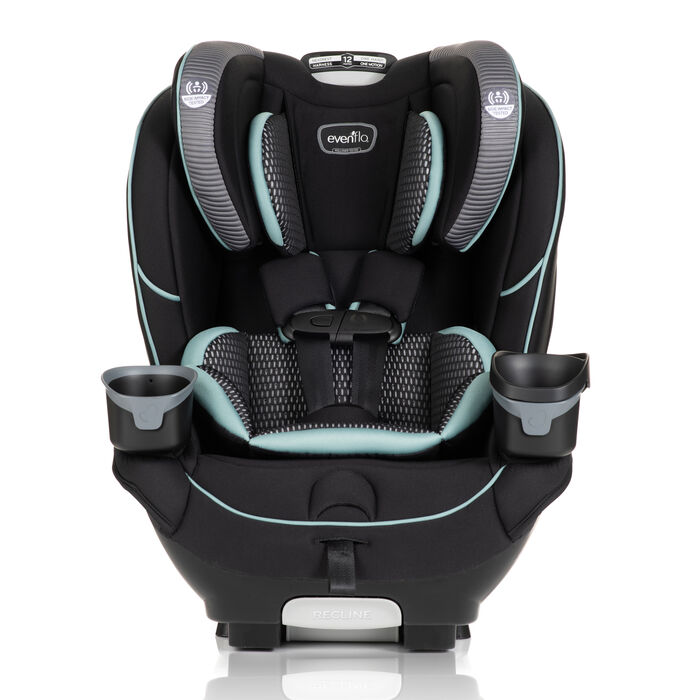 Evenflo EveryFit 4-in-1 Convertible Car Seat
$189.99; Evenflo.com
Engineered for maximum comfort, safety, and longevity. The EveryFit accommodates your child by adjusting to multiple positions, allowing kids to ride rear-facing beyond 2 years of age—without extending the seat or cramping other passengers.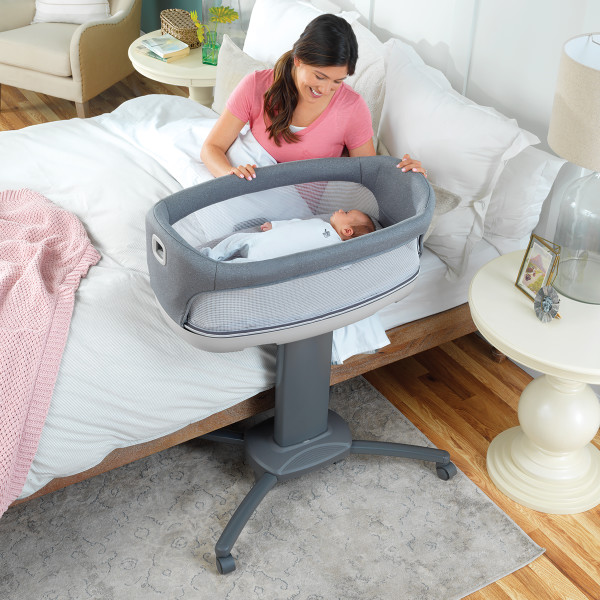 Close To You 3-in-1 Bedside Bassinet
$299.99; ChiccoUSA.com
The height-adjustable, portable bedside sleeper can be positioned right next to the bed to make nighttime feedings easier. It has everything moms want in a bassinet, with mesh side panels for visibility and ventilation, a comfortable, quilted mattress and swivel wheels for easy maneuverability. Ideal for 0–6 months for sleeping, then 6 months-18 months for changing table.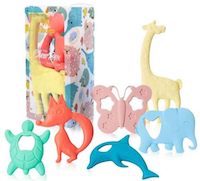 Chewbox Animal Edition Silicone Baby Teethers
$14.99; EvolvedParentCo.com
No more buying one teether at a time (because we all know our little ones are bound to lose at least one)!. Safely soothe your little one's gums with this set of fun-filled animal teethers. Set of 6.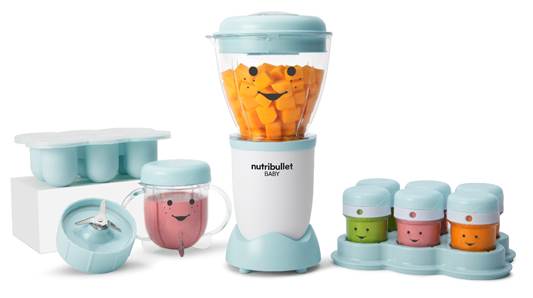 Nutribullet Baby Baby Food Making System
$59.99; NutriBullet.com
More than a food processor, quickly puree and store fresh, healthful baby food for your little one in minutes. The full set which includes, stay-fresh re-sealable lids, storage cup tray and freezer tray, gives you all the tools you need to make nutritious food from scratch. Take control of exactly what's going into your baby's food, and save some money doing it.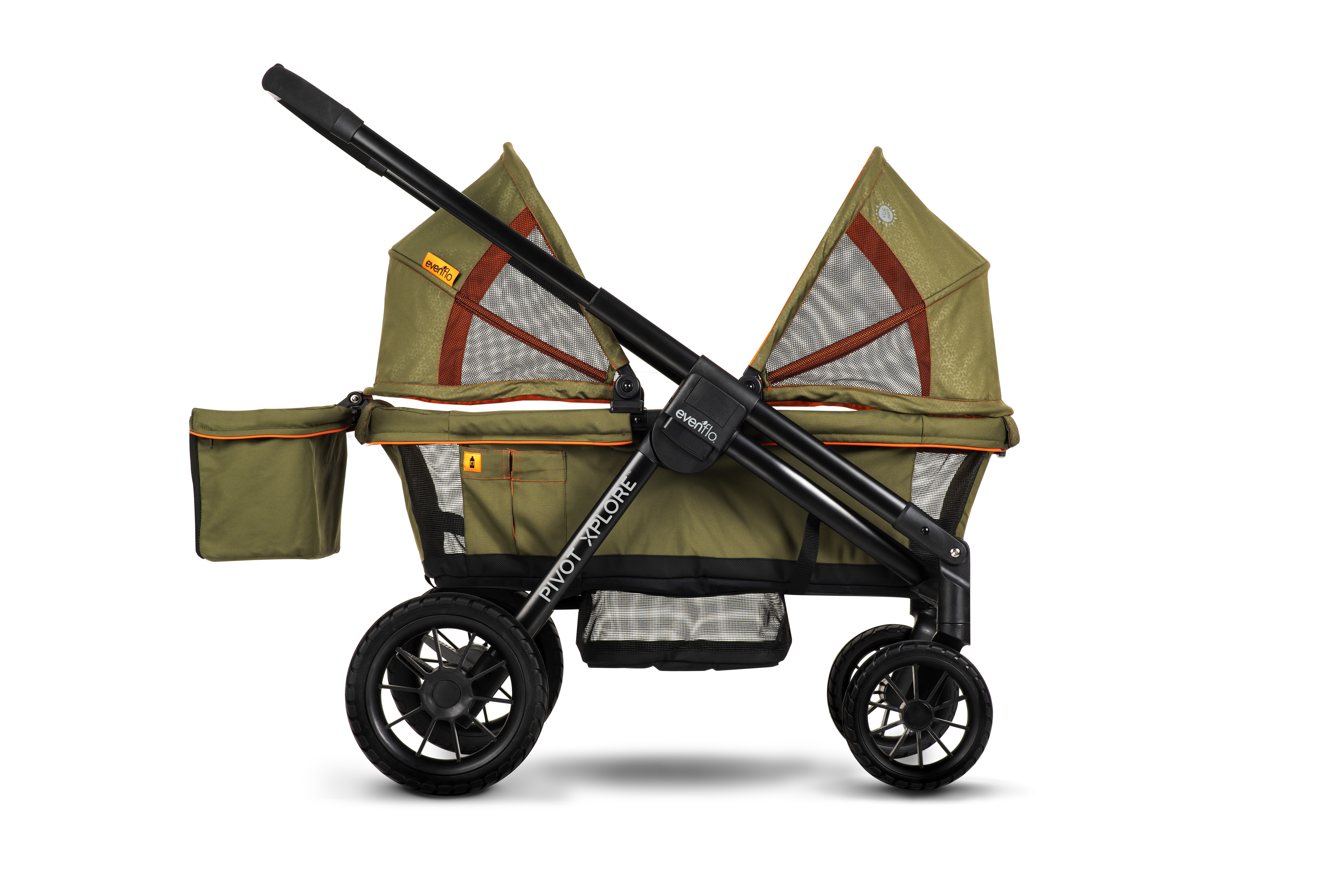 Evenflo Pivot Xplore All-Terrain Stroller Wagon
$349.99; Evenflo.com
Offers parents extended use by accommodating up to two children from ages 6 months to 5 years with each seat holding up to 55 pounds and 120 pounds total, with storage. Easily transforms from stroller to wagon by flipping the handle, giving parents ability to push as a stroller or pull as a handle. All-terrain wheels are built for adventure and everyday activities that gives you the freedom to go from pavements to beach and even the grocery store. Canopies with UPF 50+ helps shield child from the sun's harmful rays. Features a large, overhead canopy, extra-large storage basket and cup holders.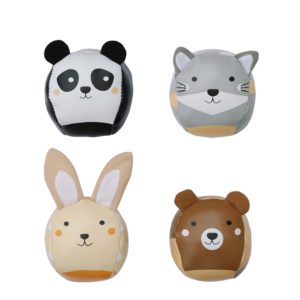 Dooballs
$15.95; BabyToLove.com
Meet the Dooballs, an adorable and loveable collection of four soft ball animals, including cat, rabbit, panda and bear. Each characterful Dooball is both easy and manageable to handle thanks to their super soft texture and rounded form. Catch, manipulate, shake and throw, all of which help to stimulate a baby's sensory development of vision, hearing and tactility.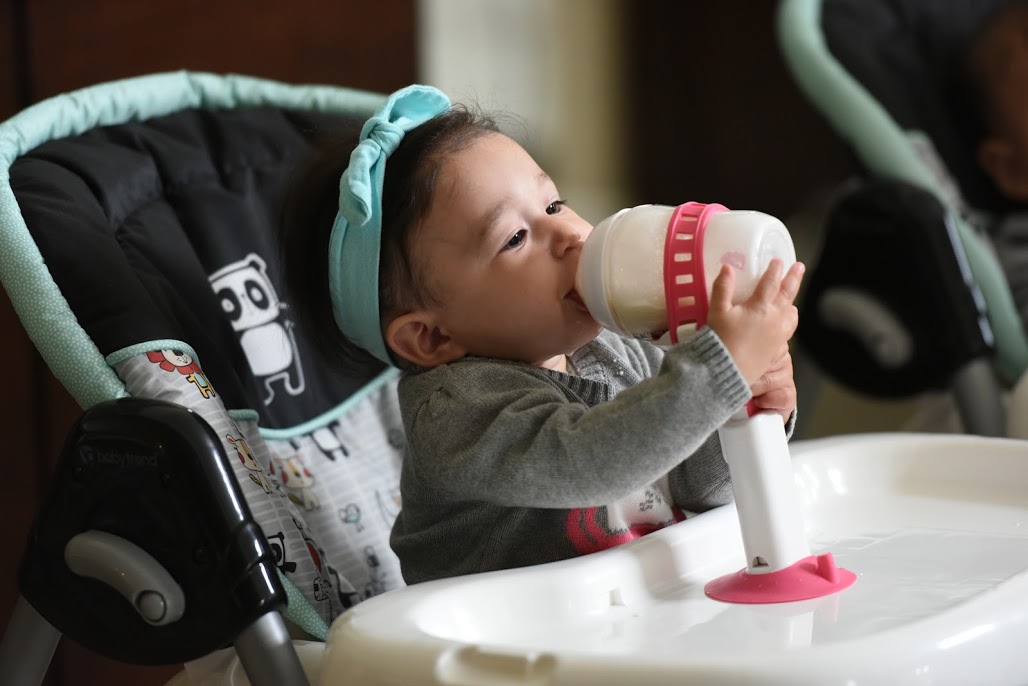 BABASTE
$21.99; Babaste.com
Intended for babies independently sitting in a highchair but can't yet hold their own bottle. The base is fully height-adjustable and is securely kept in place with a suction cup that adheres to most surfaces. Minimizing hassle, BABASTE is designed to automatically reposition the bottle to its original upward facing starting point whenever baby releases the bottle to avoid liquid dripping from the bottle.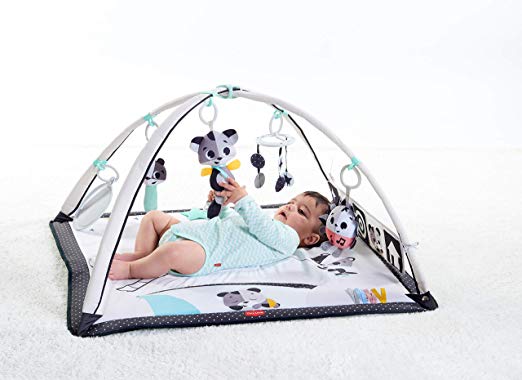 Tiny Love Black & White Gymini Deluxe Infant Activity Play Mat, Magical Tales
$47.99; Amazon.com
The contrasting black and white design provides the perfect visual stimulation for young babies. Its various textures, sounds and features provide ongoing auditory and tactile stimulation. Develop gross and fine motor skills; visual, auditory and tactile senses; language, communication, cognition and EQ. Adjust the arches to create the open arches mode, which offers the ultimate tummy time experience, boosting baby's physical and mental development.
Updated: August 2020