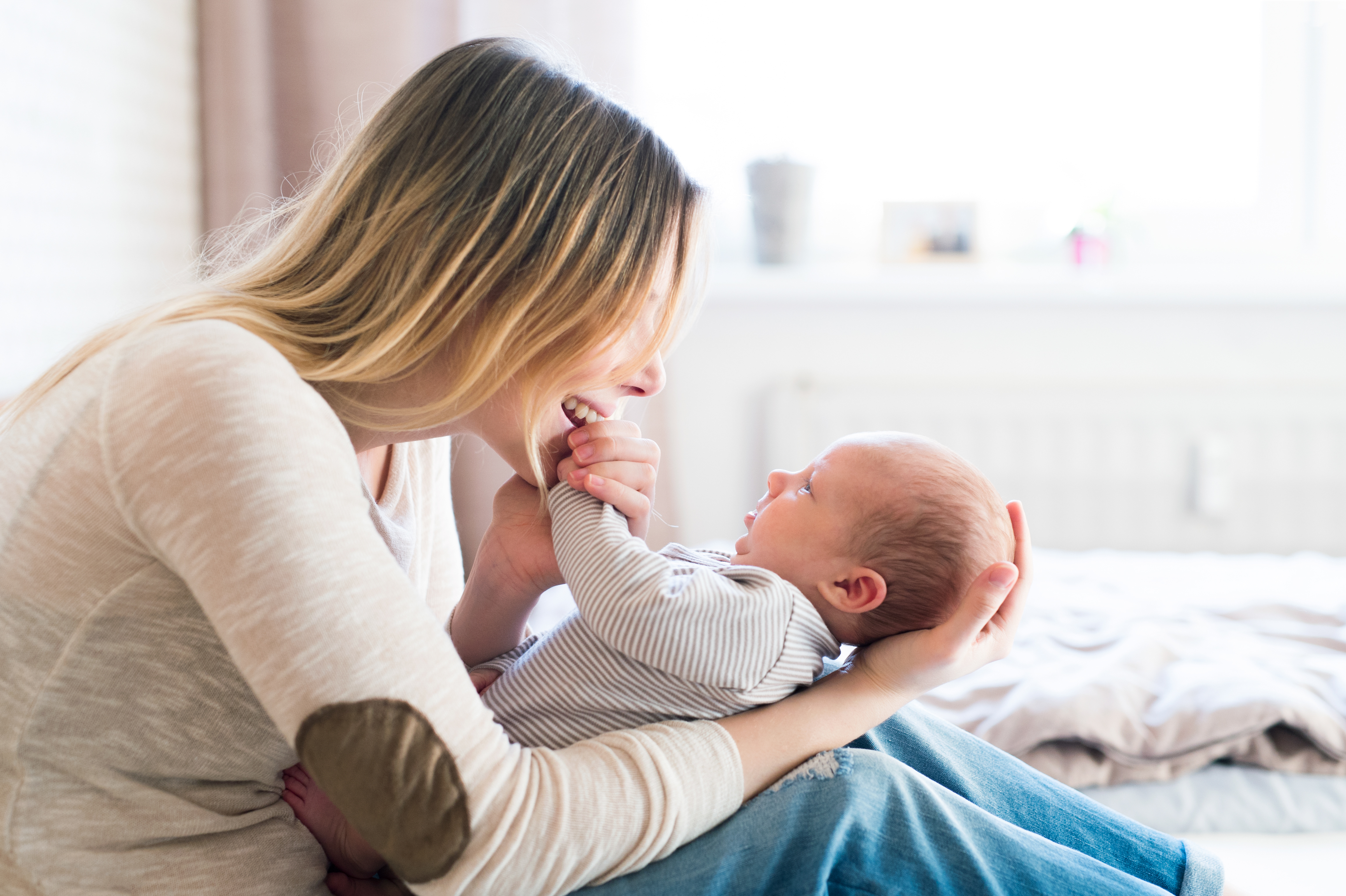 Baby Product Review. New parents can choose from a variety of products that can make every day with that bundle of joy just a little easier.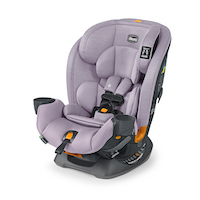 OneFit ClearTex All-in-One Car Seat
$299.99; ChiccoUSA.com
Fits your child, vehicle and life – from birth through booster. With a slim design and top-rated installation features, OneFit is easy to install as you transition from a rear-facing harness to forward-facing harness to booster. The car seat features ClearTex fabrics with no added fire-retardant chemicals. The OneFit in rear-facing position is designed for children between 5-40 lbs and up to 43" tall. The forward-facing harness is designed for children between 25-65 lbs and up to 54" tall. The Booster seat is designed to accommodate children between 40-100 lbs and up to 57" tall.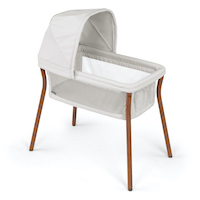 LullaGo Anywhere LE Portable Bassinet
$129.99; ChiccoUSA.com
Weighing only 13 pounds, its lightweight design, washable cover and convenient carry bag provide restful sleep at home and on the go. A modern, streamlined design with a firm, flat sleep surface and mesh side panels provide visibility and airflow. Designed for infants up to 20 lbs or until infant begins to push up on hands and knees, whichever comes first.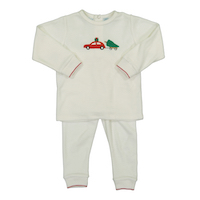 Feltman Brothers Velour Holiday Loungese
$62.95; https://feltmanbrothers.com/velour-holiday-set/
Made of soft, warm velour, to make the perfect cozy loungewear during the cold winter nights. Perfect for opening gifts under the tree, holiday photoshoots and creating special family memories.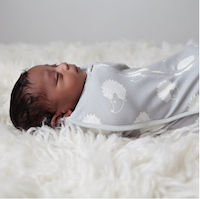 Original One-Step Baby Swaddle
Starting at $28; Woombie.com
The safest, most natural way to swaddle a baby. Invented by Karen, a mom of five, registered nurse, and certified infant care specialist, she continues to raise awareness of the dangers of loose blankets and SIDS.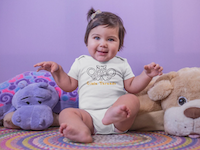 Ojala Threads Onesie
Starting at $5; OjalaThreads.com
Super-soft baby bodysuits that serve a dual purpose - clothing babies in adorable outfits and representing their heritage and identity. This unique brand features non-toxic water-based inks, premium fabric, lead-free snaps, flexible shoulders for easy removal, and generous sizing guaranteed to last longer as baby grows.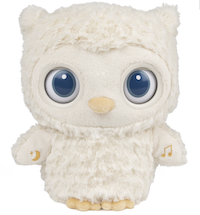 GUND Sleepy Eyes Owl Soother
$40; Gund.com
Perfectly at peace, this soft and cuddly owl features sleepy eyes, soothing sounds, tranquil melodies and gentle lights to relax baby. The owl's eyes will slowly close and encourage baby to fall asleep. Customize your baby's sleep routine with two modes including 20 minutes of continuous play to soothe baby off into dreamland.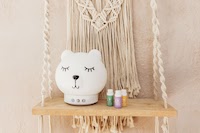 Baby Dream Machine
$109-$119; TheBabyDreamMachine.com
Created by moms, for moms. Influenced by the world's best sleep trainers, industry experts and scientists developed a product that helps your child get a good night's sleep while using the most natural and scientifically proven methods. Their mission was to promote a product that has been to develop a natural, safe, high-quality machine to help children of all ages have a better night's sleep.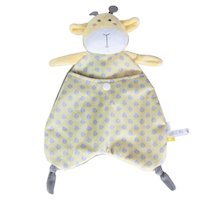 Plush Snuggle Comforter
$17.99; www.kalencombaby.com
The Plush Snuggle Comforter is filled with features including ribbons, tags and knotted legs to entertain babies as well as a loop to attach a pacifier. The extra soft texture of these animals will help children relax and encourage constant cuddling with.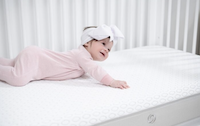 Air-X 2-Stage Crib Mattress
$299.99; Bedgear.com
Engineered for optimal air flow and chemical free, the mattress provides a safe, comfortable and clean sleeping environment. Designed for "two stages", the mattress has one side with a firm surface for babies 0-12 months and a softer, adaptive side for toddlers 12 months and up. The cool-to-touch cover is also washable and waterproof.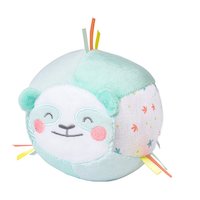 Jingle Plush Ball
$12.99; www.kalencombaby.com
The Jingle Plush Ball will quickly become a favorite toy that also helps to develop fine motor skills. It is super soft and designed for tiny hands to easily grip and handle. There is a pleasant jingle sound made each time the ball is rolled as well as multiple tags to entertain little ones.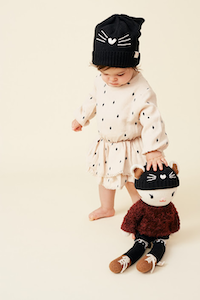 Red & Olive Doll with Matching Accessories
$78; https://redandoliveco.com
Red & Olive Co. is a fair trade doll brand that hand-knits fashionable best friends (BFFs) that encourage positive values. Every detail from whiskers to shoelaces are handmade with premium natural materials by artisans in Peru. And it doesn't stop there, your child's doll has a matching head accessory for them to wear, sparking imaginative play. Each BFF promotes emotional development and helps children feel brave as they grow through life's adventures. 10% of sales go to The Starlight Children's Foundations.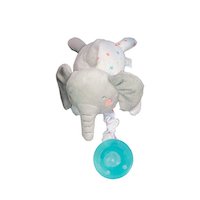 Plush Clip Toy
$14; www.kalencombaby.com
A fun way to keep a pacifier always accounted for. An elastic loop securely connects the pacifier to the toy. The soft plush has carefully designed limbs that are easy for tiny hands to hold.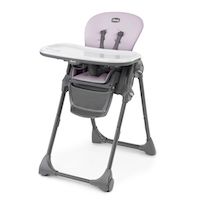 Polly Highchair
$129.99; ChiccoUSA.com
Grows with your baby to offer comfortable meals from infant through toddler. Features a three-position reclining seat & footrest and a five-point adjustable harness with soft webbing to accommodate infants as young as six months. An extra-large, snap-on tray with a removable liner makes for easy serving and cleanup. Seven height positions, fold-away armrests and rubberized wheels allow you to easily bring your growing toddler up to almost any table.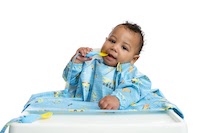 The Coverall Weaning Bib
$24.95; Bibado.co
Featuring easy wipe 100% waterproof material in six fantastic new designs, it makes cleaning up a breeze. Its clever design features also make sure your little one can enjoy their mealtime adventure in comfort - while their clothes remain clean, dry and stain-free. Available as a long-sleeve bib and as a short-sleeve bib.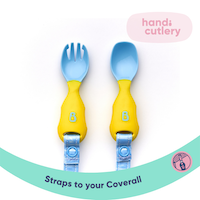 Handi Cutlery
$12.95; Bibado.co
Attaches to the Coverall Weaning Bib, so your little one can explore food with a spoon and fork without the frustration. They can pick it up and drop it as many times as it takes to get the hang of it.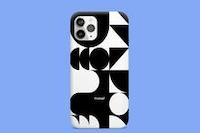 Maisel Phone Case
$30; HelloMaisel.com
Babies spend a lot of time looking at the back of phone cases as their families take countless photos or scroll through emails. Why not have a phone case that also helps strengthen your baby's brain? These captivating phone cases come with a variety of black-and-white patterns with starkly-contrasting images that stimulate brain function.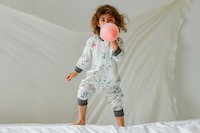 Bamboo Pima Long Sleeve Sleep Suit
$51; NestDesigns.com
Essentially a wearable blanket made with soft bamboo blended muslin. Diaper changes are a cinch with a 2-way zipper and snap button bottoms. Moreover, it comes with long jersey sleeves in a harem style design with stretchy side panels to allow movement with ease, whether in or out of bed.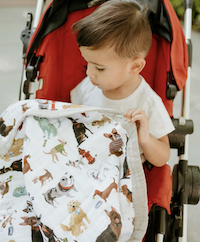 Baby Blanket by Little Unicorn
$35; LittleUnicorn.com
Bring baby home in this baby blanket, made with three layers of soft cotton muslin and featuring our signature, hand-painted prints. Warm and cozy as a top layer on their stroller or car seat, and perfectly sized to be your child's favorite tagalong as they grow. Available in Bison, Dino Friends, Forest Friends, Llama Llama, Meadow, Planetary, Prickle Pots, Taupe Cross, Tropical Leaf, Watercolor Roses, White and Woof.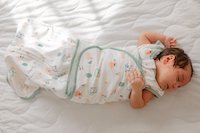 Organic Cotton Swaddle Sleep Bag
$42; NestDesigns.com
With adjustable swaddle wings, you can safely swaddle baby to help them sleep soundly through the night. This sleep bag, made with mid to light-weight materials, is made for warmer days during the spring or summer weather, and is the perfect transition for fall weather as well. Plus, since the Velcro swaddle wings can easily detach, as soon as your little bub outgrows the need to be swaddled, the sleep bag transitions to a regular sleep sack.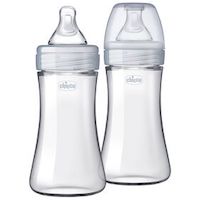 ChiccoDUO Baby Bottle
$19.99; ChiccoUSA.com
This hybrid baby bottle is break-proof, lightweight and long-lasting and importantly shields baby's milk from plastic. It stays clear, won't stain, or discolor, lasts longer and it's breakproof and lightweight.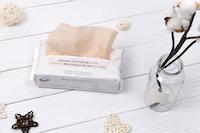 Organic Cotton Dry Baby Wipes
$8; NestDesigns.com
100% GOTS certified organic, unbleached wipes for those with extra sensitive skin. They are unbelievably soft yet strong enough to clean all messes from head to toe. Most importantly, they're perfect for baby's delicate skin.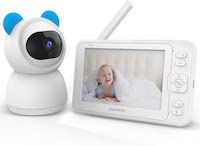 Papalook Baby Monitor
$139.99; Amazon.com
Full HD 1080P Camera and Monitor. The papalook baby cam uses a high-resolution video camera to offer good quality images on the 5" handheld monitor receiver. The premium lens pans 355° to capture all corners in a room, and can also tilt 160° to see floor to ceiling. There is a 2x digital zooming ability, you can zoom in and out to get a better view. It's a great relief for you to be able to watch at the baby monitor and see the little one is alright.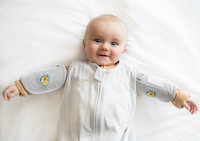 Swaddle Sleeves Original
$29.99; SwaddleSleeves.com
A safe sleeping babywear line that includes gently-weighted, attachable sleeves to soothe babies' involuntary movements when sleeping. Ideal for swaddle transitions or a swaddle alternative.
Snuggle Nest Dream Portable Infant Sleeper
$44.99; BabyDelight.com
Creates a comfortable and safer sleep environment for a baby within an adult bed. Features two rigid, vented walls that are 8" tall. The bed length has been extended while the width can fit comfortably in both Queen and King size beds. The tall walls are lined with a soft, breathable mesh. Quickly and easily folds in half and is ideal for using at home, as well as for travel.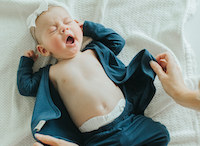 Bonsie Onesie
$25; Bonsie.com
Designed for skin-to-skin contact between babies and caregivers. Onesies have double-layered flaps connected by velcro. Once the two flaps are open, the baby's chest and belly are fully exposed for skin-to-skin connection (but arms and legs remain covered).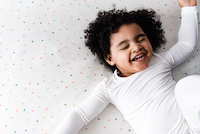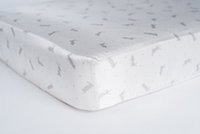 Fitted Crib Sheet
$108; CocoBeansCo.com
100% silk crib sheet that prevent tangled, dry, frizzy hair and bald spots. A "curly-conscious" line of crib sheets that celebrates the diversity of today's modern family and promotes beautiful curly hair. Naturally hypoallergenic and safe for sensitive skin. Temperature regulating, moisture-wicking and breathable. Invented by a mom who was tired of painfully detangling her daughter's hair every morning.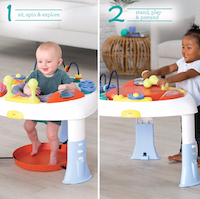 3-in-1 Sit Play & Go Let's Make Music Entertainer & Play Table
$69.99; Infantino.com
With three height positions, the adjustable design allows the product to grow with baby while also transitioning into a stand & play table for toddlers. The ultimate introduction to music, this entertainer will have your little one movin and groovin for hours on end.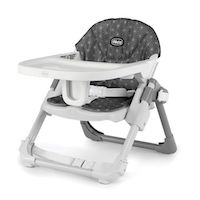 Take-A-Seat 3-in-1 Travel Seat
$49.99; ChiccoUSA.com
This all-in-one seating solution features a chair booster, floor seat and toddler chair, providing the perfect seat for everyday use at home or on-the-go adventures. Straps securely to most chairs for meals or snacks and features anti-slip, non-marking feet. An adjustable, three-point harness keeps your little one secure and the wipeable & machine washable seat pad allows for easy cleanup. Also sits firmly on the floor, providing your child with a comfortable, upright position for interactive play time.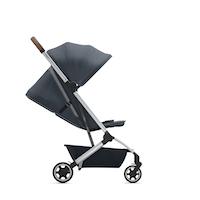 Joolz Aer Stroller
$399; Joolz.com
This compact travel stroller has a one-handed quick fold, patent pending comfort seat and only weighs 13.4 lbs. With our effortless fold, you can easily close the Joolz Aer and throw it over your shoulder in a matter of seconds. A comfortable elastic carry strap makes transporting the Joolz Aer easy, while its compact size fits in the overhead bins and in the trunk of the smallest cars. Provides superior support to your child's neck and back in all positions, including a five-point safety harness, an extended seat back, and an adjustable recline that gives kids 6 months or older a comfortable ride.
Updated: January 2022