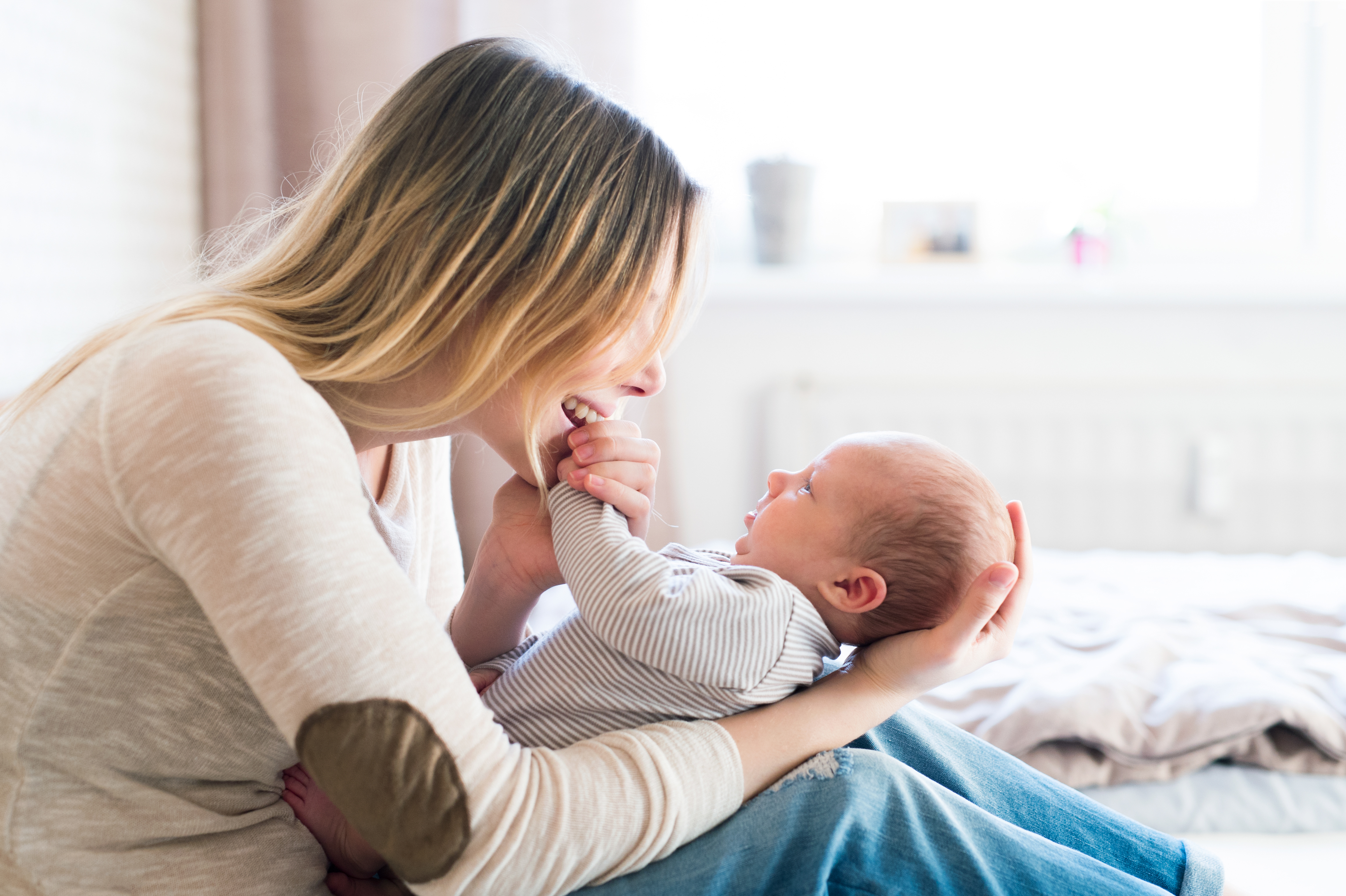 Baby Product Review. New parents can choose from a variety of products that can make every day with that bundle of joy just a little easier.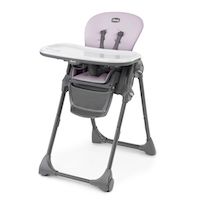 Polly Highchair
$129.99; ChiccoUSA.com
Grows with your baby to offer comfortable meals from infant through toddler. Features a three-position reclining seat & footrest and a five-point adjustable harness with soft webbing to accommodate infants as young as six months. An extra-large, snap-on tray with a removable liner makes for easy serving and cleanup. Seven height positions, fold-away armrests and rubberized wheels allow you to easily bring your growing toddler up to almost any table.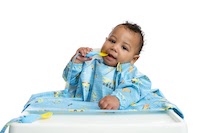 The Coverall Weaning Bib
$24.95; Bibado.co
Featuring easy wipe 100% waterproof material in six fantastic new designs, it makes cleaning up a breeze. Its clever design features also make sure your little one can enjoy their mealtime adventure in comfort - while their clothes remain clean, dry and stain-free. Available as a long-sleeve bib and as a short-sleeve bib.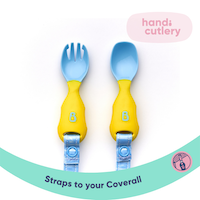 Handi Cutlery
$12.95; Bibado.co
Attaches to the Coverall Weaning Bib, so your little one can explore food with a spoon and fork without the frustration. They can pick it up and drop it as many times as it takes to get the hang of it.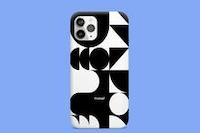 Maisel Phone Case
$30; HelloMaisel.com
Babies spend a lot of time looking at the back of phone cases as their families take countless photos or scroll through emails. Why not have a phone case that also helps strengthen your baby's brain? These captivating phone cases come with a variety of black-and-white patterns with starkly-contrasting images that stimulate brain function.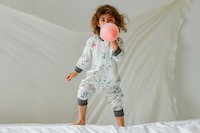 Bamboo Pima Long Sleeve Sleep Suit
$51; NestDesigns.com
Essentially a wearable blanket made with soft bamboo blended muslin. Diaper changes are a cinch with a 2-way zipper and snap button bottoms. Moreover, it comes with long jersey sleeves in a harem style design with stretchy side panels to allow movement with ease, whether in or out of bed.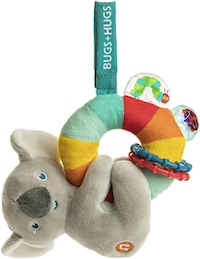 World of Eric Carle Koala Activity Toy with Music
$12; Amazon.com
This adorable toy features soft texture, an on-the-go strap that says "bugs and hugs", teether rings, and plays "You Are My Sunshine" music. Hang this soft toy from a stroller or crib and watch your baby's eyes light up from all the fun and developmental features.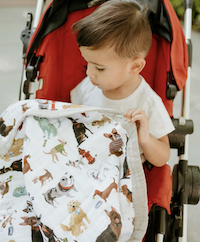 Baby Blanket by Little Unicorn
$35; LittleUnicorn.com
Bring baby home in this baby blanket, made with three layers of soft cotton muslin and featuring our signature, hand-painted prints. Warm and cozy as a top layer on their stroller or car seat, and perfectly sized to be your child's favorite tagalong as they grow. Available in Bison, Dino Friends, Forest Friends, Llama Llama, Meadow, Planetary, Prickle Pots, Taupe Cross, Tropical Leaf, Watercolor Roses, White and Woof.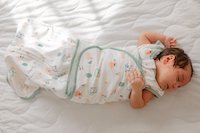 Organic Cotton Swaddle Sleep Bag
$42; NestDesigns.com
With adjustable swaddle wings, you can safely swaddle baby to help them sleep soundly through the night. This sleep bag, made with mid to light-weight materials, is made for warmer days during the spring or summer weather, and is the perfect transition for fall weather as well. Plus, since the Velcro swaddle wings can easily detach, as soon as your little bub outgrows the need to be swaddled, the sleep bag transitions to a regular sleep sack.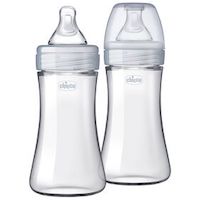 ChiccoDUO Baby Bottle
$19.99; ChiccoUSA.com
This hybrid baby bottle is break-proof, lightweight and long-lasting and importantly shields baby's milk from plastic. It stays clear, won't stain, or discolor, lasts longer and it's breakproof and lightweight.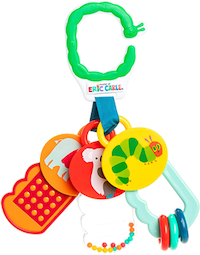 The Very Hungry Caterpillar Grab & Go Keys Toy
$10; Amazon.com
This super cute, charmingly detailed toy includes an on-the-go clip with three attachable plastic keys featuring click clack rings, textured teether, and rattle. Bright colors and different shapes help engage baby's visual stimulation, the rattle sounds capture baby's attention, and various textures allow baby to explore.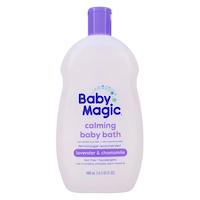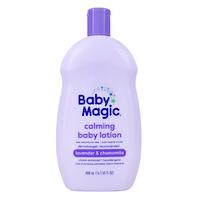 Baby Magic Calming Baby Lotion & Calming Baby Bath
$2.74 each; BabyMagic.com
Help baby wind-down into a sweet slumber. Specially formulated with soothing Lavender and Chamomile, the hydrating lotion helps keep skin kissably soft for a magical morning. The hydrating and tear-free bath formula contains Lavender and Chamomile to help whisk baby away into a sweet slumber and keep skin kissably soft.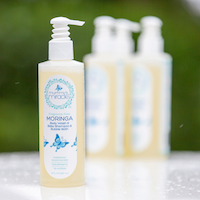 Mummy's Miracle Baby Skincare Line
$9.99-$29.99; MummysMiracle.com
Moringa is seen as the Miracle Plant because it yields such a high vitamin-rich content that no other plant or vegetable can produce in one serving. The benefits of Moringa can help make a healthy impact on your day-to-day life by boosting your intake of antioxidants, vitamin A, vitamin C, vitamin B2, vitamin b3, iron, amino acids, calcium, and magnesium. Plant-based ingredients, clean and vegan, all-natural, chemical-free, toxic-free and biodegradable.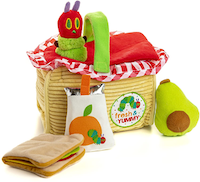 The Very Hungry Caterpillar Basket Picnic Playset
$20; Amazon.com
Featuring soft material, rattle, and crinkle to provide textures and sounds that stimulate baby's senses. This super cute, charmingly detailed picnic basket is stuffed with plush toys - plush caterpillar, plush avocado rattle, plush bread slice with velcro closure, crinkly juice pouch, and felt tomato, lettuce and swiss cheese.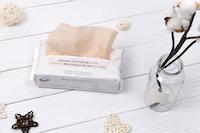 Organic Cotton Dry Baby Wipes
$8; NestDesigns.com
100% GOTS certified organic, unbleached wipes for those with extra sensitive skin. They are unbelievably soft yet strong enough to clean all messes from head to toe. Most importantly, they're perfect for baby's delicate skin.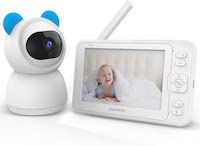 Papalook Baby Monitor
$139.99; Amazon.com
Full HD 1080P Camera and Monitor. The papalook baby cam uses a high-resolution video camera to offer good quality images on the 5" handheld monitor receiver. The premium lens pans 355° to capture all corners in a room, and can also tilt 160° to see floor to ceiling. There is a 2x digital zooming ability, you can zoom in and out to get a better view. It's a great relief for you to be able to watch at the baby monitor and see the little one is alright.
Fit4 Adapt 4-In-1 Convertible Car Seat
$379.99; ChiccoUSA.com
Utilizes an innovative combination of humidity-regulating fabric and breathable mesh to help control your child's microclimate, keeping them cool when it's warm and warm when it's cold. Easy to secure your child correctly and comfortably from birth to big kid through multi-staged construction and easy-to-remove, breathable mesh layers. Combined with a 10-position Easy-Extend Headrest System, offering room to grow through each unique stage, all the way up to 57" tall.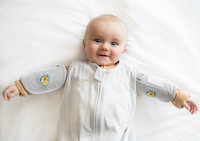 Swaddle Sleeves Original
$29.99; SwaddleSleeves.com
A safe sleeping babywear line that includes gently-weighted, attachable sleeves to soothe babies' involuntary movements when sleeping. Ideal for swaddle transitions or a swaddle alternative.
Snuggle Nest Dream Portable Infant Sleeper
$44.99; BabyDelight.com
Creates a comfortable and safer sleep environment for a baby within an adult bed. Features two rigid, vented walls that are 8" tall. The bed length has been extended while the width can fit comfortably in both Queen and King size beds. The tall walls are lined with a soft, breathable mesh. Quickly and easily folds in half and is ideal for using at home, as well as for travel.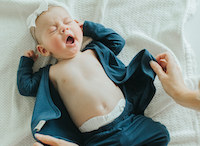 Bonsie Onesie
$25; Bonsie.com
Designed for skin-to-skin contact between babies and caregivers. Onesies have double-layered flaps connected by velcro. Once the two flaps are open, the baby's chest and belly are fully exposed for skin-to-skin connection (but arms and legs remain covered).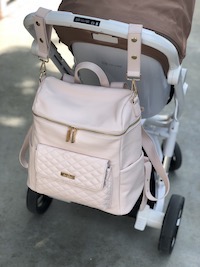 Luli Bebé Monaco Diaper Bag
$159; Lulibebe.com
Worn as a backpack or a shoulder/crossbody bag, with clips provided to attach to it to a stroller, this diaper bag is versatile and beautiful.The central satin lined storage space is ringed by pockets for a total of nine storage spaces, to keep all of the baby's things organized and easy to reach. Available in two sizes and the soft vegan faux leather texture is gorgeous and easy to care for.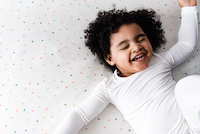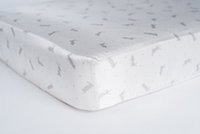 Fitted Crib Sheet
$108; CocoBeansCo.com
100% silk crib sheet that prevent tangled, dry, frizzy hair and bald spots. A "curly-conscious" line of crib sheets that celebrates the diversity of today's modern family and promotes beautiful curly hair. Naturally hypoallergenic and safe for sensitive skin. Temperature regulating, moisture-wicking and breathable. Invented by a mom who was tired of painfully detangling her daughter's hair every morning.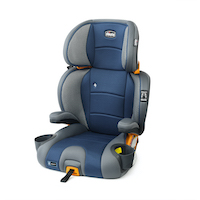 KidFit Adapt Plus
$119.99; ChiccoUSA.com
Draws away moisture to help maintain an ideal core body temperature. The humidity-regulating fabric is permanently embedded with naturally derived volcanic mineral particles to regulate your child's microclimate – speeding evaporation to help cool or returning the body's own infrared energy to help warm. The easy-adjust headrest ensures proper belt positioning and integrated side wings offer two layers of protection for the head & torso with a rigid shell and EPS energy-absorbing foam. The two-position backrest detaches to create a backless booster for older kids.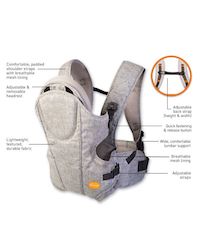 Oxford Carrier
$49.99; Dream-Baby.com
Designed to be worn three ways: with baby in front-facing inward, in front-facing outward or riding backpack style. Comfortable, adjustable padded shoulder straps, wide lumbar support, with breathable mesh lining. Easily adjustable and removable headrest. Quick fastening and release buttons.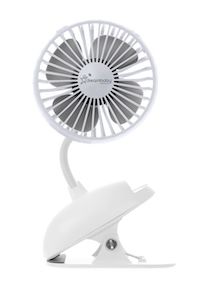 USB Rechargeable Clip-On Fan with Breeze-Mode
$19.99; Dream-Baby.com
Helps keep your child cooler whilst out and about in the stroller. A convenient USB charging cable is included, allowing you to charge it anywhere, anytime.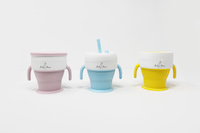 Baby's Brew 2 in 1 Collapsible Snack Cups
$14.99; TheBabysBrew.com
Takes the hassle out of snack time. Now you can use it as a sippy cup or snack cups depending on your mood! Collapsible Cup for on-the-go drinks or snacks with multiple use functionality. Includes snack cup lid, sippy cup lid, straw, and collapsible cup.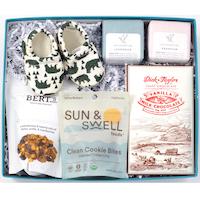 California Crafted Box
$80; CaliforniaCraftedBox.com
Share the best of California while directly supporting small businesses and manufacturers, ranging from luxurious spa products and housewares to a wide array of carefully curated edible goodies and gourmet foods.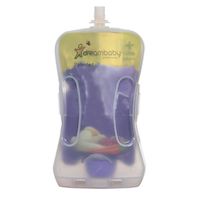 Pouch Pal
$6.99; Dream-Baby.com
Lets your toddlers enjoy food and discover learning how to eat it without worrying you about the mess. Use it for on the go or at home to prevent squeezy messes. Comfortable size for little hands and the patented technology ensures pouch does not collapse causing wasted food.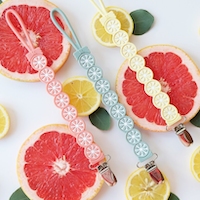 PaciGrip Silicone Citrus Pacifier Clips
$7.99; BooginHead.com
So adorable and practical a the citrus theme, colorful accents with vibrant style. The citrus clips are made of food-grade silicone that keeps pacifiers close and clean while doubling as a teether.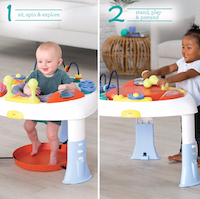 3-in-1 Sit Play & Go Let's Make Music Entertainer & Play Table
$69.99; Infantino.com
With three height positions, the adjustable design allows the product to grow with baby while also transitioning into a stand & play table for toddlers. The ultimate introduction to music, this entertainer will have your little one movin and groovin for hours on end.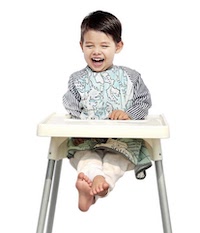 Bibbrella Full Coverage Bib
$18.99; Bibbrella.com
A full coverage bib to protect your child (and their outfits) from mealtime storms. Provides complete arm, torso, and lap protection. The bib features a velcro panel in the front that can remain closed or come apart to make adjustments around high chair straps. When on the go, you can use the built in strap to wrap up the mess and stow away until you get home, just like an umbrella.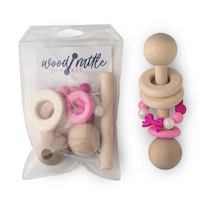 Wood Rattle DIY Kit
$16.13; www.carasupply.com
Each kit comes with all of the necessary supplies to create your completed craft project. These rattles have been handmade with beautiful hard Canadian Maple wood. Careful attention and custom detail has been given to the proportions of this rattle, ensuring that you receive the finest and safest quality product for your DIY wood rattle.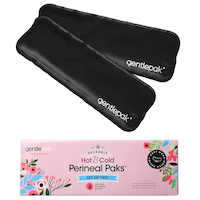 Reusable Hot & Cold Perineal Pake
$25; GentlePak.com
Featuring a washable sleeve, a gel inside, and uniquely shaped for the perineum region, it's the essential item for pregnant and postpartum moms. What truly sets these ice/heat packs apart is they're shaped to rest on your perineum, designed to fit the contours of your body with a slim shape that doesn't bulge or show. The terry cloth covers add an extra layer of comfort for the sensitive skin area and can be used hot or cold.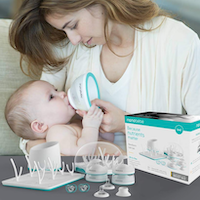 Breastmilk Bottle Starter Set
$39.99; Nanobebe.com
Focused on health, convenience, and style, this set includes everything pumping moms need to feed a breastfed baby.
The nutrient-preserving Breastmilk Bottles are shaped like mom for instinctual connections with no nipple confusion. They warm safely and evenly 2x faster than standard bottles, stack to save space, and are easy to clean. This baby bottle set is a great addition to your baby registry or as a gift any expecting parent will love.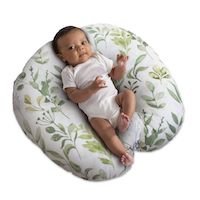 Boppy Newborn Lounger
$33; Boppy.com
Uniquely designed with a recessed interior for a newborn's bottom, this lightweight product is perfectly portable. Soft, wipeable fabric for easy clean up from spit-up and other "oops" messes. Made for babies up to 16 pounds. Designed for baby's awake time only. Handle for easy carrying and travel.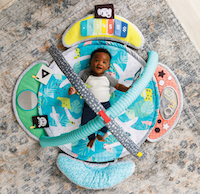 Infantino 5-in-1 Epic Developmental Learning Gym
$69.99; Infantino.com
Brimming with mind expanding exploration - from overhead play to 4 tummy-time experiences to 3 sit & play developmental activity stations your wee wild ones will be dreaming of this delightful destination. Inncludes a magically musical electronic piano, a gigantic tropical play mat, wild-animal flashcards, bewildering baby basic toys, curious sounds, must-touch textures, and majestic colors.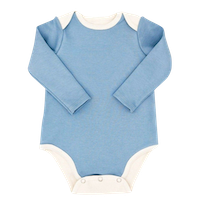 Boom Boom Baby Company Wearable Blowout Protection
$42-$46; www.boomboombabyco.com
This buttery soft long sleeve bodysuit is perfect for cooler days, or hot ones spent in air conditioned spaces. A baby can wear it on its own or as a bottom layer underneath any other clothing. The bodysuits have breathable, waterproof, and antimicrobial backs that contain blowouts when diapers fail.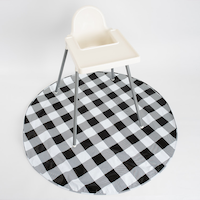 SplatMat
$16.99; BooginHead.com
SplatMat is a durable, reusable multipurpose floor mat that goes under a child's chair to catch spilled food, protect floors during art projects, and folds down easily to travel wherever you need extra protection in public places. Easy to clean – just wipe down with a damp cloth, and the mess is gone.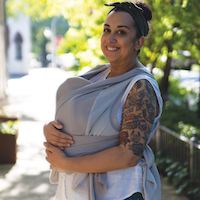 Boppy ComfyHug Hybrid Newborn Baby Carrier
$60; Boppy.com
With a hardware free design, yoga-inspired wraps and a soft structured center panel for baby, the ComfyHug can securely and comfortably carry babies as small as 5lbs. The size inclusive design conforms to your and baby's changing bodies. A removable bolster helps the carrier grow with baby and allows a perfect fit from day one.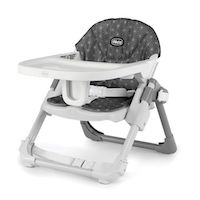 Take-A-Seat 3-in-1 Travel Seat
$49.99; ChiccoUSA.com
This all-in-one seating solution features a chair booster, floor seat and toddler chair, providing the perfect seat for everyday use at home or on-the-go adventures. Straps securely to most chairs for meals or snacks and features anti-slip, non-marking feet. An adjustable, three-point harness keeps your little one secure and the wipeable & machine washable seat pad allows for easy cleanup. Also sits firmly on the floor, providing your child with a comfortable, upright position for interactive play time.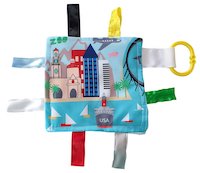 8x8 San Diego City Tag Square
$15.95; BabyJackAndCompany.com
The San Diego-themed fabric includes local buildings, monuments, and staples found throughout the city. Features textured ribbons and fabrics that encourage tactile play and help children develop cognitively, socially, and emotionally through sensory interaction.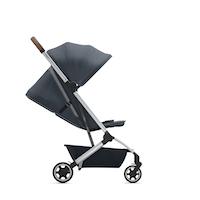 Joolz Aer Stroller
$399; Joolz.com
This compact travel stroller has a one-handed quick fold, patent pending comfort seat and only weighs 13.4 lbs. With our effortless fold, you can easily close the Joolz Aer and throw it over your shoulder in a matter of seconds. A comfortable elastic carry strap makes transporting the Joolz Aer easy, while its compact size fits in the overhead bins and in the trunk of the smallest cars. Provides superior support to your child's neck and back in all positions, including a five-point safety harness, an extended seat back, and an adjustable recline that gives kids 6 months or older a comfortable ride.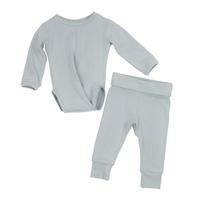 Peasy No Snap Infant Clothing
$18-$44; PeasyCo.com
The no snap onesie is sans snaps, buttons, zips, ties, magnets, or velcro for no-fuss diaper changes on-the-go. Peasy is defining infant and kids gear to provide efficiencies for parents, comfort for kids, and sustainability for the environment. Mom-invented; Ethically created in Carlsbad, California.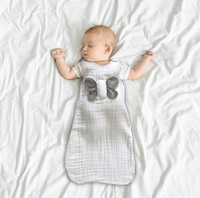 Snuggy Buddy Wearable Lovey Blanket
$49.99; SnuggyBuddy.com
The first wearable lovey to feature a soft weighted attachment at chest level to safely comfort your 6-12 months old while in a crib. The weighted butterfly-shaped attachment mimics parents' comforting touch to provide security and calmness to soothe babies to sleep. Easy in-and-out access for diaper and outfit changes (includes snaps on shoulders and zippers). Portion of sales funds blankets for babies in need through Project Linus.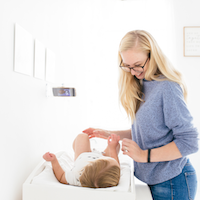 Diapertainment
$20; Diapertainment.com
A simple way to entertain a baby while diapering- it's a clear, angled phone tray that attaches to the wall at the perfect viewing angle for the baby. Play a video on your phone, slip it into Diapertainment and keep baby entertained so you can change their diaper much easier and safer- helping to keep babies still to prevent changing table falls or accidents.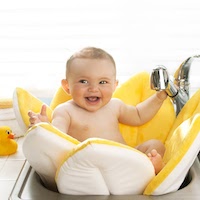 Blooming Baby Bath Lotus
$39.99; BloomingBath.com
The Blooming Bath Lotus has an elegant design, features four petals and a thinner foam. Why would anyone want to bathe their baby in a hard plastic tub when they could surround their little one in the cuddly softness of an adorable plush flower? The Blooming Bath is the winner of the Parent Tested Parent Approved Award.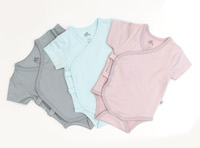 Ollie World Dailies Baby Bodysuits
$18-$22; TheOllieWorld.com
The exceptionally soft, moisture-wicking fabric, brings moisture away from the skin and through to the top of the fabric where it evaporates, leaving the skin dry and baby cool and comfy. The special fabric helps to regulate baby's temperature and prevent overheating as well as reducing rashes and irritations. Available in basic bodysuits and in a wrap style, in three colors; sky, lavender and stone.
Updated: August 2021