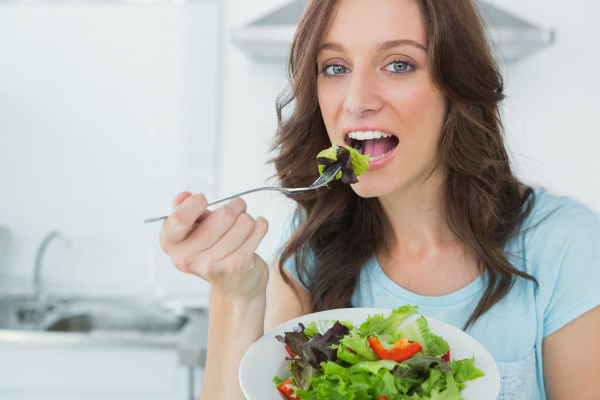 When you're pregnant, you hear a lot about the importance of "eating for two." But did you know it can take twice as many calories to breastfeed your newborn than to actually grow your baby in utero? While each person is different, Nutritionist Jennifer Kelly says newly postpartum moms typically need 1,800 to 2,200 calories per day to make enough quality milk for their babies. The exact number varies depending on different factors such as your weight, exercise routine, metabolism and how frequently you're breastfeeding.Instead of counting calories, moms are encouraged to follow their hunger as a guide on how much to eat and when. "We're rebuilding our bodies after pregnancy and birth," says Kelly. "At the same time, we also have to produce milk. We're asking our bodies to do a lot, so we need more nutrients to do that." Rather than obsessing about the quantity of food, focus on the quality. Variety and balance are essential to any healthy diet. According to Kelly, breastfeeding mothers should choose organic whenever possible because it rebuilds the body faster and improves the quality of your breast milk.Consider adding these essential items to your next grocery list:
• Fresh fruits and vegetables
• Lots of leafy greens
• Free-range, grass-fed meat and wild-caught fish
• Gluten-free grains and cereals
• Items with healthy, unsaturated fatsEating these foods will bring you and your baby good health and restore your vitality to keep up with the demands of parenthood. "Your baby pulls nutrition from your body as she breastfeeds. You need to keep up with the quality and quantity needed to provide proper nutrition to sustain both of you," says San Diego lactation consultant Leilani Wilde. "Doing it safely and appropriately will take you to your ideal weight much faster than eating a lot of processed foods, or foods with fillers, pesticides or chemicals."Having a hard time getting these nutritious foods into your daily diet? You can also try adding a supplement, such as food-grade prenatal vitamins, high-quality probiotics or fish oil. Talk to your doctor for suggestions.
For more nutrition tips and other recommendations to help a breastfeeding body function at its best, listen to our podcast on the topic.
---
Sunny Gault is a San Diego mom of four and founder of The New Mommy Media Network, where you'll find free podcasts for new and expecting parents.
Published: May 2015