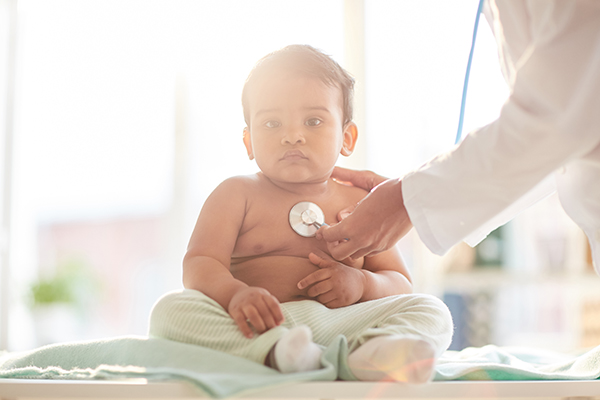 Thank you to all the local parents who responded to our request for favorite pediatricians, OB/GYNs and midwives in San Diego County. Doctors and providers are listed alphabetically by organization, some of which also fall under the umbrella of Rady Children's Hospital. Be sure to also check out our San Diego Toddler and Baby Guide at www.sandiegofamily.com/parenting/baby/san-diego-babies-and-toddlers.
PEDIATRICIANS
Arch Health Medical Group
Dr. Stuart Graham, Poway
He is very accommodating and available and he shows extra care towards the kids and explains things to parents with ease. -Heather


Bailony Pediatrics
Dr. Ahmad Bailony, National City
Dr. Bailony is very good at making our children comfortable during check-ups. He is aware of things children like and can relate. -Chrissy, Otay Ranch


Childrens Physicians Medical Group
Dr. Gina Rosenfeld, San Marcos
Very helpful, knows my kids well, is personable and understanding. My kids love Dr. Rosenfeld.
-Christine, San Marcos

Children's Primary Care Medical Group
Dr. Jessica Coullahan, Escondido
Both Dr. Coullahan and Nurse Practioner Adrianna Haas respond right away if I have medical concerns about my children. Dr. Coullahan even sent a message via "my chart" and asked to see how my kids are doing! They are both working moms, so it's nice to have doctors who actually know what you are going through. -Elizabeth, San Marcos
+Dr. John Hansen, Kearny Mesa
Very attentive, very knowledgeable and caring and relates to the child. -Cynthia, Encanto
Dr. Hansen was my pediatrician and the best doctor I have ever had. He now cares for my children. He listens and gives great advice. I never feel pressured and we can talk about things. -Tara, Santee

+Dr. Trevor Henderson, College Area
Dr. Henderson's amazing medical knowledge as well as his tender, compassionate care aren't equaled in other doctors we have encountered. He helped us through a diagnosis of a heart murmur [and other issues with] our newborn daughter. I really, truly felt like he cared for my children like they were his own and trusted his medical advice and knowledge. My son is a young adult now and we still adore Dr. Henderson and our memories of him. -Lynn, Lemon Grove


Dr. Regina Mangine, Santee
She is welcoming and listens to your concerns (all of them) and makes sure all areas are addressed and answered. She understands and respects personal beliefs and helps assist and not force meds on your children. She is great at responding to emails and lets you know if an appt. is needed or what to try at home. She is very open and answers you honestly. My daughters, my husband and I are all very comfortable with her and we feel like our daughters are in great hands. -Cherokee Eddy, Jamul

Dr. Randall Metsch, Encinitas
Patient, helpful, great with the kids. -Sibil, San Marcos

Dr. Ursula Pertl, Oceanside
Dr. Ursula takes the time to listen to her patients, she saved our son's life when he had a bad case of pneumonia. She has got us in on her lunch break and called after work to see how our kids are doing. She is amazing and we are so lucky to have her as our pediatrician. -Carolina, San Marcos


Dr. Anita Pinto, El Cajon
I've been taking all three of my kids to Dr. Pinto since they were born and when she was located off Jamacha. My kids are now 14, 12 & 5 and still enjoy seeing her. She is very thorough, answers all your questions, and doesn't try to rush your appointment. Time well spent, she always asks if we have questions or concerns. She's very honest and good at explaining clinical info that we may not understand. She is awesome and provides great care, and I couldn't be happier. -Jamie

Dr. Nancy Shiau, College Area
She listens very carefully to the parents' concerns, assesses the child's situation and is very thoughtful about treatment. She is very empathetic and caring. The entire staff at the Alvarado office are nice people. -Robert, La Mesa


Dr. Kamei Tolba, Encinitas
Fun, thoughtful, considerate, gives you time. -Anonymous

Coast Pediatrics
Dr. Jamie Lien, Carmel Valley
Great staff, knowledgeable and patient, respectful of homeopathic/nutritional beliefs, we can always find an appointment (any day or time needed), great books in each patient room for children to read/look at. -Kim

Dr. Rob Warner, Del Mar
Dr. Warner is friendly, caring and very knowledgeable. He will sit and talk to the parents or kids at length about anything. He truly loves what he does! -Meredith, Carlsbad

Kaiser Permanente
Dr. Patricia Cantrell, Grantville
She is always positive and happy to listen to my concerns and how I like to do things. She has never once judged me for delaying vaccines or keeping my son intact. I just always feel comfortable around her she doesn't push anything and my kids absolutely love her. -Kasandra, Santee

Dr. Stephanie Washburn, La Mesa
Kind, caring, understanding, never makes me feel like any question is silly or unrealistic. She is great with the kids, they always felt safe in her care. -Marsi


Dr. Joanne Wong, Grantville
Listens to what our concerns are and is very knowledgeable. -Hillary, El Cajon

Scripps Coastal Medical Center
Dr. Dania Lindenberg, Hillcrest
Dr. Lindenberg manages the care of my child with 22q 11.2 Deletion Syndrome. She gives expert care, a sympathetic ear, and soft reassurance to my son, while managing information from his 6 specialists. We simply could not ask for a better pediatrician. -Emily, Clairemont

Scripps Clinic
Dr. Erin O'Leary, Santee
Professional, good background, caring approach. -Dilek, Downtown San Diego

Dr. Matilda Remba, Mission Valley
Dr. Remba has a connection with kids that is amazing. She has superior knowledge in her field. And Dr. Mitchell is the best! His care for my wife during her pregnancies was excellent. I would recommend to anyone who wants to start a family. -Anonymous

Dr. Lynne Scannell, Santee
I met Dr. Scannell while in the hospital with my first son. He was only a couple days old and had a fever the nurses did not catch. Dr. Scannell came in, took time and examined my son. She had him sent to the NICU and thanks to her thorough examination and bedside manner, he was given great care and was out of the hospital in a week. I knew then I wanted her as my sons' doctor. She has been the pediatrician for him and now my 19-month-old daughter for the last 3.5 years. She is an amazing doctor and I completely trust her. I cannot say enough great things about her and I would never consider another doctor for the two most important people in my life! -Katherine, Lakeside

Sharp Rees-Stealy
Dr. Michael Antos, Otay Ranch
The best with triage and doesn't waste your time when needing advice/care. -Tania, Chula Vista


Dr. Jennifer Barkley, Carmel Valley
Evidenced-based care, very responsive. -Anonymous

Dr. Cherie Chu, La Mesa
Dr. Chu is an amazing asset to our growing family. Aside from being knowledgeable, she's trustworthy and honest about her opinions when asked, "What would you do?" Her children are a little older than mine, and I feel like her expertise as a mom is just as important as a physician. For example, she recommends books and stories that really help young minds understand the importance of healthy habits that actually work! Dr. Chu-isms are used daily in our home. She knows how to treat diseases, and she knows how to treat healthy children. -Crystal, Lakeside

Dr. Lizzie Giangreco, Rancho Bernardo
[Recommended by Gracie, Murrieta]

Dr. Jershonda Hartsfield, Otay Ranch
Dr. Hartsfield is always so friendly and helpful. She welcomes questions and concerns 24/7 and will even answer emails after hours. -Josie, Chula Vista

Dr. Peggy Manuel, Kearny Mesa
Dr. Manuel is outstanding. She is always on top of the most up-to-date research for every child. She provides you with a wealth of information at each meeting and the research to back it up. Dr. Manuel always tries to implement the most natural intervention first. She never rushes you out the door and is very kind. She is truly outstanding. The sharpest of them all! - Kelly, Ocean Beach
Dr. Albert Martinez, Scripps Ranch
[Recommended by Cathy, Rancho Peñasquitos]

Dr. Theresa O'Dea, Scripps Ranch
Provides details, responsive, undivided attention, friendly. -Mona, Carmel Mountain Ranch

Dr. Jenny Ou, Rancho Bernardo
[Recommended by Vilma, Rancho Bernardo]

+Dr. Eric Reed, La Mesa
Dr. Eric Reed has been the only pediatrician who truly cared and listened when we knew our son was on the Autism Spectrum. He always listens to our concerns, never pushes medications, and always gives us printed information on things we can do and learn to help our son. Our children love visiting Dr. Reed—he makes every visit fun. –LiLiAnn, Santee
[Dr. Eric Reed] is so patient and kind and really makes us feel at ease during appointments, explaining everything thoroughly. -Shonna, El Cajon
[Dr. Eric Reed] is patient with kids and very informative. -Tracy, Spring Valley

Dr. David Reynaldo, Del Mar
Conservative approach to medicating situations. He is thorough, kind and spends quality time with his patients. -Tammy, Rancho Bernardo
OB/GYNs
Cap Women's Health
+Dr. Nikolas Capetanakis, Encinitas
Dr. Cap has an amazing way of helping you have the birth you envision! I had two unmedicated deliveries and Dr. Cap was there throughout the entire process from first visit through delivery. He is calm, relaxed, encouraging, realistic, and above all highly skilled. I recommend him 110 percent! –Deeanne, Oceanside
Dr. Cap is not part of a big group, so you get personalized care and with rare exception, he's at all his patients' deliveries. When the office is open you get a live person to talk to (not the run-around of leaving voicemails and hoping to get a call back). Dr. Cap works with you as a partner in your health, giving his expert knowledge, but also reminding you that you have choices. There's no pressure to induce or have a C-section; if you need a C-section, he uses the gentle method. For those that want (and qualify for) VBAC, he'll support you. He's got a nurturing, positive vibe that eases anxiety and brings comfort. -Kristine, Temecula

Ho Vu Women's Healthcare
Dr. Lac Vu, College Area (East)
The kindest, most caring man and never against any of my wishes throughout my pregnancy and childbirth. Coached me right through my delivery with ease and 100% confidence in me. -Kailee, Lakeside

Kaiser Permanente
Dr. Patricia Ann Brown, Grantville
Takes very good care and keeps a close attentive watch through high-risk pregnancies. -Hillary, San Carlos

Dr. Kelly Cork, San Marcos
[Recommended by Britney, San Marcos]


Dr. Amber Knight, El Cajon
For me personally, I felt she was so relatable. She had just recently had a child herself. She was professional, but made me feel comfortable throughout the whole pregnancy. Any concerns I had, she would address and follow up. I thought she was a wonderful, caring person who just happens to be an amazing doctor. -Jasmine

Dr. Nah Yong Moon, San Marcos
[Recommended by Jade, Oceanside]

North County Women's Specialists
Dr. Victoria Young, Escondido
Friendly front office. Personable, understanding, so helpful. Will go back to her for next pregnancy for sure. -Christine, San Marcos

Palomar Health
Dr. Gregory Langford, Escondido
Recommended by Linda]

Scripps Clinic
Dr. Stephen DiMarzo, La Jolla
Dr. DiMarzo is the best. He is friendly and always makes you feel at ease. He was great with my last two pregnancies and always made me feel comfortable and well taken care of. He listened to my concerns and took care of me and my unborn baby. -Alicia, Kearny Mesa

Dr. Anupam Garg, Hillcrest
[Recommended by Dilek, Downtown San Diego]

Dr. Renee Nelson, La Jolla
She is easy to talk to. Honest, open and willing to do what is needed to make things run smoothly and safely. Makes you feel at ease and confident in your decisions. -Amber, Lakeside

Dr. Ronald Salzetti, Rancho Bernardo
Dr. Salzetti has a very calming and caring demeanor. When I was first pregnant and looking for an OB (I worked at Scripps at the time), I asked around internally because I wanted to find a doctor just as nice to his staff as to his patients. Dr. Salzetti was highly recommended. I have now been with him through two pregnancies, he delivered one of my children, and [helped me with] multiple women's issues. Every time I see him, he listens without rushing the visit and always has an answer for me. When another doctor freaked me out during my first pregnancy, Dr. Salzetti calmed me down and assured me that everything was going great and I didn't need to worry. I can't thank him enough for the compassionate care he gives --- I will continue going to him as long as he continues to practice. -Christina, Santee

Dr. Elizabeth Silverman, La Jolla
Nice, chatty, considerate. -Nikki

Dr. Lily Tsai, Encinitas
Listens and takes time to discuss treatment options. -Sibil, San Marcos

Sharp Rees-Stealy
+Dr. Robert Barmeyer, Kearny Mesa
Dr. Barmeyer has an amazing reputation. I heard about him by word-of-mouth and also saw him pop up multiple times in Google searches as the best OB/GYN. He makes everyone feel so comfortable during pregnancy and is an expert with cesarean birth. My scar was small, both babies were healthy and happy, and my recovery was better with Dr. Barmeyer than with my previous doctor. He is exceptional.
-Brittany, Clairemont Mesa
[Dr. Barmeyer has] so much experience! Mild/mellow temperament and allows the woman to choose what she wants and doesn't judge. -Tania, Chula Vista

Dr. Dana Chortkoff, Del Mar
Very experienced. -Tracy, Spring Valley

Dr. Philip Diamond, Otay Ranch
He's very knowledgeable and is always very friendly. He makes you feel comfortable and always gives you the information you need. -Nelly, Chula Vista

Dr. Blair Henderson, Otay Ranch
She's caring, knowledgeable and straight to the point. -Jessica, Chula Vista

Dr. Christopher Lafferty, La Mesa
He is very thorough and explains everything in detail. -Tracy, Spring Valley

Dr. Andrea Seid, Santee
Dr. Seid is not only one of the nicest doctors I've ever had, but she is super attentive and will listen to every concern and address each one individually. She keeps in contact and responds to messages very quickly. She took the time to help me through a difficult miscarriage and helped my body get back on track, knowing we wanted to have another baby. She monitored me, checked on me, and answered every question and worry I had. She never dismissed my emotions. Because of her help and care, we are on our way to having baby #3. She has been with me every step of the way to ensure our baby will be born healthy and happy just like our other two children. -LiliAnn, Santee

Dr. Maia Uli, Rancho Bernardo
Kind, compassionate, great at listening to your concerns and modifying a care plan. She is the best doctor we have ever had! -Tanya, San Marcos

Dr. Jenny Vesona, Scripps Ranch
[Recommended by Mona, Poway]

Dr. Tina Ziainia, Scripps Ranch
Treats you like family. -Gracie, Murrieta

South Bay OBGYN
Dr. Juan Rivera, Chula Vista
Dr. Rivera ensures his patients receive the best care, annual exams and prenatal visits. He has been my provider through three pregnancies and one miscarriage, and was there for me every step of the way. I trust him with my health and the health of my babies. –Elyse, Chula Vista

MIDWIVES
Best Start Birth Center
Shari Stone-Ulrich, Point Loma
She is straight to the point, yet very kind and compassionate. When it came to our pregnancy, we appreciated her candidness and wisdom, she surpassed all of our expectations. -Jes, El Cajon

Birth Local Midwifery
Kayti Buehler, Kensington
She has compassion, patience and passion for her work. -Nikki

Birth Roots Women's Health and Maternity Center
Donna McBride Hooyen, Chula Vista
Donna has nine kids of her own (six born at home) and several grandchildren. She was also a Le Leche League leader for 20 years, so she has a lot of life experience. Birth Roots has a sliding fee scale based on income, making it possible for almost anyone to have a midwife-assisted birth if they want it. The care was exceptional for my daughter and grandson. –April, Downtown San Diego
Kaiser Permanente
Marianne Richard, Grantville
Absolutely amazing in every way. She is helpful and attentive to your needs and organizes a smooth experience during a stressful situation. -Hillary, El Cajon

UC San Diego Health
Christine Cortes, La Jolla
She was gentle, kind, caring, patient, and super knowledgeable throughout my whole pregnancy and birth. -Shannon, Clairemont

Erica Vu Hill, La Jolla
Erica gave me the VBAC I desperately wanted after experiencing a traumatic birth with my first. The midwives listen to women and their birthing choice. They respect your choices and your body and continued to ask me how I was in the process. I recommend UCSD to all expecting moms. -Monique
+Indicates people who received more than one recommendation.
Be sure to also check out our San Diego Toddler and Baby Guide at www.sandiegofamily.com/parenting/baby/san-diego-babies-and-toddlers.
____________