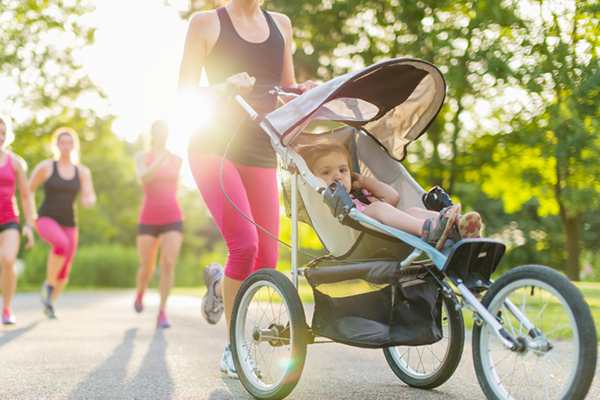 Postpartum fitness groups are an excellent way to meet like-minded parents while strengthening body and mind, and getting out with your cute little workout buddy! Instructors focus on training that makes new parents feel great—and they know all the tricks to keep baby happy during class. Here are exceptional parent/baby fitness classes in San Diego.
GroovaRoo Dance
At this babywearing dance class, families learn fun, simple steps to popular music while baby snuggles close in a soft carrier. This low-impact aerobic workout creates community for new parents while promoting healthy development for baby. Try the Basics class for fun, easy dance routines. Intermediate classes groove at a faster pace. Find a workshop near you at www.groovaroo.com.
Stroller Warriors
This FREE running club is open to military spouses & family members of all fitness levels. Groups meet on base at MCAS Miramar, MCRD or Camp Pendleton. Stroller Warriors helps military families beat stress and improve overall wellbeing. Attend with or without kids. Trainers are active-duty spouses with chapters thriving worldwide, so participants can keep up with fitness goals wherever they move. To learn more, visit www.strollerwarriors.com.
Fit4Mom
The nation's largest baby-and-me fitness company has a program for every parent—including dads and grandparents. At Stroller Strides, trainers lead 60-minute full-body workouts, incorporating fitness bands, cardio, toning and stretching. Parents feel the burn while using songs and activities to keep babies engaged. Classes may meet indoors or outdoors. Modifications are available for all fitness levels. Stroller Barre builds on the stroller strides concept, but with a focus on strength, length and posture using ballet, barre, yoga and Pilates moves. Older children are welcome at all stroller classes, as long as they remain seated and buckled. Other programs include drop-in, high-intensity Body Back classes and Run Club. Try your first class for free. https://sandiego.fit4mom.com
Hapa Yoga
In addition to a staffed childcare room, this family-friendly studio offers several classes for parents to practice yoga alongside their young children. Newborns and pre-crawlers are welcome at Mommy and Me Yoga, offering a gentle flow for postpartum healing. Mothers will bond with their babies while slowly rebuilding muscle strength. Music and Movement invites crawlers and toddlers to sing, play and move with their caregivers. Hapa Tots (ages 2–4) incorporates toddler-friendly poses. Studios located in Mission Valley and Eastlake. www.hapayoga.com
Hike it Baby
This group of nature-lovers explores outdoor spaces throughout San Diego County. Join an adult-paced hike for parents with babies in carriers or enjoy a Toddler Waddle and let tykes set the pace. Annual membership is just $10 per year, and the group offers a generous 90-day free trial. Learn more at www.hikeitbaby.com.
Baby and Me Yoga Pass at Sharp Mary Birch Hospital
Designed for postpartum women and their babies up to 9 months of age, this restorative yoga class is accessible for all levels. Enjoy a gentle practice to slowly build core strength, reduce stress and improve mother-child bonding. First class is free. Located in Kearny Mesa and Carlsbad. Learn more at www.sharp.com/health-classes/baby-and-me-yoga-pass-2.
If you've recently given birth, ask your doctor when it's safe to resume exercise—usually 6–8 weeks postpartum. Remember to start slow and listen to your body as it heals.
Anne Malinoski is a contributing writer and mother of two boys. She enjoys yoga and strength training and she's learning to like cardio.
_________