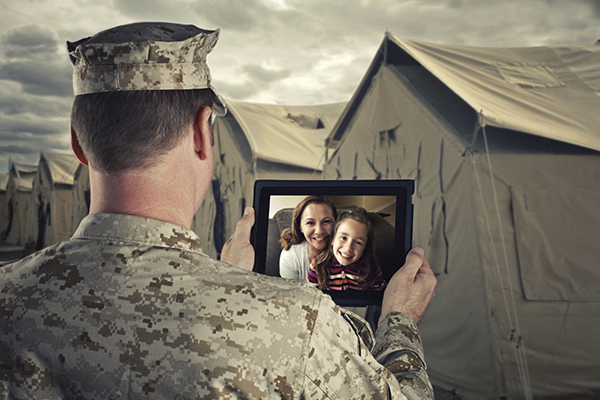 When giving thanks this month (or any time of the year), don't forget our military service members. Many organizations and veterans groups offer ways to support and show gratitude to members of the armed forces. Help a veteran, a deployed service member and military families know that you appreciate their sacrifices. Here's how:

Help an expectant military mom. Nothing relieves a soldier's worries more than knowing his family is supported back home. Soldiers' Angels Baby Brigade (formerly Operation Top Knot) is a nationwide network of individuals who sew, knit and create gift baskets to support new and expectant mothers whose husbands are deployed. To donate baby blankets, diapers, bottles, clothing and other items, register at www.soldiersangels.org/join-soldiers-angels/team-angel-info.

Write a letter. Remind veterans and their families that you are thinking about them and appreciate their commitment to our nation. Write a letter to a deployed soldier, a wounded warrior or a veteran who has served in past wars through www.OperationGratitude.com.

Support their furry friends. Raise money to go toward fostering pets of active duty service members, wounded warriors and homeless veterans. Guardian Angels for Soldier's Pet is a non-profit organization that finds qualified foster families to care for pets while soldiers are deployed or when military families transfer overseas. The foster families also care for pets whose warriors have died. Visit www.guardianangelsforsoldierspet.org for more information.

Contribute to Paralyzed Veterans of America. This organization supports veterans who suffered a spinal cord injury. Participate in one of the organization's sporting events or fundraisers, make a monetary donation or collect and donate bags of clothing, shoes, belts, hats, books, CDs and small household goods. To get involved, visit www.pva.org.

Assist disabled and wounded veterans. Volunteer at the San Diego Veterans Affairs (VA) hospital (www.sandiego.va.gov/giving) or support injured service members through the Wounded Warrior Project (www.woundedwarriorproject.org).

Help them call home. Veterans of Foreign Wars (VFW) supports military veterans and their families through a variety of programs, including Operation Uplink. The program enables service members and hospitalized veterans to make free calls to loved ones back home for three days each month. Go to www.vfw.org/Contribute to make a donation.

Send a care package. Soldiers who are serving far from home look forward to receiving mail. Visit www.anysoldier.com to learn how to send a letter and what is appropriate for care packages. If you'd like to help support a veteran who does not have family to assist in the transition to home and civilian life, join the Adopt a Veteran program through Soldiers' Angels at www.soldiersangels.org/adopting-a-soldier.html. Those who volunteer for the program make a 12-month commitment to send a weekly letter and a monthly care package, tailored to the veteran's specific needs.

Say thank you. If you see a soldier in uniform or a veteran, a simple "Thank you for your service" is a considerate way to express your gratitude. If you happen to be in a restaurant at the time and want to do more, consider paying for their meal.
Volunteer your time. Support the Enlisted Project (STEP) builds financial self-sufficiency among junior active duty enlisted members and recently discharged enlisted Veterans and their families through counseling, education and grants. Your family can make a difference by joining the STEP Team! Lend your skills to manage an event, help others learn financial skills (training provided), help pick up and sort donations or participate in any of the many other volunteer opportunities available at STEP. www.teamstepusa.org/volunteer


Why do we celebrate Veterans Day?
Veterans Day is intended to pay tribute to all American veterans, including honoring those that are living. Veterans Day originated as "Armistice Day" on November 11, 1919, to mark the one-year anniversary when Germany signed the Armistice to formally end WWI. It became a national holiday in 1938. In 1954, President Dwight D. Eisenhower signed legislation to change the name of the holiday to Veterans Day. It is observed on November 11, regardless of the day it falls on.
If you're a veteran or know someone who is, click here to discover tons of Veterans Day Events and Freebies in San Diego.
---

Freelance journalist, Christa Melnyk Hines, daughter of retired USAF SMSgt. Walter Melnyk, is thankful for all of our veterans and their families for their service.