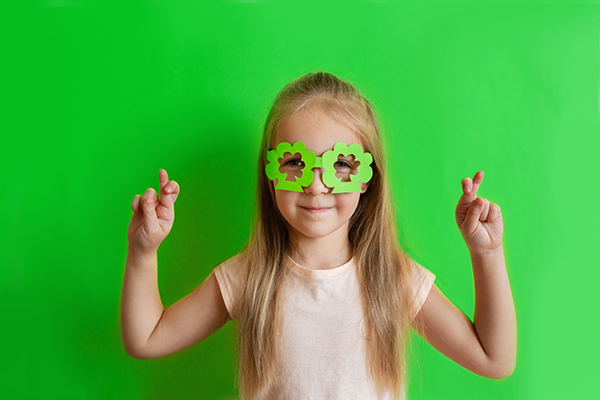 Start these traditions with your children
Kids love any excuse to make a day extra special, so why not March 17 of every year? You certainly don't need to be Irish to enjoy St. Patrick's Day with your kids and to honor St. Patrick, the patron saint of Ireland. On this day, everyone has a little Irish in them! Here are some ideas for traditions to start this year!

1. Wear green so you don't get pinched!
If your kids don't have much green clothing in their closet, head to a consignment or thrift store so you can go green for the planet while also wearing green. I have to admit sometimes I cheat and hit the local department store because they carry green T-shirts with cute St. Patrick's Day sayings like, "Everybody loves an Irish girl."


2. Go to a parade
Hopefully San Diego's annual St. Patrick's Day Parade & Festival will return to Balboa Park soon! In the meantime, check out our St. Patrick's Day Round Up for all kinds of fun ways to celebrate. Be sure to check our calendar for updated information on local events.

3. Go to McDonald's for a green Shamrock Shake
My kids get excited when these green milkshakes come out, and we have to hit the drive-thru for one every year. Want a chance to win free Shamrock Shakes? Have the kids enter our leprechaun trap contest! Details are on Instagram and Facebook @SanDiegoFamilyMagazine. Good luck!

4. Tell St. Patrick's story
Legend says he used a three-leaf clover (also known as a shamrock) to teach about the Holy Trinity. There are a ton of great books about St. Patrick, including "The Night Before St. Patrick's Day" by Natasha Wing and Amy Wummer, "St. Patrick's Day" by Gail Gibbons, and a board book called "The Story of St. Patrick's Day" by Patricia A. Pingry and Pamela R. Levy. You can also get a family movie called "St. Patrick: The Irish Legend" from Amazon.com or Netflix.

5. Have a small party
Penny Warner, author of "The Best Party Book," offers some great suggestions for having a fun St. Patrick's Day party:
For invitations, paint a stone green, write party information on the stone and leave the stone at the invitee's front porch.
Give a prize to the guest wearing the most green.
Hang construction paper shamrocks everywhere, hang green balloons, put posters of Ireland on the walls and, of course, play some Irish music.
Set out a gold pot filled with chocolate coins.
Play games like Hot Potato and make sure to set out a Mr. Potato Head set.
Make a shamrock cake using three heart-shaped cakes joined together and frost with green icing.
For food, have a potato bar with fun toppings like broccoli, chili, cheese and bacon bits.


Kerrie McLoughlin has a hard time finding green clothes for all seven members of her family.
------------------