MORE EVENTS ADDED EVERY DAY!
Even if you weren't able to get a badge to Comic-Con this year, there are plenty of fun events you can take part in outside of the convention center. Often fans in costume, walking around downtown are happy to stop for a photo opp which make fun, family memories!
Maybe/Maybe Not? "Family" Events - We are on the fence whether or not to call ALL of these entries "Family" events, so we are leaving them to your discretion. (We do our best to keep the list accurate, but sometimes events change without us knowing. Please understand if something listed is not 100% correct.)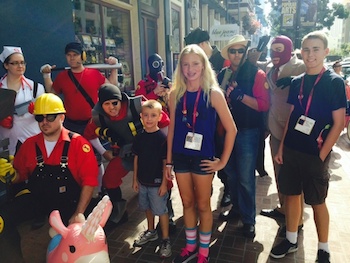 THE BATMAN EXPERIENCE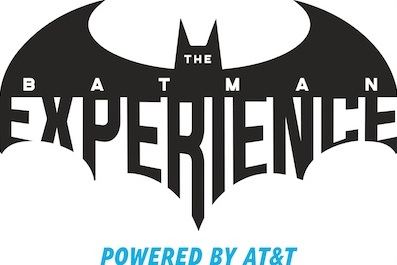 In celebration of the 80th anniversary of Batman, a massive, interactive exhibition that includes the largest-ever collection of Batman-related props, costumes and vehicles will be open to the public at the Comic-Con Museum in Balboa Park at 10 am from Thurs. July 18 through Sun. July 21. No SDCC badge is required to enter this free exhibition.
The immersive pop-up museum and gaming-centric installation will transport fans into the crime-fighting world of the Dark Knight. THE BATMAN EXPERIENCE, custom-built by AT&T with DC, will include activities on all three levels of the Museum's staggering 68,000 square feet space.
Other featured elements of THE BATMAN EXPERIENCE POWERED BY AT&T include:
The Dark Knight Dive is the centerpiece attraction of THE BATMAN EXPERIENCE and a one-of-a-kind VR skydiving experience into the Gotham City. By combining a skydive booth with the magic of VR goggles and a helmet in the shape of a Batman cowl, gamers and Batman fans will enjoy a 4D interactive experience. Visitors will virtually fly through Gotham City in pursuit of the Scarecrow, who in attempting to take over the city, unleashes his Fear gas and creates a harrowing journey for fans through Batman's 80 years of friends and foes.
The Batcave gaming lounge will feature all generations of Batman video and arcade games straight from the DC archives - examples include Warner Bros. titles such as Batman The Brave And The Bold (Wii or 3DS), LEGO Batman 3 (PS4), Batman: Arkham Knight (PS4) and Injustice 2 (PS4) - and are all available to play as part of THE BATMAN EXPERIENCE.
Hundreds of rare pieces of iconic DC comic book art and large-scale film and television props, including several from Tim Burton's groundbreaking "Batman" film such as the Batmobile and Batsuit worn by Michael Keaton. The original Batman feature film is celebrating its own 30th anniversary this year. Joining these classic pieces will be a new car created by "Wayne Technology" that will give fans a taste of their future entertainment experiences in autonomous cars with 5G.
WHAAM! KABOOM! POW! The Rogue Gallery Rumble is an interactive punching bag experience that uses projection mapping and lights to trigger classic and iconic animations and sounds throughout the space.
A special 6-foot Batman Black & White Statue designed by acclaimed artist and writer Todd McFarlane will be unveiled on July 17, marking the 100th statue in the line. The one-of-a-kind life-size version of the 100th statue will be displayed throughout SDCC along with the other 99 Batman Black & White figures from DC Collectibles.
A sneak peak of the exhibition will be available to attendees at THE GATHERING, a special ceremony inducting Batman into the Comic-Con Museum Character Hall of Fame on Wed. July 17 at 5 pm., the first time a comic book character has ever been given that honor. This is a ticketed event for ages 21+. Tickets range from $50-$750 and are available at www.ccmgathering.org.
Interactive Zone at Petco Park: Lexus Parking Lot – Imperial Ave. at 11th Ave; Near Petco Park 100 Park. Blvd., San Diego, CA 92101
An outdoor interactive zone that features activations, food trucks and entertainment over the 4-day Comic Con weekend! No badge required!
Shark Week! Watch as Sharkzilla chomps everything from jet skis, to lifeguard chairs and beer kegs. A 40-foot chomping shark! FREE shark week t-shirts are printed and given away all weekend long. Dates/Times: Thurs. July 18 thru Sat. July 20, 10am – 6pm & Sun. 10 am-5 pm.
Ripley's Believe It or Not! Car Lot: Feature Believe It or Not! vehicles — from the world's smallest car to a Landspeeder! Fans will be welcomed by "LeRoy," the used car salesman with a few tricks up his sleeve. Fans can take a break in the waiting room where they can enjoy a mediocre cup of coffee, take a photo and relax reading Ripley's graphic novels. Kid's corner has vintage Ripley pinball machines and other activities. Dates/Times: Thurs. July 18 thru Sat. July 20, 10am – 6pm & Sun. 10 am-5 pm.
Funrise Rainbow Unicorn Butterfly Kitty (RBUK): Meet Rainbow Butterfly Unicorn Kitty with themed photo ops, disco party and giveaways! Dates/Times: Thurs. July 18 - Sat. July 20, 10 am – 6 pm & Sun. 10 am-5 pm.
The Hello Kitty Cafe Truck! Location TBD! Fans of Hello Kitty can look forward to a new batch of exclusive goodies and limited-edition collectibles. Dates/Times: Thurs. July 18 through Sat. July 20, 10 am – 6 pm & Sun. 10 am-5 pm.
Comic Pop Up Market & Comic-Con Inspired Art Show!
Sat, July 20 12 pm-to 6 pm at the WorldBeat Cultural Center, 2100 Park Boulevard in Balboa Park. A plethora of sights and smells for the senses. Handmade goods, vegan food vendors, Kombucha on tap, face painting and more! More info at https://www.eventbrite.com/e/comic-pop-up-market-art-show-tickets-62800116840
Chicano Con
Bring the family to Barrio Logan's Border X Brewing from Fri. July 19 - Sun. July 20 for Chicano-Con, a comics and music event that spotlights the work of Latino artists. This free, famiy-friendly event includes a kids comic book giveaway, cape and mask-making workshop, DIY comic book session, action figure photo workshop, Chicano-Con panel featuring local authors and artists and more. Don't forget to dress up, cosplay is encouraged! See Facebook event page for more info. www.facebook.com/events/388884415168607
Book Signing with Edgardo Miranda-Rodriguez
Meet graphic novelist Edgardo Miranda-Rodriguez at the House of Puerto Rico in Balboa Park. The FREE book signing takes place on Sun. July 21 from 12-1 pm. Miranda-Rodriguez is most notably recognized as the writer and creator of the critically acclaimed and bestselling Puerto Rican superhero series La Borinqueña. www.la-borinquena.com
The San Diego Symphony presents Bayside Summer Nights!
A one-of-a-kind summer concert series. Delight in the sound of fantasy and science! More info at www.sandiegosymphony.org
Friday July 19 7:30 pm: Galaxy Quest™ in Concert at Copley Symphony Hall
Sat. Jul 20 7:30 pm Back to the Future in Concert at Copley Symphony Hall
Comickaze Artist Alley
The 3rd Annual Comickaze Artists Alley at Liberty Station - Barracks 15. Free and no badge required. Fantastic selection of Comics & Graphic Novels and more events!
truTV Impractical Jokers: Jokers Island:
The Park at Petco Park is the place for Impractical Jokers fans! Join this free, family-friendly event games, giveaways, and more.
SATURDAY July 20: Doors open at Noon at the entrance on 7th and K Street - Big crowds expected.
A one-of-a-kind Island getaway celebrating all things Impractical Jokers. The celebration includes a music set by DJ G Money, a Staten Island Ferry Photo Experience, exclusive Jokers merchandise, custom face painting, free food, Live Impractical Jokers Sand Sculpture, and a misting tent from truTV's new hit series Tacoma FD to help fans cool off throughout the day. 4:30-6:00 pm: An autograph signing with Joe, Murr, Q and Sal!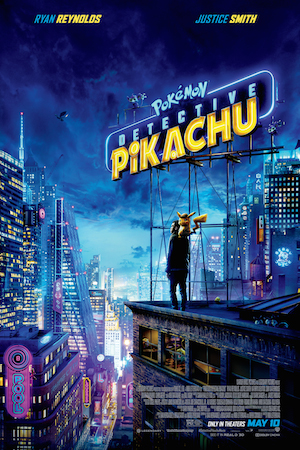 Detective Pikachu and Shazam from the WB!
Outside The Omni Hotel: 6th Avenue and L Street. Here's your families chance to meet and take photos with Detective Pikachu and crew and stroll through the neon cityscape, Ryme City marketplace and fill prop displays. At the same location find the Shazam! carnival filled with games and fun. Open Wed. 5 to 7 pm, Thurs-Sat 10 am to 8 pm, Sun 10 am to 4 pm.
Brooklyn Nine-Nine Experience
170 Sixth Ave. Experience the 99th Precinct at Brooklyn Nine-Nine's office where you're the new recruit. Do you have what it takes to join the Nine-Nine squad? Enjoy giveaways, photo ops, and more. You'll be able to pre-register beginning Wednesday, July 10 on the NBC SDCC Site.
South Park With FREE Mini-Golf!
200 Harbor Dr. - San Diego Wine & Culinary Center. Nine-hole mini golf course with sets placing you in the South Park movie. Thurs-Sunday - check times.
The Watchmen Activation from HBO
6th and Island Ave Interactive experience in antipication of the series. Be sure to prescreen this one before taking younger kiddos!
Amazon Prime Video Experience
Promenade across from the San Diego Convention Center. An interactive experience which will get you familiar with the upcoming Prime Original series The Boys, Carnival Row, and The Expanse. Relaxation stations above where guests can enjoy a beverage and bite provided by Carl's Jr. and more. Thur-Sun 9 am-5 pm.