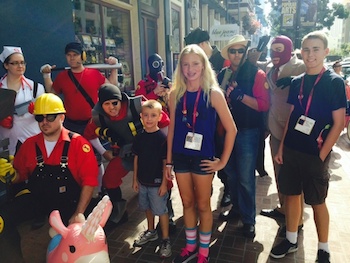 Even if you weren't able to get a badge to Comic-Con in San Diego this year, there's still plenty of fun events you can take part in outside of the convention center. Often fans in costume, walking around the downtown are happy to stop for a photo opp which make fun, family memories!
Maybe/Maybe Not? "Family" Events - We are on the fence whether or not to call ALL of these entries "Family" events, so we are leaving them to your discretion.
It's a bird... no it's a plane... It's Wonder Woman's Invisible Jet which light up at night! Thank you DC Entertainment and Warners Bros. (FREE) Location: we've heard 6th and Island, Wed evening - Sunday afternoon.

Warners Bros: Batman V Superman Fan Experience. Check out the Batmobile, giveaways and more! (FREE) Location: behind the Omni Hotel. Wed 4pm-7pm, Thur-Sat 9am-7pm & Sun 9am-4pm.
Hasbro TRANSFORMERS photo opp with the legendary, Bumblebee. (FREE) Location: behind the Omni Hotel. Thur-Sat 11am-7pm & Sunday 11am-4pm
M•A•C Cosmetics & Star Trek Experience. Futuristic photo opportunity aboard a transporter. (FREE) Location: Children's Park – corner of Island Ave and Front. Thur-Sun 10am-7pm.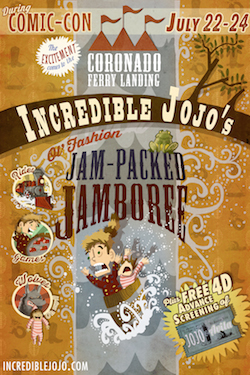 JoJo's Ol' Fashion Jam-Packed Jamboree. Kids and adults can try out log-rolling, bobbing for apples, frog jumping, and more. (FREE most activities, train rides $2) Location: Coronado Ferry Landing. Fri-Sun 4pm-8pm.
Advance 4D screening of The Incredible 4D Adventures of JoJo (and his annoying sister). Experience 4D fun including rain falling on your face, rumble of stampeding cows, bubbles float overhead and more. (FREE) Location: Coronado Ferry Landing. Fri-Sun 8pm.
Nintendo Video Gaming Lounge. Fans can enjoy Nintendo 3DS and Wii U game play, photo opportunities, live competitions, giveaways. Location: Marriott Marquis San Diego Marina. Thur-Sat 10am-7pm & Sun 10am-5pm.
Timeless, Emerald City OZ and The Good Place – 3 new TV Series on NBC will have rides, photo opportunities, frozen yogurt, giveaways and more. (FREE) Location: Tin Fish Restaurant on Fifth and Harbor. Thur-Fri 11am-7pm & Sat-Sun, 10am-6pm.
Watch out for Conan O'Brien who is filming in San Diego this week at the Spreckels Theatre!
South Park 20 Interactive Fan Experience. Walk thru life-size scenes of icon moments from South Park. Stop in the art gallery which hosts 20 unique pieces inspired by this long running show. (FREE) Location: next to the Hilton Gaslamp Hotel. Thur-Sat 9:30am-7pm & Sun 9:30am-5pm
Amazon Activation will host life size characters and model sets from Thunderbirds Are Go. See props and costumes from The Man in the High Castle. (FREE) Location: next to the Harbor Club condos on Harbor Dr. Thur-Fri 9am-7pm, Sat 9am-8pm & Sun 9am-5pm.
Two Virtual Reality Experiences; The John Wick VR Experience and the NASA's Journey to Mars. (FREE) Location: The Spa at the Hilton Gaslamp Hotel. Thur-Fri 9am-8pm, Sat 9am-7pm & Sun 9am-5pm.
NERD HQ. Event games include Forza Horizon 3, Minecraft, Everspace, TitanFall 2 and more! (FREE, Registration Required) Location: The New Children's Museum on 200 W Island. Thur & Sat 9am-2am, Fri 9am-6pm & Sun 9am-4pm.
Star Trek's 50th Anniversary Art Exhibition. (FREE) Location: Michael J. Wolff Fine Arts Gallery on Fifth Ave. Thur-Sat 11am-7pm & Sun 10am-6pm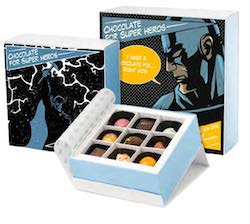 Dallmann Chocolate, located in the Headquarters at Seaport Village, is offering a limited edition Super Hero collection with colorful gift box art and a variety of locally handcrafted chocolate selections that we thought is SUPER fun!

Dated Events!

July 23 from 5-6pm! Keep your eyes peeled for the inflatable T-Rex Dinosaur Parade. https://www.facebook.com/events/258382891195064/

Underground Lightsaber Fighters Battle. Families can watch lightsaber battles, or sign up to participate. (FREE to Watch) More info at Ulfsandiego.com Location: Balboa Park around the main fountain. Sat 8pm-10pm.