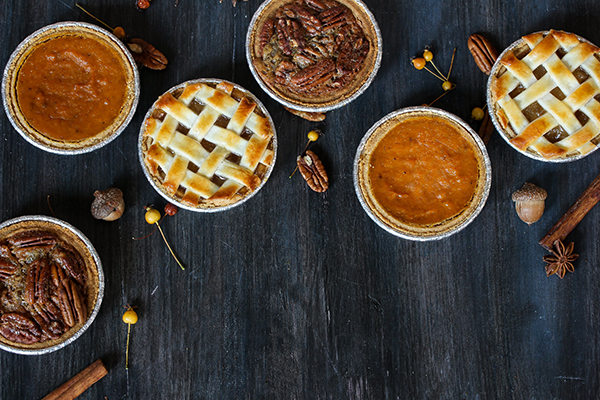 Looking for the best places to get pie in San Diego? Whether it's Thanksgiving, Christmas, Pi Day (March 14) or a birthday, everyone loves pie! Here are some of San Diego's favorite pie shops.
Elizabethan Desserts
114 N. El Camino Real, Encinitas
www.elizabethandesserts.com
Satisfy your sweet tooth with a variety of delicious pies including Cherry Lattice, Apple Crumbly and Pecan pie.

Debbie's Restaurant & Pie Shoppe
740 Nordahl Rd. #114, San Marcos
www.debbiesrestaurantandpieshop.com
Order one of "Debbie's Famous Pies" for a special holiday occasion or just because! Place your pre-orders by Nov. 18 to pick up in time for Thanksgiving. Last day to pick up is Wed. Nov. 22, 7 am-5 pm. Order online, in person or call 760-741-5680.
The French Oven
10299 Scripps Trail Ste. E, Scripps Ranch
www.thefrenchovenbakery.com
Thanksgiving specials include a 10" Apple Tart, Chocolate Pecan Tart and Pumpkin Tart. Pre-orders are available by phone or online. Pre-orders end Nov. 19 at 2 pm.

Julian Pie Company
2225 Main St., Julian
21976 Hwy 79, Santa Ysabel
www.julianpie.com
Famous for a delicious selection of delectable flaky and crumb apple pies, Julian Pie Company offers homemade goodness every time. Our favorites include Dutch Apple, Apple Mountain Berry Crumb and Boysenberry Apple Crumb. It's too hard to choose just one!
Mama's Kitchen
3960 Home Ave., San Diego
www.mamaspies.org/about-mamas-pies
Every November, dozens of San Diego restaurants, bakeries and caterers donate thousands of yummy pies to sell at Mama's Kitchen's annual bakesale event. Delicious Apple, Pumpkin, Pecan and crunchy Dutch Apple pies are available for preorder while supplies last. Each pie sold allows Mama's Kitchen to cook, prepare and deliver 12 lifesaving meals to critically ill individuals and families in need this holiday season. Pies will be available for pickup on Nov. 22.
Moms Pies
2119 Main St., Julian
4510 Hwy. 78, Julian
www.momspiesjulian.com
Masters of traditional apple pie (and several variations), Moms Pies is a favorite stop for visitors and locals alike. For a change of pace, try their delicious apple dumplings! Order your family's Thanksgiving pies online for pickup at The Warm Hearth (8748 La Mesa Blvd.) on Nov. 22!
Nutmeg Bakery
10755 Scripps Poway Pkwy., Scripps Ranch
12640 Sabre Springs Pkwy., Scripps Ranch
https://nutmegsd.com
More info coming soon!

Pop Pie Co.
4404 Park Blvd. Ste. A, San Diego
4195 Voltaire St., Point Loma
www.poppieco.com
This locally owned pie shop showcases a signature all-butter crust, with a rotating menu of sweet and savory pies made in-house daily. Thanksgiving pie selection includes Bourbon Pecan, Pumpkin, Salted Caramel Apple Crumble and Apple Cranberry Ginger Crumble (Vegan). Pre-order by Nov. 17 while supplies last. Pick up at University Heights, Point Loma or Pacific Beach location.

Susie Cakes
3705 Caminito Court, Ste. 0500, Del Mar
7610 Via Campanile, Ste. 144, Carlsbad
www.susiecakes.com
This classic American sweet shop offers traditional whole 9" pies including Pecan, Pumpkin and Apple Crumble. Pre-order your Thanksgiving pies while supplies last!.
Mama Kat's Restaurant & Pie Shop
950 W San Marcos Blvd., San Marcos
www.instakats.com
Choose from a selection of fruit, cream and classic pies including Harvest Pumpkin, Apple and Maple Pecan. Order online at www.mamakats.com/pies and use promo code THANKS23 at checkout for 10% off your order through Nov. 10!

Marie Callender's
6950 Alvarado Rd., San Diego
https://mariecallendersholiday.menu/sandiegoholiday
Pre-ordered pies are available for pickup Nov. 21-23.
The Gluten Free Baking Co.
4594 30th St., San Diego
www.thegfbakingco.com
This North Park bakery is perfect for those with gluten sensitivities who still want to indulge in a delicious dessert (or two). Thanksgiving pie options include Pumpkin, Apple Streusel (V) and Pecan. All Thanksgiving orders must be placed by Nov. 14 at midnight. All orders must be picked up from the Clairemont location.
Secret Sister
2215 30th St., San Diego
www.secretsistersouthpark.com
Thanksgiving pies available online for pre-order or in person on Nov. 22-23 while supplies last. Pre-orders will be available for pickup on Nov. 22 and 23. Choose from Apple Crumble and Bourbon Pecan Chocolate. Pies are $55 and serve 8-10 people. Pre-order link: https://order.toasttab.com/online/the-rose-wine-bar-2215-30th-st
----------
Updated: November 2023