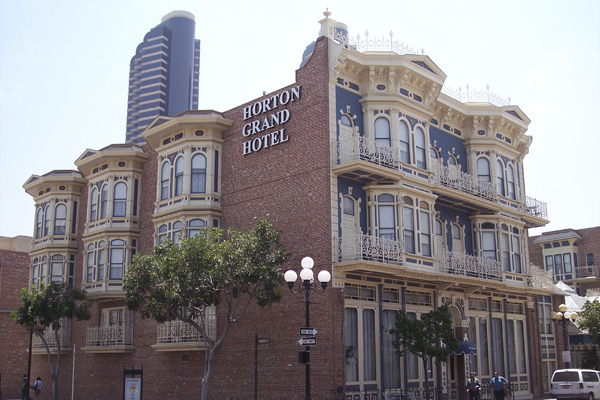 San Diego has its share of haunted places. Some were born of tragedy or misfortune or discovered by psychics, while others are simply final resting places. So grab a camera, a few good friends and check out these spooky spots this Halloween!
Horton Grand Hotel
311 Island Ave., San Diego
www.hortongrand.com
Shortly after the hotel reopened in the Gaslamp Quarter in 1986, a psychic detected the ghost of Roger Whitaker, a gambler who was gunned down and left to die in an armoire in Room 309. Since then, guests have flocked to the hotel to verify ghostly claims of lights turning on and off, the sounds of a paranormal poker game, cold spots and even playing cards suddenly appearing. You can stroll through this historic and charming hotel, but to see Room 309 you'll need to make a reservation.

Hotel del Coronado
1500 Orange Ave., Coronado
https://hoteldel.com/events/haunted-happenings-tours
In 1892, Kate Morgan checked into the oceanfront resort in Coronado under a fake name and was found dead a few days later from a self-inflicted gunshot to the head. Labeled in the local newspapers as the "beautiful stranger," her identity remained a mystery for several weeks. Guests throughout the hotel have reported lights flashing on and off, books moving, linens being pulled back and footsteps heard above from top floor rooms. The hotel gift shop (Est. 1888) has the most reported paranormal activity and is easily accessible.

The Whaley House
2476 San Diego Ave., Old Town
www.whaleyhousesandiego.com
After famed ghosthunter Hans Holzer held a séance here in 1965 and wrote about the experience in his book "Ghosts," the Whaley House became the most famous haunted house in town. From the ghost of Yankee Jim (a horse thief who was hanged nearby) to the phantom of a little girl who supposedly died tragically in the house, and the apparition of a fox terrier named Dolly, there's no shortage of specters reported here. Located in Old Town San Diego State Historic Park, The Whaley House offers tours with special ghost tours throughout October.

Villa Montezuma
1425 K St., San Diego
www.villamontezuma.org
Complete with gargoyles, this architectural masterpiece located in Sherman Heights was once the home of eccentric pianist and author Jesse Shepard. Shepard's theatrical piano concerts for San Diego's high society were described as "ethereal" and "otherworldly" in 1913, and it's said that he dabbled in séances at the house. People have reported the sound of music being played, faces in the windows, and stained glass portraits that appear to have aged over time. Sadly, the house is closed to the public, but it is worth the drive to see this stunning Victorian mansion—especially at night.

Pioneer Park
1521 Washington Pl.
www.sandiego.gov/digital-archives-photos/1940-aerial-view-pioneer-park-cemetery
www.sandiego.gov/park-and-recreation/parks/regional/presidio/missionhills.shtml
In 1870, 10 acres of land were set aside for Calvary Cemetery in Mission Hills and became the final resting place for 1,650 souls. Over time, the cemetery fell into disrepair and the land was given to the City in 1968. The tombstones that were illegible were recycled—some moved to Mt. Hope Cemetery and others placed in a corner as a memorial. Trees were planted, playground equipment was installed and an elementary school was built next door. The graves themselves were never uprooted and still rest below this tranquil urban park, unnoticed and undisturbed. Ghostly lights are most commonly reported here.
Star of India
1492 North Harbor Dr., San Diego
www.sdmaritime.org
This floating museum was built in 1863 in England and delivered cargo to San Francisco, Australia and New Zealand before it became a salmon fishing vessel in Alaska. Eventually, the ship made its way to San Diego Harbor where it was restored in 1976. With such an international career, it's no wonder that it picked up a few permanent inhabitants: an officer who committed suicide, a young boy who fell from the mast, and a Chinese fisherman who was crushed by the anchor chain are just a few of the ghostly presences associated with the vessel.
Other haunted places to check out include:
The old jail in the historic town of Julian where some prisoners were mysteriously found hanged in the trees outside. Strange phenomena have also been reported at the Julian Hotel.
El Campo Santo Cemetery in Old Town was originally four times larger than what you see today. Part of the old cemetery now lies under the I-5 and surrounding sidewalks and streets of Old Town. Look for brass markers that indicate known gravesites.
Vallecito Stage Station in Anza-Borrego Desert is home to the Lady in White, a would-be bride who died at the stagecoach station and still roams the desert. A ghostly white horse is often seen near the campground as well.
Rancho Buena Vista Adobe in Vista has been inhabited by numerous residents since it was built in the mid-1800s, and some say that its early residents never left.
------------------
Writer Gina Petrone lives in Lakeside.
Updated: October 2021