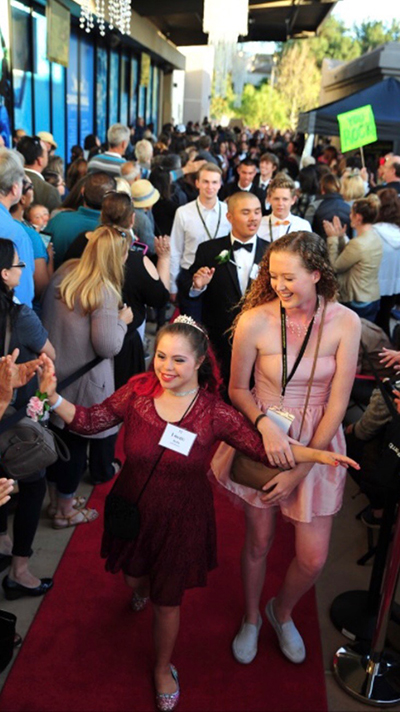 High schoolers Jillian and Ricky cannot contain their excitement when they speak about A Night to Remember, a prom for students ages 15–22 with special needs. They try to wait for the other to finish speaking, but it's obvious they are struggling to be patient — throwing out their favorite aspects of what can only be described as one of the most magical nights of the year.
"I get a new dress every year," says Jillian. "And a corsage and jewelry." She brims with excitement as she and Ricky discuss their love of dancing. Ricky also dances with Arms Wide Open, a dance troupe for kids and young adults with special needs.
"We get fitted for tuxes," says Ricky, scrambling to express his thoughts. "But you don't keep them. And you ride in a limo." Ricky is referring to the famed red carpet entrance, complete with limo ride from a few blocks away, lined with paparazzi (parents and excited volunteers). "And if you don't like things loud," says Ricky, "they let people know." Ricky is talking about the "Quiet Applause Only" signs for honored guests with sound sensitivities. The crowd responds with ASL (American Sign Language) cheer hands or silent clapping in those instances.
"Oooh, and the cows!" exclaims Jillian, referring to the costumed dancing cows from food sponsor, Chick-fil-A.
Ricky's mom, Linda Burritt, sums it up, "When they come down the red carpet, that's how it's supposed to be. It's like an entrance to heaven."
This year's event is on April 24. Started in 2011 by Rob and Cheryl Shields and continued as a labor of love, this once-a-year extravaganza has a devoted following of volunteer students, counselors, emergency personnel and parents. Everything is donated, from dresses to food, and sponsors provide cash to purchase what isn't.
"I have a three-car garage, but can't park my car in it," Cheryl says. She and Rob have collected pallets of dresses and goody bag gifts throughout the year that are lovingly stored in the garage until the special night. It's a full-time job. "This is my hobby," Cheryl says. There is joy in her voice — it's her commitment to this event that brings volunteers back year after year.
Each honored guest is partnered with a student host for the evening. The host ensures the guest is having fun, staying hydrated, participating in festivities, and if needed, taking a breather in a quiet room designed for sensory needs.
Coach Gove is a favorite volunteer of many attendees. A counselor at Sierra Academy, Gove is both a seasoned caregiver and big kid at heart, likely due to his experience having a brother with a seizure disorder.
"This event is unlike any other I've seen," Gove says. He encourages reluctant students to find support and go. "You won't regret it." Gove has been supporting the event for seven years, but newcomers share his enthusiasm.
"My partner was flying down the red carpet," laughs Sydney Hancock, a 17-year-old student host from Scripps Ranch. Like every other attendee, she can't stop smiling as she describes the photo booths, dancing and goody bags for honored guests. Sydney attended an orientation meeting to learn the ropes, but Gove insists the only prerequisites for volunteers are to be outgoing, fun and to love dancing.
Honored guest registration begins Jan. 15 and volunteer registration for adults and student hosts (ages 15–22) begins March 1. Positions fill quickly, so plan accordingly. Visit www.anighttorememberprom.com to share in the joy, learn more and register.
–––––––––––
Emily Dolton is a resource parent and local mom of two, one with 22q 11.2 Deletion Syndrome.
–––––––––––
Be sure to also check out A Night to Shine, sponsored by the Tim Tebow Foundation. This prom event is for kids with special needs, ages 14 & up. Learn more at www.timtebowfoundation.org/ministries/night-to-shine.