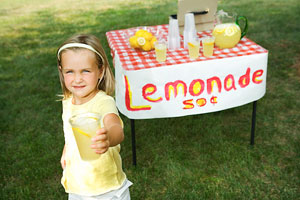 How to raise real money with online events.

Times are tough for schools. As a result, parents often face a stark reality. If they don't raise funds for library books, technology, team uniforms, field trips or other events, their kids will go without. For some groups, online fundraising has become a secret weapon that takes less time and produces better results. Once an organization makes contact with them, online donors can be exceptionally generous. According to Network for Good, the average contribution is several times larger for online than offline donors. Online fundraisers also allow groups that have exhausted local resources to reach beyond the borders of their communities to raise funds from alumni, grandparents and retired teachers. Perhaps most enticing, online projects bypass the hard work of running a carnival or a carwash and avoid the risk of having kids go door to door asking neighbors to buy things no one really needs or wants.

Searching for Funds
At goodsearch.com, it's easy to enroll any nonprofit that qualifies for 501 (3)c status. Then people can list that organization as their beneficiary so that each time they use the search engine, a penny or two goes to your group. That money really starts to multiply if you can convince teachers, parents and even students to do their searching on your behalf.
Shopping for a Cause
Rather than sending kids door-to-door selling candy, wrapping paper and ceramic doodads, many groups now encourage would-be donors to shop at online malls where a percentage of what they spend goes to their cause. Sites such as igive.com and AmazonSmile (smile.amazon.com) allow you to shop on behalf of a nonprofit you designate.

Going, Going, Gone
Auctioning off donated items is a time-honored way to raise money. Adding an online dimension simply increases the pool of potential bidders. A school, for example, can appeal to alumni, grandparents of students, retired teachers and so on. At biddingforgood.com schools and other groups can easily list items and win a worldwide audience for their auction. The trick, of course, is to get the maximum number of bidders by publicizing your online auction through blogs, social media and emails to family and friends.
High Tech Recycling
Recycling cell phones and print cartridges is both lucrative and good for the environment. The Educational Technology and Conservation Program is behind a website called fundingfactory.com that helps schools and related organizations set up and manage recycling programs so they can earn cash or points which accumulate towards athletic and technical equipment.
One-of-a-Kind Designs
Thanks to digital services like originalworks.com, parent groups can create and sell their own customized items featuring artwork created by kids. Young artists create vivid, colorful artwork that is uploaded to the website. Then your organization can sell parents everything from magnets and notecards to tote bags and aprons featuring the designs. Paying for Pixels was started by a British college student who didn't want to go into debt to pay for his education. He sold pixels for a dollar apiece on a page which looks like a wall filled with graffiti. Some nonprofits have been successful in creating similar pages filled with good wishes from supporters. Several companies will set up such sites for a fee; the original software is available at milliondollarscript.com.
Blogging for Bucks
Ask someone in your organization to share a heartwarming blog or Facebook post about why your organization needs funds and who will benefit. Encourage them to link to the donor page on your site if you have one. Lots of people do this now, so it's harder to get noticed, but the right appeal to the right network can raise real money in a hurry.
Virtual Events
Many organizations experiment with "events" that occur only online. One of the first most successful was an American Cancer Walkathon that raised over 80 thousand dollars without anyone lacing up a single pair of sneakers. This sort of event requires imagination, technical skill and, in all likelihood, the cooperation of a few network-savvy students. Still, if you're fed up with the legwork of organizing real world events, this is an interesting alternative. Even those who decide online fundraising is beyond their technical capabilities can still use the Internet to find innovative ideas that, as they say, put the "fun" back into fundraising. Websites like diyfundraising.com may help you find just the right project to make people open their hearts—and their wallets—to do something good for the kids in your community.

Carolyn Jabs, M.A., has written about families and the Internet for fifteen years.
Check out Family Magazine's list of companies who offer assemblies, field trips, fundraisers and other group events for your school, scout troop, sports team, work party or family reunion!
Event & Fundraising Planner