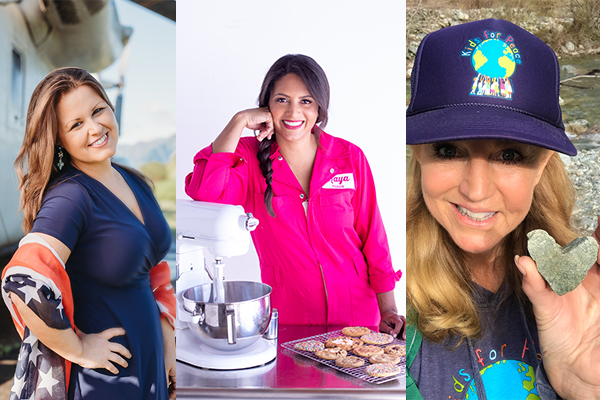 These three incredible MOMpreneurs represent everything we love about this season—gratitude, warmth and reflection. Each of these women works hard to build a better world for others. We're thankful for their leadership.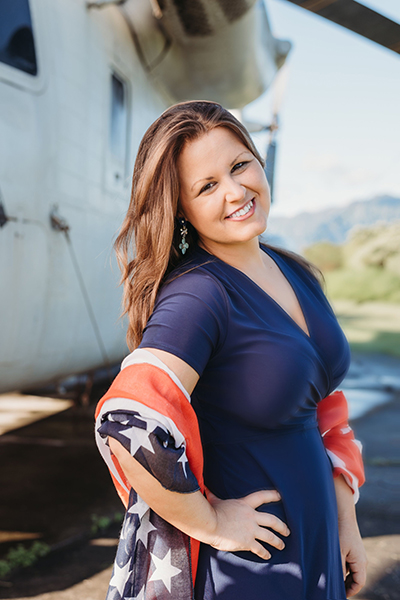 Michelle Penczak
CEO, Squared Away
Michelle Penczak's road to entrepreneurship began with her first change of station as a newlywed Marine spouse. Filled with love and optimism, she and husband Sean made their way to a new life in Jacksonville, NC.
While he settled in at Camp Lejeune, she set up job interviews. Penczak was confident that a strong work ethic and solid resume would land her a position quickly, but even the most promising opportunities failed to pan out. So, she prepped for another round of interviews. And another. Soon, Penczak arrived at a painful realization: She had been rejected 30 times due to her status as a military spouse.
"They didn't come right out and say it, but it was more than implied," says Penczak. "The interview would go so well and then they would ask 'What brought you to Jacksonville?' As soon as I said my husband was a V-22 pilot, the tone of the interview changed from excitement to 'Thanks for taking the time to meet with us.' I was never offered a job."
That's when she moved her search online. Thanks to a keen eye for detail, she found fulfilling work as a virtual assistant and quickly advanced to a management position. By 2015, she was thriving professionally, even while juggling a deployment and the first months of pregnancy. But that summer, her company shuttered unexpectedly, leaving Penczak and 400 coworkers jobless overnight.
Moving quickly to retain clients, Penczak launched an independent contracting business. It was incredibly hard work and she took only two weeks' maternity leave after the birth of her son. But soon she was thriving again. When her husband received orders to Hawaii (six time zones from her client base), she refused to give up what she'd built. Without disclosing the move to clients, she awoke early each day to keep east coast hours.
Penczak was determined to advance herself professionally—and vowed to bring fellow military spouses up with her. When it was time to grow her virtual assisting business, she invited spouses to join the team. Today, Squared Away employs 120 military spouses worldwide from Japan to Germany and Hawaii to Puerto Rico. Clients love that Squared Away supports military families through meaningful spouse employment. They also love how well their virtual assistants push them to meet their goals.
"Our assistants hold clients accountable to their priorities and are always thinking two steps ahead," says Penczak. "We strive to be proactive rather than reactive so that our clients are getting the best remote support possible."
Penczak lives with her husband and two sons in Scripps Ranch (for now) where the boys, ages 4 and 1, keep her on her toes. Her advice to parent entrepreneurs is to always make time for family.
"The work will always need to get done, but [the kids] only grow up once," she says. "Enjoy the time with them, maybe stay up later to work, but don't miss out on the snuggles and silliness."
FUN FACT: My birthday is on Christmas Eve. The entire month we decorate, watch Christmas movies and explore lights. And we always leave a piece of birthday cake for Santa.
-Michelle Penczak, Squared Away
Learn more at www.GoSquaredAway.com.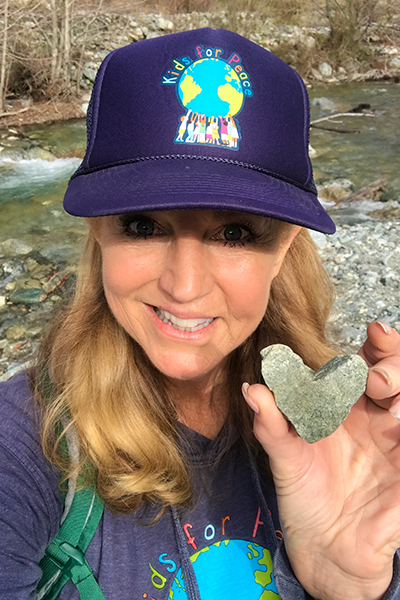 Jill McManigal
Co-Founder and Executive Director, Kids for Peace
In the wake of Sept. 11, Jill McManigal felt drawn to action. The Carlsbad mom of two and former elementary teacher believed that love and kindness could overcome the darkness and fear looming over the world at that time. She returned to her hero Gandhi's words, "To achieve lasting peace, we must begin with the children." That quote was the push she needed.
"I knew that in order to create a world that is safe, respectful, loving and kind, providing a platform for kids to put their innate compassion into action was the way forward," says McManigal.
Kids for Peace launched The Peace Pledge Program in 2006. Since then, it has grown to include 150 chapters in 60 countries. Each group meets regularly to put the organization's pledge into action—choosing projects that are personally meaningful and culturally relevant. Participants become peacebuilders while working to serve their communities, cultivate global friendships and care for the planet.
"Kids for Peace is fueled by the energy, optimism, curiosity and kindness of kids," says McManigal. "Kids don't just talk about the world they want to live in, they actively create it."
Kids for Peace Pledge
I pledge to use my words to speak in a kind way.
I pledge to help others as I go throughout my day.
I pledge to care for our earth with my healing heart and hands.
I pledge to respect people in each and every land.
I pledge to join together as we unite the big and small.
I pledge to do my part to create PEACE for one and all.
Another Kids for Peace initiative is The Great Kindness Challenge, which started in three Carlsbad schools and has grown to engage over 15 million students in more than 28,000 schools in 115 countries. With the help of the organization's kindness checklist, students performed half a billion acts of kindness in January 2020. These were small but powerful actions like sitting with new friends at lunch, helping their custodians or stepping up for classmates in need. The Great Kindness Challenge has become so popular, Kids for Peace launched a Family Edition Checklist to keep the kindness flowing at home. Download the free checklist at www.thegreatkindnesschallenge.com.
For McManigal, the best part of the journey is witnessing what kids have accomplished. "Through the power of their collective action, our youth have raised funds to build new schools in Kenya and Pakistan, playgrounds in hurricane-affected areas including Puerto Rico, a health clinic in Liberia and soon a school and friendship center in Tijuana, Mexico," she says. "It's amazing what kids can do when they put their minds to it!"
McManigal's kids (ages 19 & 22) are founding members of Kids for Peace. Learn about how your kids can continue the work her family started (such as in Club Kids for Peace virtual afterschool program) on their website.
McManigal's advice to parents who dream of starting a nonprofit: keep it simple! "Follow your heart, start small," she says. "Surround yourself with great people, be unapologetically optimistic, always tell the truth, and never lose sight of your mission."
FUN FACT: I have celebrated New Year's Eve with the same group of friends for 30 years. The celebration dinner lasts for hours as we reflect on highs, lows and lessons learned from the year. With full bellies and happy hearts, we move on to a "letting go ceremony" that consists of writing down things that no longer serve us, burning the list, and lighting a candle to "shine the light" on our intentions for the new year. -Jill McManigal, Kids for Peace
Learn more at www.KidsForPeaceGlobal.org.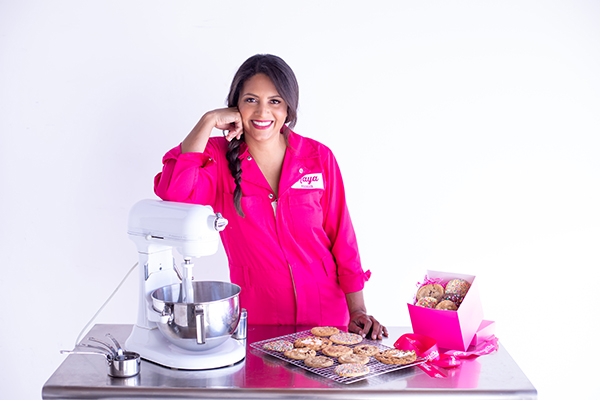 Maya Madsen
Founder and Owner, Maya's Cookies
Maya's Cookies is celebrating five years in business. The vegan cookie bakery has had a banner year, surpassing 20,000 online sales and earning the title of Best Black-Owned Bakery by Black San Diego Magazine.
Owner and Scripps Ranch resident Maya Madsen is a testament to the power of resilience. Having struggled with a difficult upbringing as a foster child, she leaned into the love and guidance of her Catholic school community. When she met her husband and they started a family, healthy living was a top priority as she worked to stay focused and positive. She became a fitness model and trainer, adopting a vegan diet to complement her health journey. But she couldn't find gourmet vegan treats to satisfy her sweet tooth.
Over the years, Madsen developed recipes that became favorites at neighborhood and school functions. When her two eldest sons started college, she was ready to launch the business as she needed extra income to supplement work as a spin instructor.
"It was an unusual transition to go from being a fitness instructor to a cookie baker," says Madsen, "but my love for healthy living never changed and baking vegan goods helped me share the benefits of eating whole plant-based foods—treats included!"
The business lifted the family in more ways than one: it helped with college tuition payments, but Madsen was even more thrilled that her three sons were eager to help. They loved watching the business grow. "It became a way for us to bond and build something together as a family," says Madsen.
Thanks to her success, Madsen has been able to achieve another goal—helping others. She started a roundtable for plant-based Black entrepreneurs to share resources and build community as they grow their businesses. She has also launched collaborations to fundraise for underserved communities.
Maya's cookies are crisp and sweet on the outside, chewy and butter-like on the inside. The best ones are loaded with chunks of chocolate, toffee or nuts. It's hard to believe they're vegan! Order online for home delivery or check the website for upcoming farmer's markets. Gluten-free options available.
Maya is glad she launched the bakery (located in Mission Valley) as her sons entered adulthood. Some days, she says, the business requires as much time and energy as another child. Her advice to parents considering entrepreneurship: "Be sure you have enough room in your life for a business-baby!"
FUN FACT: I love cooking with my boys. It's one of the reasons I make our gingerbread dough available to bake in your own kitchen. It has that rich fragrance that just feels like the holidays.
-Maya Madsen, Maya's Cookies
Learn more at www.mayascookies.com.
Anne Malinoski is an award-winning writer who lives in Santee with her husband and two sons.
______________