Times may be challenging now, but here's a dose of positivity! From free gymnastics activities online to special "to go" art kits to take home, see how these local businesses go the extra mile in serving our community.
First 5 San Diego has created a resource of at-home activities that will help parents entertain and educate their kids while continuing to prepare them for the future. Visit their website www.first5sandiego.org/parent-portal/at-home-activities and check out their social media channels for updated resources and activities.
---
Compadres Kids is stepping up to the plate with a variety of new activities posted every Monday. Go online to guess a Padres player in only 3 clues, design your own custom Padres baseball card or work out with the Pad Squad! Find all the fun at www.mlb.com/padres/fans/compadres-fan-rewards/kids/at-home.
---
ShadeSuits neck gaiters are now available in several prints and solids! Made from UPF 50+ swim fabric, neck gaiters provide multifunctional sun protection that is easy to put on and take off. Neck gaiters can also be used as a face covering when going out in public, and as a lightweight scarf in colder weather. Learn more at www.ShadeSuits.com or message @shade.suits on Instagram. Each ShadeSuit is $20 each or buy two, get one free! Available in small, medium and large sizes. Payment accepted via PayPal: This email address is being protected from spambots. You need JavaScript enabled to view it.. *For every neck gaiter sold, ShadeSuits will donate $1 to NOAH (National Organization for Albinism and Hypopigmentation).
---
The Birch Aquarium may be temporarily closed to the public but you and your family can tune into the Kelp Cam on Facebook for live Q&A sessions with Birch staff and other fun, educational content.
www.aquarium.ucsd.edu
---
While The Super Dentists' offices are temporarily closed for elective and routine visits, you can join The Tooth Keri and Dyna in the Virtual Super Lounge, a toolkit for parents with video storytime, activities, movies and more to help entertain the kids. Patients can also visit The Super Dentists on Facebook for even more fun! Please note that The Super Dentists' Kearny Mesa location will remain open for dental emergencies only.
www.thesuperdentists.com
---
The Fleet Science Center may be temporarily closed but Science is always open keeping curious minds engaged! The Fleet Science Center invites you and your family to connect to the power of science through the brand new FLEETv, an exciting place to have fun with experiments, hands-on activities, engaging interviews and more, all from the comfort of your home. Follow The Fleet on Facebook or join their email list to receive updates and be the first to know about the latest video releases.
www.rhfleet.org/fleetv

---
FUNbelievable Play. For a limited time, FUNbelievable is offering "Birthday in a Box" because birthdays should never be canceled!
Even while you isolate at home, you can still celebrate your little one's birthday in style. With many stores closed, Funbelievable wants to help make life a little simpler and more fun. To order your "Birthday In A Box" call 619-456-2474 or email This email address is being protected from spambots. You need JavaScript enabled to view it. and then collect safely with curbside pickup. Local delivery available for a small fee.
---
SeaWorld San Diego. The SeaWorld family has developed standards-aligned resources available to help families explore the wild world of animals and nature virtually. Explore hands-on, multi-disciplinary activities, engage in a fun and creative learning environment and discover something amazing along the way.
www.seaworld.com/san-diego
---
Spectrum COVID-19 Remote Education Credit. During this time of uncertainty, Spectrum customers need to stay connected more than ever. Spectrum is committed to offering special discounts to households affected by COVID-19. They are now offering free access to internet and WiFi for 60-days for new Pre-K to 12, college student and teacher households who don't currently have internet or WiFi service. This discount will be applied as credit for the first two months of internet services. They will also waive any installation or pre-payment fees to help get you started. You qualify for this offer if you have a student of qualifying age at your service address with remote education needs and have not subscribed to Spectrum internet services within the past 30 days. Call (855) 243-8892 to sign up for this offer.
www.spectrum.net/support/internet/coronavirus-covid-19-educational-internet-offer
---
Kid Ventures is working hard to bring fun and engaging experience to families at home with special online content. Our preschool teachers are creating daily virtual classes (both pre-recorded and live) which can be viewed on our Facebook page and on our Youtube channel. Let's find a way to be together even while we are apart!
www.indoorplaysandiego.com/
---
Kango is now offering contactless grocery, to-go food, and pharmacy delivery right to your door. Clean, safe, same-day delivery with no hidden costs. Kango hopes this additional service will bring much-needed relief to families and parents during this unprecedented time. Visit Kango's Facebook page to get what you need today! www.kangoapp.com/promo/sms/FB
---
Zentotz is offering free guided meditations, story-times and mindfulness lessons for kids every day of the week! Visit their website to see the schedule of virtual events to plan the week ahead and visit their Facebook page for up-to-date information.
www.zentotz.com
This email address is being protected from spambots. You need JavaScript enabled to view it.
---
The Hot Spot Studio is offering "TO GO" kits for family enjoyment at home and they will deliver! They are open for business as of March 17. They are taking even more precautions than usual by re-sanitizing all tables, chairs and equipment after every seating. They are also asking all customers and employees to wash their hands before starting a project. Tables have been moved to meet social distancing recommendations.
http://www.thehotspotstudio.com/
Point Loma Liberty Station - 619-223-1339
North County/Del Sur - 858-312-1019
---
Toys"R"Us is helping parents bring the magic of play home by offering activity ideas and projects to keep kids engaged and their imaginations active. As families stay at home, Toys"R"Us announces the launch of their Play@Home Theater initiative, offering easy ways to have a blast at home and featuring partners like GoNoodle, BrainPOP and Hasbro. Play@Home Theater will be updated with new activities and play ideas every week. To stay connected with new toy trends and play ideas, sign up at www.toysrus.com/emailsignup.
---
Royal Entertainers is offering FaceTime and Skype visits with little ones at home. A FaceTime visit includes 15 minutes of storytime, magic, singing and Q&A with the character. As of March 17, they are also offering a 1.5-hour small gathering visit (5 kids or less) for $225. Includes a coronation ceremony, Pinterest-style craft time with the character, storytime, singing, magic, ribbon dancing and photos with the character. This is perfect for a birthday celebration or a family gathering.
royalentertainers.com
619-922-4830; This email address is being protected from spambots. You need JavaScript enabled to view it.
---
Gemstone Gymnastics is offering free gymnastics activities available on social media for kids to follow along at home. Activities offered are for ages 1-17. Receive four activities per week plus a contest giveaway by following @gemstonegymnastics on Facebook & Instagram.
https://gemstonegymnastics.com/
619-940-4075
---
Adventure RIB Rides offers fun, fast whale and dolphin watching safaris on military decommissioned rigid inflatable boats (RIBs). They are open for business as of March 17. To keep passengers safe, they are cleaning and sanitizing all surfaces in their office where passengers check in, as well as on the boats where passengers sit. These vessels have small group sizes and there is plenty of fresh air and room to move around the boat. They offer hand sanitizers, Kleenex, sunscreen and individually-wrapped snacks and drinks for sale in the office. By taking these precautions, they hope to keep all guests safe and healthy as they embark on an exciting, educational and personalized wildlife safari that they will not forget!
https://adventureribrides.com/
619-808-2822

---
Nicolosi's Italian Restaurant is sanitizing all surfaces that are commonly touched throughout the day such as tables, trays, counters, pagers, door handles, bathroom surfaces, credit card machines and kiosks. They are also in the process of rolling out an additional EPA-registered disinfectant certified to kill coronavirus. They have reinforced and directed all team members to continue to follow strict handwashing procedures. Additionally, they offer convenient options to order ahead for an even quicker pick-up.
http://nicolosis.com/menu/
619-461-5757
---
Super Duper Publications is offering a FREE 30-Day Trial of their award-winning software, HearBuilder. This research-and-evidence-based foundational literacy software helps children surpass hurdles that prevent them from learning to read. Without basic skills, children are unable to reach their reading milestones and succeed at school. HearBuilder helps teach four essential skills – following directions, sequencing, listening/memory comprehension, and phonological awareness - leading to reading success. HearBuilder was created by state-licensed and nationally certified educators and speech-language pathologists.
www.hearbuilder.com
---
The Panera family is a family made up of associates, guests and the communities they serve. The health, safety and overall well-being of their family (and yours) is always top priority. Your family is welcome to order in the way that makes you most comfortable, including delivery, rapid pick-up or drive-thru (where available). They also offer contactless delivery for parents who would prefer to not answer the door; just let them know where to leave your meal in the "Delivery Instructions" box when placing your order. They have created mindful packaging where to-go bags for delivery, rapid pick-up & drive-thru orders will be sealed shut to further protect your meal.
delivery.panerabread.com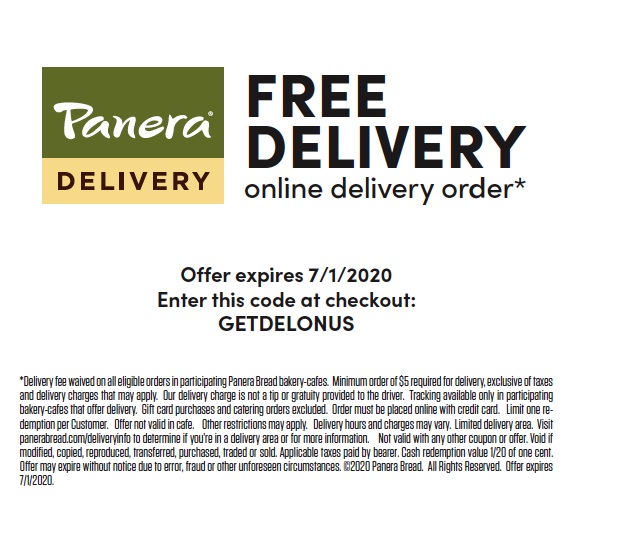 ---
iD Tech, the world leader in tech education experiences, just launched Virtual Tech Camps to serve kids and teens who are stuck at home right now. Structured, weeklong sessions start as early as next week and run all the way through summer, allowing students to build new skills, create awesome projects, and socialize with friends remotely. You'll also love how much YOU can accomplish while your kids are online with us. Virtual Tech Camps: Use promo code TOGETHER to save $100 as long as social distancing is in effect.
Learn More at www.iDTech.com/virtual
---
Updated: June 2020