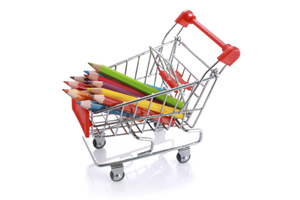 Summer's almost over, and kids will find themselves back in classrooms in no time. For parents this means they must confront the dreaded back-to-school shopping list. Considering the average family with school-age children spent $690 on supplies last year, shopping smart is essential. To keep more money in your pockets this year, follow these helpful strategies.

Take Inventory

When you go grocery shopping, you generally have a good idea of what's filling your fridge and pantry. Take the same approach with back-to-school shopping and search around the house for any supplies you already have or can reuse. If there are optional items on the supply list, hold off on buying those until you're absolutely sure your student needs them.


Consider Second-Hand

There's never an end to the need for children's clothing. Sizes don't stick around long, adding up to a lot of expense. Instead of buying everything brand new, see what kind of second-hand options are available. This doesn't mean you have to comb through the shelves at your local Salvation Army store, either. Sites such as thredUP.com specialize in consignment of like-new clothing for kids or check our resale shops.


Keep Coupons Handy

Coupons are more popular than ever, with nearly 80-percent of consumers reporting they regularly shopped with them last year. During back-to-school time there will be plenty of offers available, it's just a matter of knowing where to find them. Though traditional coupon clipping still works, mobile coupon apps are especially convenient and widely accepted by retailers.


Mix & Match

There always seems to be one supply you've accumulated a massive stockpile of. Maybe you have notebooks stacked to the ceiling, but there's nary a pen or pencil to be found. Before you start buying, see what other parents have in their inventory. A neighborhood swap is simple to organize and saves everyone money.


Comparison Shop

Whether it's writing a book report or shopping for school supplies, procrastination is king for both kids and adults alike. This year avoid the expense of last-minute shopping and start early by comparing prices for more expensive items online. Generic items can be found through PriceGrabber, while deals on more specific items like ink cartridges are available through sites such as InkjetWilly.com.

---------
Andrea Woroch is a nationally-recognized consumer and money-saving expert who helps consumers live on less without radically changing their lifestyles. Follow her on Twitter for daily savings advice and tips.
Publisehd: August 2013