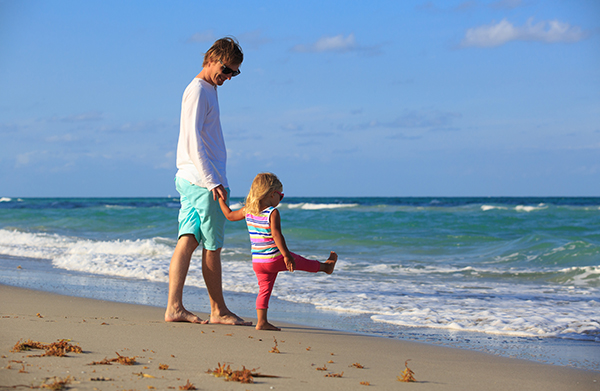 A father spending one-on-one time with his daughter is an awesome way to make his girl feel special and a priceless opportunity to demonstrate how he would like her to be treated as she grows up.

Need help planning an activity that both Dad and daughter will enjoy? If you want to go beyond the traditional dinner and a movie, try some of these memory-making activities.

Enjoy the Great Outdoors
Cultivate an appreciation for nature by taking your daughter for a walk along the beach or skip rocks at a local lake. Lie down in the grass and identify shapes in the clouds. Take a hike. Find a spot to go fishing and bait your daughter's hook for her. Have a picnic in the park and feed birds. Climb a tree. Watch a sunrise or a sunset from a favorite spot.

Channel Your Altruism
Teach your daughter the value of helping others by volunteering together. Whether you decide to visit a nursing home, serve a meal to veterans or pick up trash, your daughter will see you as a helper of others when you volunteer. Ask her what causes are important to her or share what causes are important to you.

Shop 'Til You Drop
It may be a little stereotypical, but many girls love shopping. Go to her favorite store and let her pick out a few items. If you're on a budget, take her to the closest thrift store and see who can put together the most outrageous outfit.

Go Wild!
Is your daughter an animal lover? Take your dog for a walk around the neighborhood or visit a pet store or animal shelter. Take her horseback riding. For extra fun, visit the Children's Nature Retreat, Living Coast Discovery Center or Birch Aquarium.

Cool off
There is so much to do when it's warm in San Diego. Have a water balloon fight. Take your daughter swimming at a local pool or go to the beach and build a sandcastle. Top off the day with ice cream, shaved ice or Dole Whip!

History's Mysteries
History isn't just about dates and places. It's about the people who lived through the significant events of a particular time. Tour a local historical spot and learn about the people who lived and worked there. Cabrillo National Monument, the USS Midway and Old Town San Diego are excellent places to learn about San Diego history. Visit the San Diego Natural History Museum or San Diego History Center. Personal history counts, too. Take your daughter to where you grew up or make a time capsule and bury it someplace only the two of you know.

Get Sporty
There are many sporty activities the two of you can do. Go disc golfing or ride bikes along the bay. Try miniature golfing and only keep score if she wants to. Go stand-up paddle boarding or kayaking. If your daughter is into it (and ONLY if she is!), attend a professional, college or high school sporting event.

Get Active Inside
If the weather doesn't cooperate (rare in San Diego!), there are still plenty of fun indoor activities you can do together. Learn to rock climb indoors, go bowling, roller skating or ice skating. Just don't take her down with you if you fall!

Foodie Fun
Whether you are the world's best chef or a novice in the kitchen, food dates can be fun. Taste international cuisine (dim sum, anyone?) or plan and make a meal together at home. Take a cooking class or attend a food truck festival. Cooking and connecting will nourish your body and soul.

At Home
If you're not up for going out, you can still connect with your daughter at home. Play board games or interactive video games. Let her choose. Send the rest of the family out and snuggle up to watch her favorite movie. Spend time together playing with toys in her room. You might be surprised at how much fun you'll have.

Whatever you decide, pick activities that are fun for both of you to make memories that last a lifetime.
----------------------------------------------
Freelance writer Beth N. Davis and her husband are raising four children.