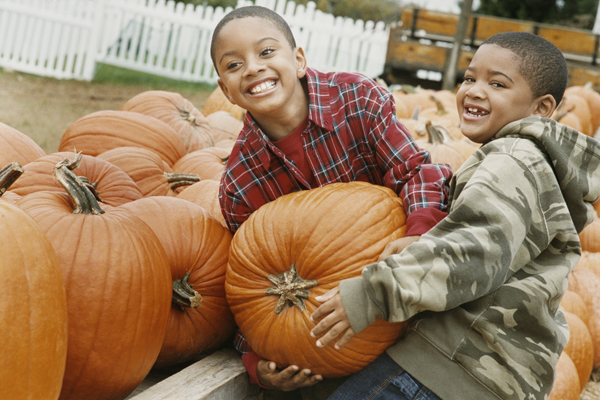 Looking for pumpkin patches in San Diego? We've got you covered! Check out the list below, then visit our calendar for fall fun and spooktacular events.
Pumpkin Station
Four locations offer an array of fall fun with games and rides, giant slides, a petting zoo, pumpkins and more. Most open from Sept. 29-Oct. 31. Free admission; ride ticket packages available. Look for a FREE train ride coupon and more info on the back cover of this issue. www.pumpkinstation.com; 858-566-7466.
Bates Nut Farm

Choose from a variety of pumpkins and check out other attractions including tractor hay rides, a petting corral, straw maze and pony rides. Sept. 23-Oct. 31. Free admission. Weekends feature live entertainment, food trucks and other family events. 15954 Woods Valley Rd., Valley Center. www.batesnutfarm.biz.
Oma's Pumpkin Patch
Hay rides around the farm, a petting corral, Cottonseed Mountain, a hay bale maze and more. Tues.-Sat., Sept. 26-Oct. 31, 10 am-7 pm. $5-$10. 14950 El Monte Rd., Lakeside. www.omaspumpkinpatch.com.
Julian Mining Company
Pumpkin patch open Sat. & Sun., starting Sept. 30. Sat., 10 am-5 pm & Sun., noon-5 pm. 4444 Hwy. 78, Wynola/Julian. www.julianminingcompany.com; 951-313-0166.
The Farm Stand West & Fran's Original Farm Stand
Pick-it- yourself pumpkin patches. Sept. 30-Oct. 31, 10 am-6 pm. 2115 Miller Ave., Escondido; 1980 Summit Dr., Escondido. www.thefarmstandwest.com.
Summers Past Farms
Pumpkin patch open Wed.-Sun. in October. Pick your favorite pumpkin during business hours. On weekends, enjoy a jump house plus snacks and refreshments for purchase. Free admission. 15602 Olde Hwy. 80, Flinn Springs. www.summerspastfarms.com.
Lavender Hill Pumpkins

Take your pick from this year's crop that includes about 10,000 pumpkins in three dozen varieties! Sept. 29-Oct. 31. Fri., 2-5 pm; Sat. & Sun., 10 am-5 pm; Oct. 30 & 31, 2-5 pm. 1509 East Mission Rd., Fallbrook. www.lavenderhillpumpkins.com.
Updated: September 2017