No need for endless online searches - just start with our directories, which are packed with community services and local advertisers who are ready to help you find the perfect afterschool activity, give you great fundraising ideas, plan the party of your dreams. When you contact a company or service from one of our lists, please tell them that San Diego Family Magazine sent you!
---
Regardless of what summer activities your kids are into (performing arts, sports, outdoor adventures, academics, etc.), San Diego Family Magazine is your CAMP HEADQUARTERS where you're sure to find the perfect summer programs for your kids.
Our annual Afterschool Activities guide features great enrichment programs for San Diego kids, including STEM, sports, technology, music, academic, performing arts and more. A new guide is published every September and October. See below for the most recent fall listing. Programs marked with "SN" are certified to care for children with special needs.
Choosing the right educational environment for your child is important. But with so many options, where do you begin? We are here to help! In the spring and fall, we publish a list of local public and private preschools, kindergartens, learning academies, tutoring clubs, charter, homeschool and private schools. Here is the most recent Education Directory. Below are articles, tips and resources to help parents guide children through various educational stages.
Channel your child's boundless energy and help him develop new skills through participation in sports, music, art and theater. Playing sports and exploring creative and performing arts can boost a child's self-esteem, engage imagination and help build important life skills, such as teamwork and collaboration. Find lots of ideas in our annual Creative Arts & Sports Guide. Below are articles to help parents choose programs for kids. Find more in our Afterschool Activities Guide.
You don't have to be a domestic goddess to plan a spectacular event. Revisit this page in June to view the latest, cutting edge Party Planner in which you'll find the best in family entertainment, party venues and more.
Are you planning a special event, fundraiser, field trip, assembly or other group occasion? Then, check out our Event & Fundraising Planner full of San Diego companies that offer great activities and ideas for any group event.
Start the new year with all the resources you need to stay healthy, wealthy and wise! Need a doctor, dentist or mental health provider? Want new ideas for getting your family in shape this year? The advertisers in our Health Directory 2019 can help!
If you're thinking about becoming pregnant, are currently pregnant, or have recently had a baby, we have helpful articles covering every stage — from pregnancy, birth and babies 0–24 months.
Do you know a mom, dad, teen or child who is doing something awesome in (or FOR) their community? Tell us about it! Email the person's name, age, organization (if applicable), contact information and what makes the person a "hero" in your eyes to This email address is being protected from spambots. You need JavaScript enabled to view it.. No more than 250 words. Be sure to include your name and relationship to your nominee.
Click the magazine cover below to read the digital issue of Flourishing Families!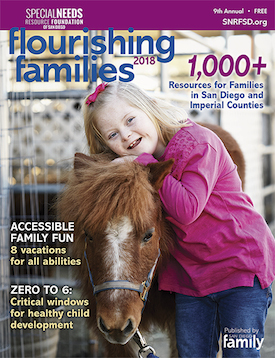 We're so excited to present the 2018 edition of Flourishing Families, San Diego and Imperial Counties' resource guide for parents of children with special needs.That's right! This year, we have also added resources for Imperial County.
This one-of-a-kind guide contains more than 1,000 resources including service providers, research institutes, specialized doctors, resource providers, camps, therapists, advocates, associations and so much more.
Get to know more about local businesses around San Diego County!