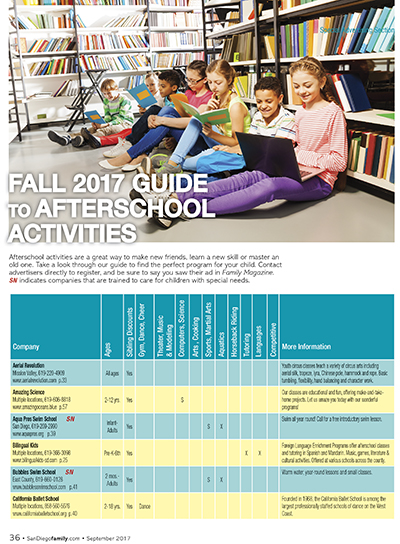 DOWNLOAD this chart! Print it and take it with you!
---
Afterschool activities are a great way to make new friends, learn a new skill or master an old one. Take a look through our guide to find the perfect program for your child. Contact advertisers directly to register, and be sure to say you saw their ad in Family Magazine. SN indicates companies that are trained to care for children with special needs.
Below is a listing of advertisers offering afterschool activities. Please download the chart above for a more complete look at what is offered.
Aerial Revolution
Mission Valley, 619-220-4909
www.aerialrevolution.com
Youth circus classes teach a variety of circus arts including aerial silk, trapeze, lyra, Chinese pole, hammock and rope. Basic tumbling, flexibility, hand balancing and character work.
Amazing Science
Multiple locations, 619-606-8818
www.amazingoceans.blue
www.amazingscience.zone
We provide hands-on science classes before and after school, shows, special events, and birthday parties for children grades preschool- 6th. Our classes are educational and fun with make-and-take- home projects. Let us amaze you today with our wonderful classes and programs!
Aqua Pros Swim School
San Diego, 619-209-2990
www.aquapros.org
Swim all year round! Call for a free introductory swim lesson.
Bilingual Kids
Multiple locations, 619-366-3098
www.bilingualkids-sd.com
Foreign Language Enrichment Programs offer afterschool classes and tutoring in Spanish and Mandarin. Music, games, literature & cultural activities. Offered at various schools across the county.
Birch Aquarium
La Jolla, 858-534-3474
www.aquarium.ucsd.edu
We provide ocean science education to interpret Scripps Institution of Oceanography research and to promote ocean conservation.

Bubbles Swim School
East County, 619-660-0128
www.bubblesswimschool.com
We offer year round lessons in warm water and small classes.
California Ballet School
Multiple locations, 858-560-5676
www.californiaballetschool.org
Founded in 1968, the California Ballet School is among the largest professionally staffed schools of dance on the West Coast.
Children's Creative Performing Arts Academy
North Park, 619-584-2454
www.ccpaasd.com
CCPAA offers exceptional academics enhanced by an excellent visual and performing arts program. We offer advanced math and science programs. Scholarships available.
City Ballet
Pacific Beach, 858-274-6058
www.cityballet.org
City Ballet offers a full curriculum of ballet instruction for ages 3-18 from beginner through pre-professional levels.
Drama Kids San Diego
San Diego Areas, 619-846-2407
http://dramakids.com/san-diego-encinitas-ca/
Students learn life skills, problem solving and confidence through interactive workshops that teach articulation, collaboration, and presentation skills. We use acting as a tool to help prepare students how to express their ideas with conviction for everyday life situations. Developmental Drama is fun, fast-paced, and beneficial. Find A Class Now.
EcoVivarium
Escondido, 760-975-9690
www.ecovivarium.org
Fun and educational programs for kids of all ages! Pre-K mornings, plus afterschool and weekend exploration programs for kids in grades K-12.
Elite Gymnastics
El Cajon, 619-441-5900
www.elitegymnastics.com
Our mission is to provide high quality gymnastics instruction to students of all ages and abilities in a safe, supportive, challenging and fun environment!
Fleet Science Center
Balboa Park, 619-238-1233
www.fleetscience.org
The Fleet offers 100+ interactive exhibits, IMAX films and digital shows for kids of all ages.
Funbelievable
Lakeside, 619-456-2474
www.funbelievableplay.com
Practice athletic skills in our super fun sports arena, zip across aerial glides, climb rock walls, dive into our ball pool and much more!
German Pacific School
Multiple Locations, 858-461-9118
www.gpssd.org
German language classes for kids ages 3-17 and adults. Hands-on projects, exam prep, cultural events and more. Classes for native and non-native speakers. Saturday morning, weekday afternoons and weeknight classes available.
Girl Scouts San Diego
Countywide, 619-610-0821
www.sdgirlscouts.org
Girl Scouting gives girls a safe way to explore the world and discover their own potential.
Helen Woodward Animal Center
Rancho Santa Fe, 858-756-4117
www.animalcenter.org/education
Afterschool program with hands-on animal interactions! Contact district for more information.
The Hot Spot Pottery & Candlemaking
Liberty Station, 619-223-1339
www.thehotspotstudio.com
Relax to great music in our spacious studio and enjoy creating unique, one-of-a-kind, personalized gifts. They are great for the holidays!
LionHeart Academy
El Cajon, 619-462-2027
www.lionheartsandiego.com
Archery, fencing and medieval sword classes are offered for homeschool, after school and Saturdays. Looking for a fun and unique sport? Join us to learn how to shoot a bow and arrow, use a medieval sword or foil.
Little Artists
Countywide (4 locations), 619-462-1955
www.mylittleartists.com
Little Artists offers small class sizes, individualized instruction and affordable monthly tuition. Afterschool drawing and painting classes for kids ages 4-18 in San Diego County. First class is free, no purchase necessary. Come join us for some afterschool fun!
Little Fish Comic Book Studio
Ocean Beach, 619-356-1103
www.lilfish.us
Our Young Artist Comic Class introduces comic book art to young and emerging artists ages 8-12. Students enjoy lessons on drawing, character creation and demos from professionals. We also have classes for ages 13-adults, Monday-Thursday. Learn how to write, draw, collaborate and create.
Neisha's Dance & Music Academy
Liberty Station & Eastlake, 619-585-1133
www.neishas.com
ND&MA encourages kids to lead inspired lives through dance classes and music lessons. Dance offerings: ballet, jazz, hip hop, contemporary, funk, acro, choreography and dance teams. Music offerings: piano, voice, guitar, violin and cello. More fun: Kids Night Out and Preschool for the Arts!
Nissen Trampoline Academy
San Diego, 858-558-0495
www.nissentrampoline.com
Beginner to advanced trampoline lessons. Emphasis on safety, health education, weight management, fitness and fun!
Poway Gymnastics
Poway, 858-748-1716
www.powaygymnastics.com
Please call to set up your free trial class in any one of our fun and educational gymnastics classes.
Salvation Army Kroc Center
College Center, 619-287-5762
www.sd.kroccenter.org
The Kroc Center's talented and dedicated staff has designed programs for students to explore all levels of their chosen disciplines. We offer piano, brass, and guitar lessons in both private and group sessions. Children ages 3+ can take ballet, tap or gymnastics in our afterschool programs.
San Diego Civic Youth Ballet
Balboa Park, 619-233-3060
www.sdcyb.org
San Diego Civic Youth Ballet offers programs in Classical Ballet instruction, Full-Length Performances, Artist Enrichment and more.
San Diego Ice Arena
Mira Mesa, 858-530-1825
www.sdice.com
We offer afterschool public sessions, skate school classes, hockey lessons, ballet classes and off-ice conditioning classes.
San Diego Junior Theatre
Balboa Park, 619-239-8355
www.juniortheatre.com
We provide engaging, innovative, high-quality theater education and productions for children of all cultural heritages, ages, abilities and levels of interest.
Scripps Performing Arts Academy
Scripps Ranch & Carmel Valley, 858-586-7834
www.scrippsperformingartsacademy.com
We offer a creative and nurturing environment that instills core-strength, mental focus, and emotional intelligence. Classes are led by professional, qualified coaches.
Sew Inspired
Encinitas, 760-908-7853
www.sewinspired.biz
Our foundational & fun afterschool sessions are a wonderful, weekly experience for creative kids. Wednesday and Thursday classes. Only 20 spots available, sign up early!
Skateworld
Linda Vista, 858-560-9349
www.skateworldsandiego.com
Classes range from beginner to advanced including roller derby training, rink hockey, figure skating and private lessons.
Soccer Shots SN
Countywide, 619-741-1005
www.soccershots.org/sandiego
Soccer Shots is the nation's leader in character development through professional and qualified coaches. Demo Days: Sept.5-10 at various locations.
Super Spanish
San Marcos, 760-510-9639
www.superspanish.net
Our Afterschool Program provides 100% Spanish immersion activities designed for elementary age kids. Group-based activities develop conversational skills and fluency. We also focus on developing excellent reading and writing skills. Students learn through games, songs and other fun and interactive activities. All classes taught by experienced, native-Spanish speaking teachers.
Vernetta's Dance Studio
North Park, 619-260-1707
www.vernettadance.com
San Diego's leading dance studio for children. Performance opportunities, studio parties and more. Parents are invited to observe all classes.
Warren-Walker School
Point Loma & La Mesa, 619-223-3663
www.warren-walker.com
Afterschool care consists of game-playing, playground activities, and homework club.
Yak Academy
Scripps Ranch, 858-679-7760
www.yakacademy.com
Play-based,fall language immersion classes for toddlers, preschoolers and school-age kids.
---
Published: September 2017