Do It Yourself Diwali!
Diwali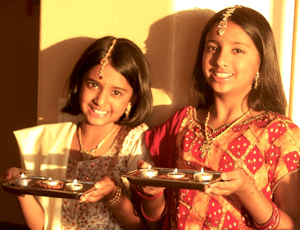 The Celebration of Light
For one week each year, the earth shines a little brighter as millions of flickering oil-wick lamps light the planet for Diwali, the festival of lights.

Be magically transported through rows of twinkling lamps, daintily highlighting the colorful, traditional designs on the floor and throwing golden rays of light all around. Imagine entering a delightfully aromatic, immaculately clean home with lots of cheery faces everywhere, laughter and platters loaded with sweetmeats and savories. Imagine a soothing spirit that illuminates your soul, sending waves of peace and happiness!

This is Diwali or Deepavali, literally meaning "a row of lamps." For the millions of Indians celebrating this festival of lights this marks the commencement of the Hindu New Year, the date determined by the Lunar Hindu Calendar each year. Every year, Diwali falls in early November. Meticulous cleaning, painting and decorating the home is a precursor to the festival. Metaphorically, this is a symbol of sweeping away negative thoughts and energies and filling your mind with good and pure thoughts and feelings.

Rangoli, also known as Kolam or Alpana, are geometric sand art patterns created at the main entrance of the house, a sign of welcome, inviting the Hindu goddesses to enter and bless the family. Embroidered door hangings hung above the door and colorful earthen lamps called diyas are lit around and inside the home, on balconies, even roof-tops, symbolizing the lamp of self-awareness and enlightenment, to quell the darkness that resides in our minds.

On the auspicious day, businessmen close their books for the year and start afresh. Women purchase jewelry, silver and new clothes. Gifts, sweets and nuts are exchanged with family members and friends. Communities get together for fireworks and an assortment of firecrackers and sparklers that adults and children light, both during the day and through the night for the whole week.

The origin of Diwali goes back thousands of years. In the northern parts of India, Diwali signifies the return of the great Lord Rama, subsequent to his defeat of the demon-king Ravana and his crowning as king. This story is from the ancient Sanskrit epic, Ramayana, that was composed by Sage Valmiki. The oral composition dates back to the 8th century B.C.E.

In Western India, Diwali is celebrated to honor Lakshmi, the Goddess of Wealth and Prosperity. Today it is followed universally all over India, and marks the most important day of the festival. In Eastern India, Kali is worshiped, the Goddess of Time, a dual natured force, one of a gentle mother, the other a ferocious, destructive form of Shakti or the divine force, manifesting to destroy evil and restore balance. In Southern India, a legend from the epic Ramayana of the killing of the evil demon Narakasura by Lord Krishna culminates in a great celebration that is Diwali. The festival also coincides with the end of the harvest season in India.

Diwali fairs or melas feature many cultural activities for children and adults, such as plays, concerts, acrobats, fortune-tellers, camel, elephant or horse rides. Streets and shops are decorated with dazzling electric lights and colorful lanterns

In San Diego, Diwali festivals are held in Balboa Park and Black Mountain with music and dance performances by adults and children, ceremonial lighting of lamps, rangoli contests, vendor stalls with Indian artifacts, jewelry, books and a plethora of Indian items and snacks to choose from. A food court showcasing varieties of mouth-watering dishes and sweets is generally the highlight of the festival.

Diwali programs may vary quite a bit. People are sometimes astounded by the great differences in customs and culture between regions in India. To fully comprehend this, one has to look at the 28 states in India almost as separate entities, with their own food, dress, language and religions. By 8th grade, nearly every child in India has mastered at least three languages: Hindi (the national language), the state language where he resides and his mother tongue. In addition, most schools today teach English. Incidentally, asking for a specific "curry" can produce a completely dissimilar dish in different parts of India.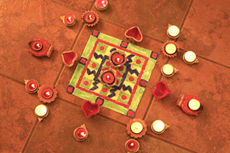 Despite all these differences, communities unite joyfully to celebrate festivals such as Diwali with a deep respect and an understanding of each other's values and traditions, the family being the central unit. The bond between festivals and communities has lasted more than five thousand years and will continue to be an ode to happiness and tradition.


Celebrate the Festival of Light with these yummy, easy-to-prepare Diwali recipes and crafts!

Easy Gulab Jamuns(rose balls in syrup)

Ingredients:

2 cups milk powder
1 cup pancake mix powder
1 small carton whipping cream (1 cup)
Oil for frying

For syrup:

2 cups sugar
3 cups water
A pinch cardamon crushed (optional)
A pinch saffron or a teaspoon rose water (optional)

Combine sugar and water for the syrup and heat. Let it boil for 3 to 4 minutes and remove from the heat. Add cardamom powder and pinch of saffron or rose water if desired. Set aside.

Knead a soft dough with rest of ingredients and let it sit for 5 minutes. Shape into smooth small balls(1/2 inch size) and deep fry in oil until evenly dark brown in color. Put it immediately into the hot syrup. The balls will soak the syrup and swell. Serve warm.

Vermicelli Kheer

Ingredients

1/4 cup roasted vermicelli
1 teaspoon unsalted butter or ghee
4-5 cups milk
2-3 cardamom seeds (crushed)
2 tablespoons slivered almonds
A pinch of saffron
1 tablespoon raisins (optional)
1 cup sugar (add more for sweeter kheer)

Roast the vermicelli and almonds in the butter or ghee for 1 minute. Add the milk and bring to a boil. Let it simmer gently for 10 minutes. The milk will thicken a little and the
vermicelli will soften. Add the sugar and simmer for another 3 -4 minutes. Add the saffron, cardamom and raisins. Remove from heat and cool. Serve either warm or chilled.

Namak Para (Indian Pastry)

Ingredients

3 cups all purpose flour
3 tablespoons softened unsalted butter or ghee
3 tablespoons plain yoghurt
1 teaspoon ajwain (thymol) seeds
1 teaspoon crushed black pepper
salt to taste
water to knead dough
oil to fry
Add yogurt, softened butter, pepper, salt and ajwain seeds in the all purpose flour. Add
water slowly and knead into a medium stiff dough. Leave it aside for 10-15 minutes. Then
shape the dough into 2 inch balls. Roll it out about the thickness of a tortilla. Then with a
sharp knife, cut them into 1 inch squares or finger-size strips. Heat oil to medium heat. Add
the squares or strips and deep fry until golden in color. Serve when cool, with a hot cup of
chai!

Cereal Chivda

Ingredients:

2 cups Kix cereal
2 cups Rice Krispies cereal
2 cups Corn Flakes cereal
½ teaspoon turmeric powder
½ teaspoon cayenne or chilly powder
½ teaspoon cumin powder
½ teaspoon citric acid powder
½ teaspoon sugar
A handful of curry leaves(1/4 cup)
1 jalapeno or thai chilly for more spice, chopped
½ cup peanuts or cashews or both
½ cup golden raisins
2 tablespoons oil
1 teaspoon salt

Heat the oil in a large pan. Add chillis and curry leaves and fry until curry leaves get crisp. Add the nuts and the spices and fry for 15 seconds. Add all the cereals, the raisins and mix well until spices are blended. When completely cool, store in an airtight jar. You can use alternate cereals too.

Simple Diwali Crafts

Rangoli or Sand Art Designs

Download designs from these websites:
www.diwalifestival.org/rangoli-patterns.html
www.dltk-kids.com/world/india/mrangoli.htm
www.theholidayspot.com/diwali/rangoli.htm

You will need:

A rangoli design(downloadable from the web)
Colored sand sorted by color in different bowls
School glue
Paintbrush
A white piece of cardstock – the size depends on how large your design is

Draw or print a design on the cardstock. Carefully spread glue evenly with the paintbrush on the section you want colored sand on, taking care not to cross lines. Pour some colored sand onto the glue and shake the excess sand off into its respective bowl. Then move to the next area and repeat the same procedure. Be careful not to shake the excess sand off on a freshly glued area or the colors will mix. When completed, leave it to dry. Your rangoli is done! You can try traditional rangoli on the floor using chalk to draw a design and filling the colored sand in.

You can also use different lentils, beans or rice instead of colored sand. Another idea is to use colored chalk on sandpaper. It will produce a similar effect as drawing your rangoli on the ground.


Clay Diya or Lamp

You will need:

Air dry clay
Sequins
paintbrush
paint
glue

You can make the diya in two ways. One simple way is make a long thin snake with the clay. First make a base by winding it around itself. Then when you have about 6-7 circles, start winding the snake on top of the last circle, one round on top of each other so it look like a tea light holder. Let it dry. Paint it and when the paint dries, you can glue sequins or colored crystals to decorate it.

Another way is to shape the clay into an almond shaped lamp that will fit a tea light into it. An easy method is shaping the clay over the bottom of a cup or bowl and carefully taking it out so the shape is retained. You can mould the clay into any diya shape you like. Once the clay dries you can use paint, glitter, crystals or other embellishments to make it pretty.

You can buy a wick or create one by rolling cotton into a thin snake. You can use any oil in the lamp. Wet both ends of the wick in the oil, dip one end in the oil and then light the other side.

-----------------
Geeta Shreedar is a freelancer who loves celebrating Diwali every year with family and friends.