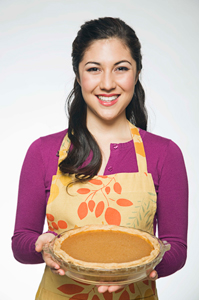 Our Very Own Thanksgiving
Thanksgiving is coming, and along with that comes a new opportunity for our family. Normally, we celebrate this day with my parents. Mom roasts the turkey, Dad watches football. But this year, they've decided to stay put. No more leaving their condo in the warm Florida sunshine in order to head for the cooler climes to be with us. So, after many years celebrating with the folks, my family is left celebrating the day with just ourselves, that is, me, my husband, our daughter, age 14, and our son, age 10. I must admit that at first we were somewhat at a loss (how in the heck do you stuff a turkey?), but after a while it sounded like a wonderful chance to create something new. As they say, "close a door, open a window." So, just what would our very own Thanksgiving look like? It was time to find out.

Because families seem to be getting more and more spread across the country, indeed the world, it was not hard to find others who faced this same opportunity to celebrate the holiday in a "new way". I asked a few of them, "How did you create your own special Thanksgiving?" Their answers gave me some great inspiration. So, if you too are looking for ways to celebrate the holiday "alone," that is, without a large extended family around you, or if you are just looking for more ways to make the day more special for your crowd, read on:

Let's eat!
I am a traditionalist. I love everything about the Thanksgiving feast, right down to the pumpkin pie topped with whipped cream. But now I have to admit it: I have never cooked a turkey before. I've left that chore up to my mom. No use messing with the master. So this year? I'll pick up the phone and get step-by-step directions. If Mom's busy frolicking at the beach, I know a few friends who have cooked a turkey; we all do. I think I can put aside my pride long enough to ask them what to do. Or maybe I'll use this fantastic website: www.butterball.com. There you find answers to all your turkey roasting questions. There are even videos demonstrating how to thaw, stuff, roast, carve, and grill a turkey!

Other ideas? April Schmidt decided that it was the meal that was important, not the actual cooking: "I picked up one of those 'premade' dinners and we took our kids [daughter Ashley, 10 and son Ty, 8] to a state park in the RV. We set the picnic table and we had dinner outdoors just like the pilgrims and natives did the first Thanksgiving."

Angela Weight, along with her husband and five children, took it one step further: they decided to forego the turkey. "We all agreed that we weren't too fond of turkey so we started our own tradition of cooking Low Country Boil. It's a southern seafood dish with shrimp, sausage, corn, onions, and new potatoes."

Set a Beautiful Table!
Whatever you decide to eat, don't forget to make the holiday table look special. As Judy Jackson, mother to 15-year-old Mary, says, "To keep the 'specialness' of Thanksgiving we do it up just as though we were expecting to dine and spend the day with a crowd of family and friends. Tablecloth, good china, and decorations."

I am so excited: I finally get a chance to pull out that beautiful china I received when I was a young bride. Won't my kids be impressed?

Now What?
To be honest, Thanksgiving Day has always taken a turn toward boredom once the meal is eaten. The major activity has been watching football on television. Actually, it's been watching my dad watch football, because no one in my family particularly likes it. So now is when the window comes flying open. Just how do we want to spend our day?

Angela Weight and her family went on a hike at a local park. "Later that day, we played Bingo and then we went to a movie."

Krystall Smith has two children, Merrik, age 16, and Jocelyn, age 9. She says, "We do family stuff together. It's times like Thanksgiving when we have the perfect opportunity to be a family and enjoy one another."

I couldn't agree more. Our family loves to play games, go on hikes, and rent funny movies. Thanksgiving will be the day we turn off the cell phone, the computer, and that annoying Palm Pilot which has made its way into my husband's hand. Each of us will get a chance to choose an activity for the day.

Do Unto Others
Our family really enjoys volunteering, and what better time to volunteer than Thanksgiving? We've got some extra time, and nothing beats the feeling of sharing your good fortune with others. We're lucky to have found a local high school that prepares and delivers Thanksgiving "Meals on Wheels" for local residents in need. We're excited to be able to work for this group. If you are looking for volunteer opportunities of your own, start on the web at www.unitedway.org. At the top left corner, you can type in your zip code for a United Way in your area. Your local United Way will have lots of volunteer opportunities for you and your family.

It's the Thought That Counts
After all the food is eaten and the games are played, we still have to remember what Thanksgiving is all about.

Mary Emma Allen skipped extended family functions and spent many holidays with just her husband and daughter Beth, now grown, because her husband was in the Air Force. She says, "Jim and I didn't really think of it as being 'alone.' We were together and had each other."

This year I'll remember that. It's the time we spend together that counts, no matter how big or small the crowd.

Happy Thanksgiving!


---------------------------
Martha Wegner is a freelance writer.