It's Never Too Late To Start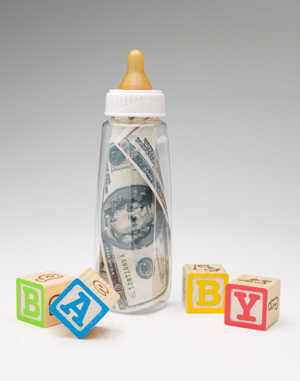 Some parents start saving for college as soon as the stick turns blue. Others plan to start when the car's paid off. But then the roof needs replacing and before you know it they're smiling proudly at high school graduation secretly wishing they had started putting a few dollars away even a couple of years ago. If your child is in Middle School or Junior High now, you might feel like it's too late to begin saving for college, but that's not true.
To get an idea of how much to save go to the World's Simplest College Cost Calculator at www.savingforcollege.com/college-savings-calculator/index.php. Plug in the age of your child, and voila, you're given the amount you need to save monthly.
Don't freak out here because this calculation assumes you plan to foot 100 percent of Junior's college education! But here's the good part: there are many, many programs and organizations that want to partner with you to finance your child's education. Very few parents foot the entire bill. And by college, we mean any education beyond high school—and there any many affordable community, junior and vocational colleges waiting to welcome your child.
So realistically, maybe you only can afford to subsidize 50 percent of the bill, or maybe 25 percent. That's still a sizeable chunk. Run the numbers a few ways until you get comfortable with what you can put aside each month. It doesn't matter if it is a small number—just your child seeing you save will make a big impression.

Look for Easy Ways to Save
First, scrutinize your monthly expenses and see what isn't giving you any bang for your buck. Start with on-going monthly expenses like cable TV and cell phone and see where reductions or cuts can be made. What about memberships? One former gym rat dropped a gym membership when she moved because it was too far to drive. She vowed to make up the exercise by walking and running more. The membership was cheap too, only $27 a month but over six years, that amounts to $1,944—not so cheap after all!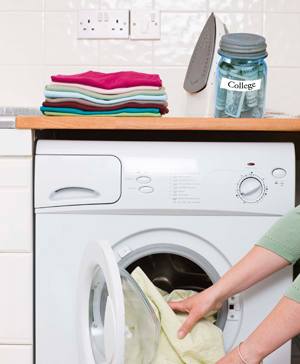 Keep a jar or piggy bank in the laundry room. In our house, any money left in pockets when clothes are put in the laundry basket is fair game for my piggy bank! I have scored an occasional $20! (And yes, I put it in the piggy bank even when it's my pocket that yields the money.)
Time to de-clutter? Cash in. Craigslist will bring in more money than a garage sale so pull out your best stuff, take a photo, and post it for sale at www.craigslist.com. Put at least half of your sales into the coffer.
Grandparents are usually stumped at this age on what to buy the grandkids for birthdays and holidays. Think about setting up a college savings plan. Make it easy for grandparents and other relatives by supplying the account number and allowing them to make deposits for those special occasions.
Another way to find extra money is to make it a point to save money you are already living without. So when you get a tax refund, or a rebate, or any unexpected payment move it straight away to savings.
When you begin saving, tell your child what you're doing and why. Use the savings as a joint effort that keeps everyone mindful of the goal: a college education. So what if you didn't start saving for college while still changing diapers and boiling bottles? Saving for college is still a good idea, no matter when you start.
-----------------------
Martha Miller is a freelance writer and author. Visit her online at www.marthmillerwrites.com.