By some counts, San Diego's foster youth are in crisis. Each month, 150-200 children enter the foster care system for the first time, and approximately 7,500 children go through the system each year. Social workers and court systems are overwhelmed and often, little time can be dedicated to each child's case.
San Diego's Voices for Children is a ray of light within the foster care system. This nonprofit organization trains volunteers to become Court Appointed Special Advocates (CASA) for foster children.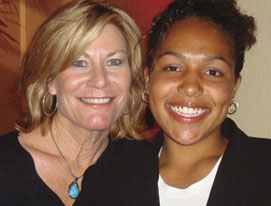 What is a CASA?
A CASA is a volunteer who is specially trained to advocate for children and youth in the foster care system. A CASA is assigned to a specific child or sibling group for the duration of their case. In many instances, a CASA is the only person in a child's life who is not paid to be there.
"This makes a huge difference to the children—to have someone who volunteers his time to be with them," says Cindy Charron, Voices for Children program manager.
What Does a CASA Do?
There are two sides to the role that a CASA plays in the life of a foster child. On the legal side, CASAs have the ability to advocate for the child in court and school. This means that a CASA:
• Writes detailed court reports
• Appears at court hearings
• Investigates and makes recommendations about the permanent placement of a child or sibling group
• Follows a child's progress through placements
• Facilitates communication with everyone involved with a case
• Makes a minimum commitment of 18 months
CASAs also play a role that combines mentor, friend and family. A CASA has ongoing contact with his assigned child or sibling group in person and on the phone. This is the precious one-on-one time that enables a CASA to draw out a child's interests and provide the judge with current and personal information about the child—information that most social workers, foster parents and attorneys may not have time to observe or collect.
Do CASAs Make an Impact?
According to the County of San Diego's Commission on Children, Youth and Families, studies conclude that for every dollar spent on "prevention" today, seven dollars are returned to the public.
By investing in CASAs for children who are most at-risk for drugs, crime and school failure, communities will save seven times this investment by not having to pay for welfare, MediCal, police, prison and remedial education services in the future.
Kim Penny, Voices for Children vice-president of marketing and development says,"By helping foster children grow up to be self-sufficient, contributing members of society, CASAs help the whole community."
Program Effectiveness: Proof Positive!
The following studies show how CASA programs positively impact children in the foster care system.
• CASA Effectiveness Studies Review
A recent review of 14 CASA-effectiveness studies
by researchers at the University of California, Fresno Medical Education Program noted:
Children with CASAs are more likely to be adopted.
Children with CASAs are less likely to re-enter the child welfare system.
Twenty percent more children with CASAs passed all school courses and were significantly less likely to be expelled.
Children with CASAs scored significantly higher than other foster children on protective factors scales (sense of acceptance, controls against deviant behavior, positive attitude for the future, and ability to work with others).
Read more: www.nationalcasa.org/about_us/studies.html
• California Blue Ribbon Commission on Children in Foster Care
Concluding its two-year study, the Commission had several suggestions for improving outcomes for children in foster care including "CASA programs should be available in all counties."
Read more: www.courtinfo.ca.gov/jc/tflists/bluerib-rec.htm
• Pew Commission on Children in Foster Care: "Fostering the Future: Safety, Permanence and Well-Being for Children in Foster Care" 2004 Report
"Even with the active participation of children and families, judges and attorneys will not always have the time and resources needed for the courts to make fully-informed decisions. We therefore recommend an expansion of the successful, community-based CASA program. "
Read more: http://pewfostercare.org/docs/index.php?DocID=47
Ronni Rowland is a mother of two and freelance writer.