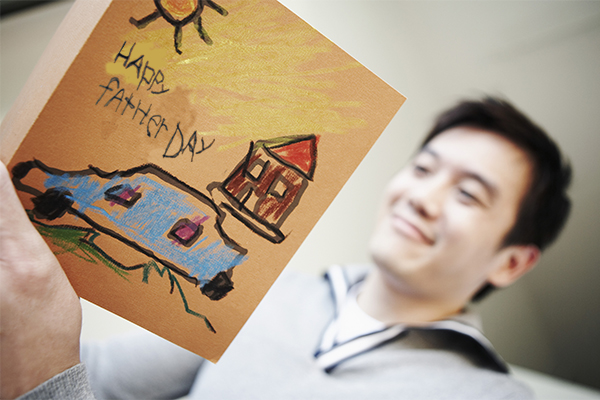 In the days leading up to Father's Day, sons and daughters will scramble to San Diego malls to find that special tie, shirt or wallet for their dad. Though a present is appreciated, what I have learned to treasure most over the years is the gift of words.
When my daughters were growing up, I made it a habit of writing them loving messages for just about anything, especially on birthday cards and holiday greetings. They got the hint and reciprocated. Since that time I've kept every note as if it were gold. For example, on the Father's Day that she graduated from high school, my youngest daughter, Koren wrote, "Daddy, I honestly hold you in the highest esteem. You are kind, generous, and the most honest man I know. You do things for others never expecting anything in return. For that and much more, I love you." I keep that one in a special file close to my heart.
Over the years my daughters have sent me many cards and letters telling me how I've influenced their lives. I cry every time I get one. I believe other fathers need to realize gifts like a T-shirt or gym shorts are transient, but a gift of words is a gift from the heart that lasts forever.
What must fathers do to earn the gift of words? Dr. Aleksandra Drecun, a licensed psychologist and coach practicing in Carmel Valley, offers behaviors fathers must show for assertive and effective fathering. These behaviors include fostering a cordial relationship with the children's mother, spending time with children, being involved with their education and serving as a positive role model.

MODEL A POSITIVE RELATIONSHIP WITH "MOM"
Dr. Drecun says, "Men can be excellent and adored fathers by treating and interacting with their children's mother in an affectionate, respectful, caring and considerate manner. The virtues dad manifests in his relationship with the mother of his children set an important example."
When my girls were 3 and 8 years old, their mother and I filed for divorce. Not wanting our girls to grow up in an atmosphere of hate, we made sure the divorce was amicable. We shared the same lawyer, obtained joint custody, and all family business, such as school or child support, was taken care of without intervention. We celebrated birthdays, holidays and special events together. We made sure never to have arguments or exchange negative comments in front of our girls.

SPEND TIME WITH YOUR CHILDREN
Spending fatherly time with children is essential.
Dr. Drecun says, "Children equate love with spending time together."
This allows father and child to get to know each other and experience a sense of connection and closeness. I connected with my daughters helping them with their homework during weekdays and going on bike rides, hikes, and schlepping them to soccer games or dance rehearsals on weekends.
Jorge Baptiste, a Carlsbad bankteller says, "My father was not around when I was growing up, but I had a godfather who raised me as his own. He showed me what it meant to be a man and father. He was always patient with me especially during my rebellious teen years."
Jorge's godfather was always consistent with his parenting. He would pursue active rather than passive activities with his godson. Dr. Drecun says, "Shared activities promote a sense of responsibility and self-efficacy in children that is associated to greater self-esteem, academic and occupational achievement, psychological well-being, and social engagement late in life."

EDUCATIONAL INVOLVEMENT
Spending time with children includes fostering their intellectual growth. When my daughters were young, I made sure I read to them every night before they went to sleep. I attended parent-teacher meetings, went to the school when problems occurred and helped them with their homework.
Emily Bush, a student in University Heights says this about her father, "Dad, you have taught me how to look after my possessions and care for them so they can last a long time. From you I learned how to save money and budget my time. You have taught me the importance of education and loving what you choose to do as a profession. You showed me how important it is to love your partner and the importance of a stable, honest marriage."

SERVING AS A POSITIVE ROLE MODEL
Stefanie Radasa, Industry 453 boutique owner and San Diego resident understands the importance of a positive role model. She wrote this to her dad, "When growing up I remember how hard you worked from early morning until late in the evening. You always made time to pick me up from field hockey practice, and drive me home and cook me dinner. As tired as you were, you always took care of me."
Stefanie's father provided his daughter with a very positive role model. According to Dr. Drecun, "Fathers should lead by example. They should display healthy behaviors they would like for their children to manifest" in growing up to become healthy contributing societal members.
A few years ago, when my oldest daughter was pregnant with her first child she wrote on her Father's Day card, "You've been patient, understanding, caring, and loving. You put your children first before anything else including work, love life and personal needs. Daddy, you're my teacher, my friend, and my parent."
Now Channie's the mother of my granddaughter, Arielle, passing on what I taught her. I couldn't be more proud!
Over the years, I have received sports clothes, gift cards, shirts and slacks from my daughters for Father's Day. With every gift came a card with loving words that cost my girls nothing extra, but held the highest value for me. But those words did have a price. To earn them I took time away from work, chose not to nurture alliances to improve career prospects, and deferred social events to spend extra hours with my kids when they needed it the most.
Dads who put their children first produce adults who are society's glue. Dr. Drecun's father was such a man. He taught her by example—he was gentle and lived his life with the values of commitment, dedication, diligence and integrity. She says, "I know I can depend on him at any given moment, and he has always had my best interest at heart."
This is truly the gift of words for any dad. Happy Father's Day!
---
PARENTING AND SUPPORT RESOURCES FOR DADS
RIOSS Counties Regional Fatherhood Collaborative
The RIOSS CRFC recognizes that there are many barriers in society that block positive and successful fathering, but these barriers can be overcome. In San Diego, services for fathers and families include: a school-based father and child interaction program; the City Heights Dads' Clubs; POPS, which offers direct support and advocacy; Harmonious Solutions, a social service agency in East San Diego that proudly offers Afrocentric and Black Positive services geared largely toward African-American men. Contact program providers for more information.
www.sandiegopops.org
Adam Gettinger-Brizuela, POPS and RIOSS Collaborative: This email address is being protected from spambots. You need JavaScript enabled to view it.; 619-813-2974
Ken Woods, City Heights Dads' Clubs: 858-504-1560
C. Kahalifa King, Harmonious Solutions: 619-266-1181
Start or Join a Dad's Club!
Connect with fellow fathers in your neighborhood by starting or joining a group.
www.ptotoday.com/pto-today-articles/article/347-start-a-dads-club
www.meetup.com/San-Diego-Dads
San Diego Dads Corps/SAY San Diego
Dads, including those in the military, have special challenges to figure out parental roles. San Diego Dads Corps offer dad-to-dad parenting workshops, in-home support focusing on raising healthy children and positive communication skills; job readiness/placement assistance, career transition support; referral services: free legal assistance for fathers, food, clothing, childcare, healthcare and transportation; counseling. Join a San Diego Dads Corp or Camp Pendleton Dads' Group or register for the next Free Legal Clinic for Fathers!
www.sandiegodadscorps.org
Contact Jorge Navarez: 619-283-9624 ext. 260; This email address is being protected from spambots. You need JavaScript enabled to view it.
First 5 San Diego
Offers free parenting classes and workshops (English/Español) to help children thrive in their first 5 years of life. These classes are a great way to begin building strong parenting skills. The free "Kit for New Parents" contains all the parenting information, local resources, advice and useful tips first-time parents need to best prepare for the joys and challenges ahead. Includes a Daddy's Tool Bag DVD, which educates new and expectant dads on how to take care of and bond with their babies. Find a parenting class or order a free kit:
www.first5sandiego.org/parent-resources
888-5-FIRST-5 (1-888-534-7785)
---

--------------
Michael Thal is the author of the award-winning YA novel, "Goodbye Tchaikovsky."
Published: June 2013