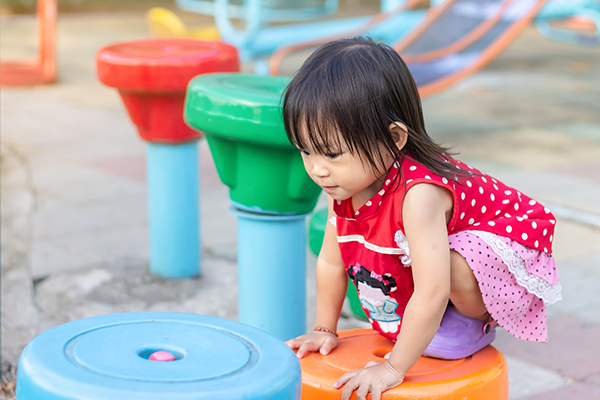 It's a fact of life for every parent. Part of our job is to reduce risk and ensure the safety of the tiny humans placed in our care. After all, risks seem scary, right? Even the dictionary equates risk with peril or injury. But taking a risk simply involves doing something in which the outcome is unknown. Taking risks is a natural and necessary part of growing up, and good news, Parents—there are healthy risks that offer lots of opportunities for growth. Taking risks helps kids step outside their comfort zones, spread their wings and discover what they're capable of, leading to greater confidence and success later in life.
So, how do parents find a balance between natural instincts to keep kids safe and allowing them to take risks that help them grow and thrive? By understanding the role risk-taking plays in a child's development and learning how to harness the power of healthy decision making.
How Taking Risks Benefits Kids
From learning to use knives in the kitchen to staying home alone, kids grow into mature adults by taking age-appropriate risks. Kids grow more confident, persistent and resilient as they experience trial and error and cause and effect firsthand. Evaluating challenges and deciding on a course of action helps strengthen decision-making skills. Over time, these opportunities help kids learn to discern between positive rewards and negative consequences — a life skill essential for the teen years and beyond.
How to Encourage Healthy Risk-Taking
Check your own response to risk.
If your anxiety goes up at the thought of your child reaching the top of a rock-climbing wall or running for class president, take a deep breath and listen to what Point Loma mom Audi Swift discovered. "I've had to look at my own anxiety in terms of allowing my kids to take healthy risks. But I've learned that kids who are allowed to struggle a little bit and rely upon their own problem-solving skills are less likely to develop anxiety later in life. It seems counter-intuitive, but embracing healthy risk-taking has lowered my anxiety because I know learning how to handle risk is a protective factor for my kids' future development."
Model risk-taking and reframe failure.
Risk-taking is scary because we might fail or get hurt. Parents can help kids confront this fear by modeling a different way to think about risk and failure. It's a start to developing a growth mindset—the willingness to continue learning, despite setbacks.
"Talk with kids about the risks you've taken, why you took them, and what happened," says Julie Lythcott-Haims, author of How to Raise an Adult: Break Free of the Overparenting Trap and Prepare Your Kid for Success. "When you talk openly about the setbacks you experienced, you show kids that failure is part of the natural course of life. You normalize struggle, making it safer for them to try, fail and try again."
Learn more about growth mindset in our article How and Why to Develop Growth Mindset in Kids at www.sandiegofamily.com/parenting/how-and-why-to-develop-growth-mindset-in-kids.
Start small and increase gradually.
Look for opportunities to allow children to experience moments of age-appropriate freedom and independence that can grow over time. Encourage younger children to try new foods, help in the kitchen, or explore freely at the playground. As kids grow, allow them to engage in "risky play" like climbing trees, swinging higher at the park, riding their bike faster, or riding the zipline without help. Encourage older children and teens to engage in activities that create the excitement they crave without the potential for unhealthy consequences. Trying out for club sports or a high school team, auditioning for a play, and running for student council can stretch teens beyond their comfort zone.
Talk about everyday risks.
Help kids notice daily decisions that reduce risk, like wearing a seat belt in the car or looking both ways when crossing a street. Slow down and ask "what if" questions to spark kids' curiosity and problem-solving skills. Talking about risks when you're not in the moment helps kids learn to plan and examine different possible outcomes. Ask questions that demonstrate your belief in their ability to make sound decisions. You might say, "When your friends ask you to do something you're not comfortable with, how do you handle it?" And when your child takes a risk that ends badly, use it as a teachable moment. Help him reflect by asking, "What would you do differently next time?"
Follow some simple guidelines.
All families benefit from parents staying fully engaged and ready to help if needed. Don't hover, but pay attention. Avoid distractions (like your phone), but resist the urge to implore kids to "Be careful!" Instead, give specific instructions such as, "That tree is very tall. To avoid falling, climb slowly and keep checking how you'll get down." Stay sensitive to the differences in your children by observing and honoring how each one approaches challenges. One may jump in quickly, while another may exercise caution. Both approaches to managing risk are OK.
Children who learn to manage life's risks grow confident in their abilities to make sound decisions and solve problems. So, when the day comes to let your little ones go – whether to middle school, high school, college or beyond, the healthy risk-taking they've practiced will serve them well. "They'll make mistakes and may even experience pain," says Audi, "but that only lends itself to more valuable lessons, growth and resiliency."
________________
Jody Lee Cates is a local mom and award-winning writer who blogs about healthy relationships at www.jodyleecates.com.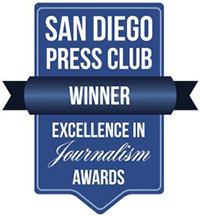 This article won a journalism award from San Diego Press Club! Jody Lee Cates received THIRD Place in the Feature-Light Subject category. See all of San Diego Family's awards HERE.
For more about this topic, read Parenting with Purpose: Raising Resilient Kids at www.sandiegofamily.com/parenting/raising-resilient-kids.
________________