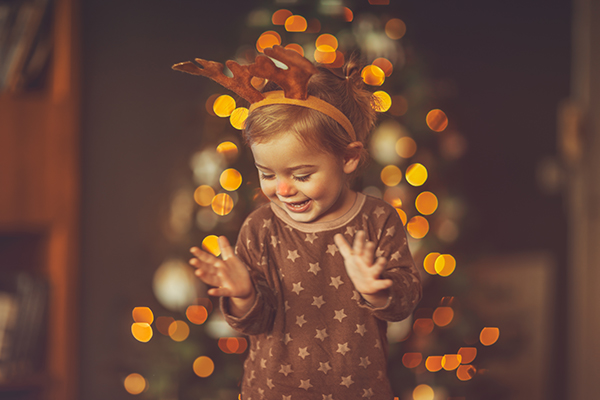 The holidays can be stressful even under normal circumstances. With added uncertainty and current restrictions this year, they may feel more challenging than ever—even for the jolliest among us. If your family is struggling with disappointment, anxiety or sadness this holiday season, know that you're not alone.
Psychologist Pauline Boss calls losses with unresolved circumstances (like those surrounding COVID) "ambiguous loss." Without clear boundaries or resolution, it's easy to feel like you're in "grief limbo," and the holidays can magnify that grief.
Grief isn't only about losing a loved one. Grief is the normal and natural process of letting go when experiencing any type of loss.
Travel restrictions that keep families apart, limits on group gatherings, and canceled religious services and holiday events are just some losses families may be experiencing. It's OK to acknowledge that things aren't the same this year, and if you're feeling sad or disappointed, imagine how the kids might be feeling. Here's how to help manage those feelings and set a reassuring tone in your home during this unusual holiday season.
Recognize what's happening. Loss stirs up a range of emotions that on the surface might not look like sadness or grief. It could more closely resemble anger, frustration, confusion, disbelief or denial. Some people may desperately power their way through to keep up a false front of holiday cheer. Acknowledge the realities of this year and give your family grace, compassion and understanding to process mixed emotions.
Stay connected. Don't let disappointment over not gathering in person prevent you from connecting in creative ways. Use Zoom, FaceTime, or video messaging apps like Marco Polo to stay connected to loved ones. Teach less tech-savvy family members how to use these tools so you can enjoy things together like streaming concerts, worship services, holiday feasts and opening gifts together remotely.
Be flexible and make new memories. Press pause on traditions that aren't possible this year and let go of guilt about skipping them this time. Brainstorm ways to create new memories unique to 2020.
Kirsten Casillas is a writer and popular speaker at moms groups throughout California. She suggests families discuss creating a memory or experience that is unique to COVID. For example, Casillas and her daughters are making a holiday songbook and plan to go caroling in their masks (at a safe distance) to bring holiday cheer to neighbors. "It's just one small way to be intentional about choosing joy in the midst of difficult days," she says. "It will be different and memorable for all of us, and hopefully an example that we don't have to shut down when things get hard."
Talk about the activities you'll miss this year and ask kids to choose one fun thing they'd like to do instead to make unique holiday memories.
Get back to basics. If your holiday season is usually overwhelmed with scheduled activities and long to-do lists, consider the current restrictions an invitation to finally slow down and get back to basics. Here are a few ideas:
Read holiday books with kids.
Write down treasured memories and send them to grandparents or others you can't be with.
Make festive holiday foods together.
Host a cookie-baking party on Zoom.
Dance to favorite holiday music.
Watch family-favorite Christmas movies.
Spread joy to neighbors with homemade or humorous gifts.
Resist the temptation to replace the usual hustle with other commitments. Even if you can technically squeeze eight Zoom parties into 24 hours, pace yourself and embrace the slower rhythm this year.
Practice hope and gratitude. North County grandfather, Bob Meissner is a retired Air Force Chaplain with years of counseling experience. He says, "One big factor of suffering a loss is getting buried under negative emotions and losing a sense of gratitude. There are simple ways to find it again." Meissner suggests small things like going around the dinner table and sharing what everyone is thankful for. Or lighting a gratitude candle and asking everyone to share feelings.
"You may have to look harder for the good things, but they're still there," says Meissner. "When you notice and share them with one another, you'll find that joy can co-exist with sadness or disappointment."
Casillas adds that writing down three things you're grateful for every day helps change your perspective. "It reminds you that there are still good things happening."
When kids express disappointment, it's OK to say, "I'm disappointed, too." Then rally together to create memories that will stand as a testimony to your family's resilience and creativity in a holiday season unlike any other.
If You Need Help
If you or your children are struggling with lingering sadness or are experiencing other signs of grief such as loss of sleep or appetite, contact your healthcare provider or call the San Diego Access and Crisis Line 24/7 at 888-724-7240.
Resources for Families Grieving the Loss of a Loved One
Isabella's Giraffe Club offers bereavement workshops called Good Grief to Go. The 4-session workshops provide support, encouragement and tools that help participants through the grief process and towards healing. Free for immediate family members. Email

This email address is being protected from spambots. You need JavaScript enabled to view it.

or visit www.isabellasgiraffeclub.org for information.


Local author, mom and former grief counselor, Jayna Russell wrote When Mama Goes to Heaven after losing a family friend and mother of four to COVID. It's the first in a series of children's books to help kids understand and process loss.


Find more coping tips in the article "Dealing with Grief in a Time of Joy."
Jody Lee Cates is a local mom and award-winning writer who blogs about healthy relationships at www.jodyleecates.com
____________