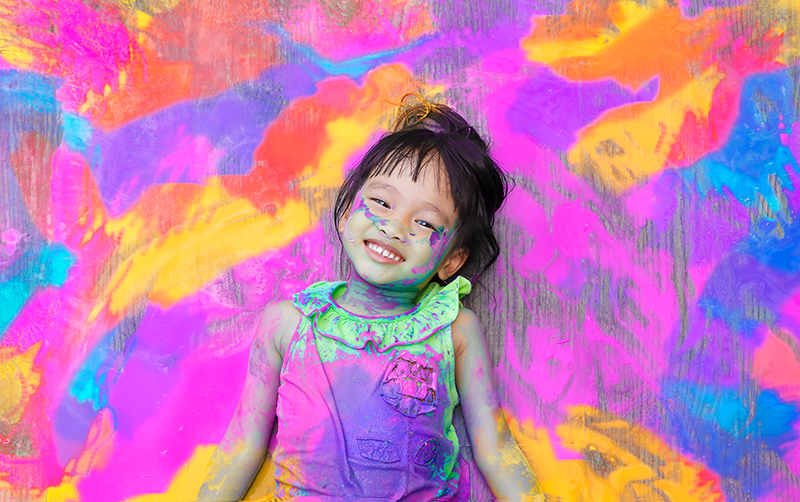 Most parents have vetoed a messy activity simply to avoid the cleanup. It's time to let go. Messy play is sensory play—the gold standard of early childhood learning. Children learn best when they engage multiple senses. The more they can touch, taste, see, feel and hear in their play activities, the better. Here are tips to engage in sensory play:

Messy Play for Babies
If your baby can sit up, she's probably ready for messy play. She might be hesitant at first, but keep trying. These activities will be more fun as she gains familiarity with them.

Body paint. Let baby be your canvas. Use non-toxic, water-based paint and a soft brush to cover her skin with bright colors. Contain the mess by painting in an empty bathtub. Your wiggly little masterpiece will be free to touch, explore and smear. When the fun is over, simply rinse the paint away. Not ready for an epic mess? Fill the brush with water instead of paint.

Colored spaghetti. A bowl of spaghetti is a wonderful, squishy experience for a baby. Add color by mixing cooked noodles with a drop of food coloring and oil or find a recipe for natural food coloring. Omitting color will still create a fun sensory experience.

Water play. Gather an assortment of plastic containers and cups. Fill the large containers with water. Show your baby how to scoop the water from one container to another. Talk about the noises you can make by pouring, dumping and splashing the water.

Messy Play for Little Kids
Ready to get messy with your youngster? Try these activities with your preschool or elementary-aged kids.

Cornstarch goop. Combine two parts cornstarch and one part water. The irresistible goop has a unique consistency that changes from sort-of-solid when you press it, to sort-of-liquid when you pour it. It washes off quickly with a little water. Mix in a couple drops of food coloring for messy bonus points.

Ice block. In a large mixing bowl, freeze small plastic toys in a few inches of water at a time so there are toys "layered" throughout the bowl. Once it's solid, remove the hunk of ice and place it in a larger plastic bin. Experiment with different tools to introduce warm water—like turkey basters or squirt guns—to melt the ice block. The giant puddle will be well contained in the bin.

Shaving cream. It's versatile and washes away easily. Practice writing sight words in it. Or add a drop of food coloring to paint with it. For something completely different, add ice cubes and build with it. The cream will act like mortar. (Note: keep shaving cream away from eyes.)

Messy Activities for Older Kids
Tweens and teens need to get messy, too. Encourage your child's unique interests with these hands-on learning activities.

Cooking Creating a meal is the ultimate sensory experience. Teach your child the basics; then let her try a recipe by herself. Supervise from a distance. Don't stress about the mess and be OK with mistakes. The skills will encourage a lifetime of creative expression and thoughtful food choices.

Tinkering. Encourage your tween to design, build or disassemble something, whether it's a machine, childhood toy or homemade costume. Agree on a designated space where tools, parts and pieces can remain until the project is finished so clutter doesn't take over the house.


Where to Get Messy in San Diego
The Hot Spot is a family-friendly ceramics and candle studio. Drop in anytime to paint your own pottery or create a stunning candle. www.thehotspotstudio.com

The New Children's Museum offers rotating sensory activities in a beautiful multi-story space downtown. Workshops are also available. www.thinkplaycreate.org

San Diego Children's Discovery Museum in Escondido offers hands-on learning opportunities for young children. www.sdcdm.org

Pachis Art Studio at Liberty Station offers classes, workshops and art play for children as young as 18 months. www.mypachis.com.


Mess-Free Sensory Play
Not all sensory play is messy. Other ways to engage the senses include:
Music and movement
Light or shadow play
Exploring different textures
Smelling or tasting new foods
---
Anne Malinoski is a freelance writer and mother of two boys.

Find fun experiments to do at home in Family Science.
Published March 2017