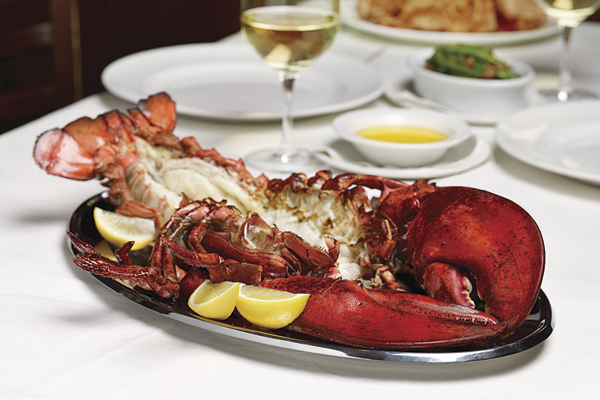 The Palm
615 J St., Downtown
619-702-6500
http://thepalm.com


Summer Lobster Fest at The Palm ($$$)
The Gaslamp location of this historic, family-owned restaurant that originated in Manhattan remains true to its charming artistic and culinary traditions—its walls are plastered with comics, cartoons and caricatures by famous artists. Legend tells that in the restaurant's early days, local artists working at New York's cartoon syndicate offices paid their tabs by painting an original portrait on the wall.

Don't let the playful atmosphere fool you. The Palm serves excellent, classy meals! This prime steak and seafood house offers thick, juicy cuts of beef, salads, vegetable appetizers, shellfish and a few familiar Italian dishes.
Our night began with crispy cornmeal-dusted calamari and bacon wrapped scallops. The bread basket contained an excellent sourdough and the Palm's signature whole-grain fig bread. The highlight of my meal was the watermelon salad, a gorgeous pink tower of fresh, creamy buffalo mozzarella sandwiched between thick slices of melon. A balsamic glaze and spicy arugula made this perfect summer salad with alternating flavors and textures. I'll definitely order it again!

My husband Frank enjoyed his Caesar salad, which wasn't too overdressed. We savored the Classic Summer Lobster for Two special, which comes with a 4 lb. jumbo Nova Scotia lobster with melted butter and lemon, two starters and two sides. The lobster arrived on two plates, and a server expertly cracked the claws and extracted the meat for us. Rich, creamed spinach and savory, sautéed mushrooms added to the flavorful bonanza on our table.

We finished our meal with crème brûlée and fresh berries, and a bag of warm mini-donuts with raspberry and chocolate sauces that was highly recommended by our attentive, friendly server.

The Summer Lobster Special is an affordable treat for any special occasion dinner or night out. Visit The Palm to enjoy the best of steak house traditions in a charmingly luxurious environment.


----------------
Kristin Powell is a freelance writer who lives with her family in South Park.
Published: July 2013