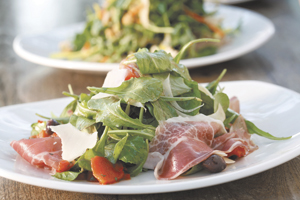 Tender Greens
TenderGreens.com

University Town Center
4545 La Jolla Village Dr.
858-455-9395
Liberty Station/Point Loma
2400 Historic Decatur Rd.
619-226-6254

How many times have you wished for healthy fast food? May your wish be granted at Tender Greens. Don't let the convenient cafeteria-style fool you; Tender Greens offers a healthy, delicious and beautiful presentation of lunch or dinner.
The dining process is simple. Choose from the mainstay menu or from the specials board. The main menu suggests a choice of steak, chicken or tuna, as a sandwich, a hot plate or on a salad. Big Salads and Simple Salads, homemade soups, plus several vegetarian and vegan dishes, round out the menu.
Tender Greens' produce comes from Scarborough Farms located in Southern California. They serve grain-fed hormone-free beef, cage-free hormone-free California chicken, line caught Pacific tuna and organic ingredients whenever possible.
My husband had his backyard-marinated steak as a sandwich with Butter Lettuce Salad and tarragon dressing. Think fresh ciabatta bread, roasted red peppers and aioli sauce. I couldn't resist a bite with all his raving.
My eldest daughter ordered her steak as a hot plate. Hot plates come with Yukon mashed potatoes and a Simple Salad. Both of my girls couldn't get enough of the delicious mashed potatoes.
My 15-year-old son claims his Chinese Chicken Salad is the best Chinese chicken salad ever. A few bites off of his plate, and I quickly agreed.
Eden, our 10-year-old, ordered the grilled cheese sandwich from the kid's menu. We also ordered the Roasted Roma Tomato soup for Eden to "dip" into. Drizzled with basil oil and already dunked ciabatta croutons, the soup made its way around the table, as it was not only a generous portion, but also a good dose of tasty comfort.
My own order of the Happy Vegan plate is now officially my favorite restaurant treat. Wheat with cranberry and hazelnuts, quinoa with cucumber and beets, green hummus, tabouleh, and "tender greens" filled my plate. The garlic herb crostini served on the side added the perfect bit of crunch.
A personal-sized Coconut Cream Pie and a Carrot Cake muffin, two of the many desserts made at each restaurant daily, were shared by all six of us. The Carrot Cake was the best I've had in ages. Tender Greens also has a delicious offering of drinks, including adult beverages and my favorite hibiscus tea.
A brand new location at University Town Center and a location at Liberty Station in Point Loma provide two great dining experiences. Tender Greens is casual and sturdy enough for families with children and the large outdoor tables accommodate larger groups. Heaters make outdoor dining pleasant year round. Don't be discouraged if long lines are present during prime hours—you'll have your food super quick and will enjoy watching the action as you make your way to the cashier.
Now, may you choose to slow down long enough to enjoy every bite.

-----------------------------
Laura Pardo writes from South Park and loves healthy food.


Published: February 2013