Snooze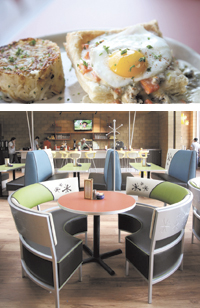 3940 Fifth Ave., Hillcrest
619-500-3344
www.snoozeameatery.com
M-F: 6:30 a.m. - 2:30 p.m., Sat. & Sun. 7 a.m. - 2:30 p.m.

Snooze is fast becoming a local favorite, which means you'll have a wait even on weekdays, but the outdoor waiting area is comfortable with complimentary coffee to boot! Inside, the large garage-style window opens onto busy 5th Avenue in the urban neighborhood of Hillcrest. The space is open and interesting, and Snooze's nostalgic décor is fun.
Can't decide on just one enticing menu item? No worries, just choose two half orders. Our friendly waitress suggested her two favorite eggs benedict dishes. Bella Benedict is a sure bet with thin slices of prosciutto, taleggio cheese and a poached egg on toasted ciabatta, topped with cream cheese hollandaise, balsamic glaze and arugula. Chilaquiles Benedict offers carne asada served on a cheesy tortilla stack, topped with a poached egg, smoked cheddar hollandaise, fresh salsa and cotija cheese. A side of hash browns served in a unique compacted cylinder kept the shredded taters browned on the outside and fresh tasting on the inside. The Benedict dishes are some of the priciest itms on the menu ($11.50) but worth it if you're a benny fan.
My husband put the Corned Beef Hash ($9.50) to the test and reported that this homemade recipe was fresh and moist. He opted for two eggs and toast for a side, but would have liked a larger portion size overall. The kids started with hot cocoa, served in large glasses with whipped cream. All three downed their treat with a hint of cinnamon for them and a not-too-indulgent amount of chocolate for mom. The large glasses cooled their cocoa quickly, which would be good for little ones.
My 14-year-old son ordered the Sticky Bun French Toast ($9). Snooze gets their bread from local bakery Bread and Cie, and their French bread battered and smothered with "gooey, nutty goodness, and topped with cream cheese icing" was more of a yummy dessert. My son suggests a savory side to balance your taste buds. My 10-year-old daughter was also tempted by the French toast offerings, but ordered hers "neat" ($7.50) with whipped butter and maple syrup. "Soft and perfect," says our French toast connoisseur. The dish also came with seasonal fruit that was fresh and ripe.
Our oldest daughter went a different route with the Sandwich I Am ($8.50)—a burger-sized Bavarian soft pretzel roll filled with scrambled eggs, cheddar cheese, and a sausage patty, with a side of smoked cheddar hollandaise and hash browns. Not a hollandaise fan, she skipped the spread and went for the ketchup.
To be commended is Snooze's commitment to composting, recycling and keeping carbon neutral. They offer free-range meat and eggs, and source local whenever possible. Did I mention the excellent coffee? Organic and brought in weekly, direct from Guatemala. Snooze is open for breakfast and lunch, and offers a full bar with one unassuming flat screen and free Wi-Fi. There is no kid's menu, but you may order any one item, or half a dish. The lunch menu offers a little something for everyone, but I'll be back for the homemade granola and Greek yogurt drizzled with agave nectar.

------------------
Laura Pardo lives and eats in South Park.