Cool off this summer with these San Diego favorite frozen treats. Your summer bucket list should include Hammond's flight of mini ice cream cones, a Baltimore Snowball and a Strawberry Balsamic Goat Cheese pop!
Hammond's Gourmet Ice Cream
3077 University Ave., North Park
www.hammondsgourmet.com

When Trang and Ryan Hammond, along with co-owner Dan Szpak, decided to open an ice cream shop in North Park, they knew exactly what they wanted to offer. "My husband Ryan and I tasted the ice cream on one of our travels to the Hawaiian Islands and fell in love," says Trang. "We normally don't even eat ice cream, but we ate it every single day of our trip."

Thanks to the trio, San Diegans don't have to visit the islands for a scoop of Tropical Dreams super premium ice cream. Popular flavors include Chocolate Coconut Macadamia Nut, Kona Coffee and Pineapple Orange Guava Sorbet. "Our customers are very particular about their favorite flavors," says Trang. "We have a running list of customers to call when we serve a flavor they like." With customer service like that, it's no wonder that customers come from all over the county to indulge in Hammond's creamy, dense and rich ice cream.

"We are truly grateful for the response," Trang explains. "We never knew we would get so popular so fast. We believe in our product and are really glad the community does as well." It helped that North Park needed its first hard scoop ice cream shop. All three owners live in North Park so it was the natural choice in location. Dan is even known as "Mr. North Park," as his ties in the neighborhood go way back. "North Park has such a strong sense of small business camaraderie," Trang says. "Everyone is supportive of each other and is rooting for each other's success."

Hammond's is also committed to the environment, from their use of reclaimed wood and recycled materials, to the process of supporting the islands. "The fact that our ice cream comes from Hawaii is our biggest contribution to sustainability," says Trang. She explains that Hawaii gets most of its frozen products from the mainland and that cargo ships used to return with empty containers. Now they return with Hammond's ice cream! "The factory that makes the ice cream uses solar power and works with their farmers for the fresh fruits, nuts and coffees," Trang says.

And what about their original six mini scoops (or "flights") of ice cream? "Someone mentioned they wished they could have more than just one flavor, but not over indulge," Trang says. "Ryan blurted out, 'so like a flight of ice cream with individual cones?' The rest is history."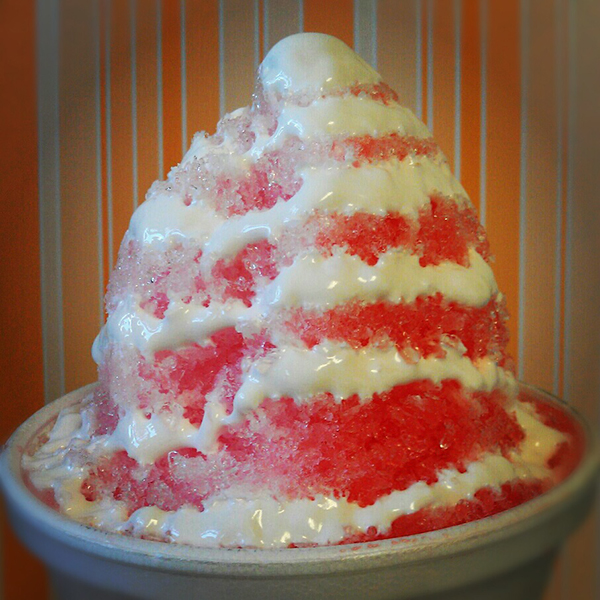 Baltimore Snowball
148 El Norte Pkwy., Escondido
1903 W. San Marcos Blvd., San Marcos
www.baltimoresnowball.biz
Baltimore snowballs tend to be coarser and crunchier than a snowcone or Hawaiian shave ice. In Baltimore City, snowballs go back to the 1800s and now there are snowball stands every few blocks in some neighborhoods. Lucky for us, one family brought this Baltimore treat to San Diego.

Q & A with owners Joe and Loretta Dukes
Joe, what do snowballs mean to you?
"I grew up eating snowballs in Baltimore. One of my greatest joys as a kid and as an adult has been gathering with friends and family at the snowball stand, having an awesome dessert and enjoying time with family and friends. It was so Americana."

Loretta, do you remember your first snowball? Any thoughts on how crazy Baltimore natives are about their snowballs?
"I believe the first snowball I had was an Egg Custard with marshmallow that I shared with Joe (his favorite). It was at a little shed on the corner. Honestly, I did not quite grasp the marshmallow craziness [at first]. But as with so many others…one taste and I was hooked!"

Any family and customer favorites?
Joe loves the The Poor Man's Sundae and Loretta claims Raspberry Cheesecake Brownie. Their kids, Spencer and Maddie (store managers), praise Pomegranate Turtle and Cinnamon Bun. Coffee lovers die for the Salted Caramel Mocha. If you can think it, they can create it!

Do you have tips for visitors?
"Our Escondido store has a drive-thru and outdoor patio seating which is an awesome gathering place," says Joe. "Our San Marcos store has indoor seating and a candy store with old-fashioned sodas, floats, snowshakes, games and toys. We are closed on Sundays so we can spend time together as a family and our staff can do the same."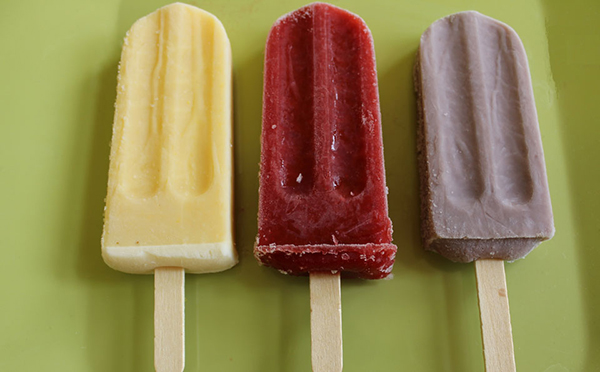 Viva Pops
3330 Adams Ave., Normal Heights
www.ilovevivapops.com

Q & A with Viva Pops owner, Lisa Altmann
Why frozen pops?
"I chose frozen pops because they remind me of being a child, yet I can combine flavors that are both simple and sophisticated that children and adults can enjoy."

Why Adams Avenue?
"Adams Avenue is one of the oldest residential main streets in San Diego. We love the old neighborhood feel of Adams with the mix of residential and commercial."

What has been the community response to Viva Pops?
"What we do is very unique. Our customers are usually like-minded people who simply want a frozen treat that is made from fresh and honest ingredients."

What is the Viva Pops commitment to sustainability?
"Our product is founded on using as much fresh and locally grown, organic and pesticide-free produce we can get in San Diego County. We always highlight local and seasonal fruit, and those flavors are always the best."

What are your most popular flavors?
"Salted Caramel and Lavender Lemonade. One of my favorites is Strawberry Balsamic Goat Cheese. It's like strawberry cheesecake on a stick."

What's Dog Pop Rescue Group?
"Dogs enjoy a tasty frozen treat just as much as their humans do. What better way to support dog rescue than to make an organic dog-friendly frozen treat? One hundred percent of the donation for each pop sold goes to animal rescue groups. The pops are made of 100 percent organic carrot and apple with no added sugar so they are completely safe for dogs and even infants. They are also popular with teething babies."

Discover "More Frozen Treats to Beat the Heat in San Diego" here!
---
Laura Pardo writes from South Park and craves her hometown treat of a Baltimore-style snowball every summer afternoon.
published: July 2015