Bolillo Tortas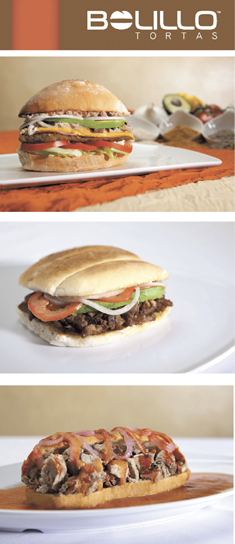 www.bolillotortas.com

417 Fourth Ave., Downtown
619-255-6268
Bolillo is one of the most popular breads in any Mexican bakery. Cooked directly on the bottom of an oven for a thick crunchy crust, it is commonly used for making Mexican sandwiches or "tortas."
Bolillo Tortas, in the Gaslamp Quarter, delivers tortas with panache. My family stopped in for an early dinner during the week and had our choice of seating.
The tortas come with a choice of corn on the cob, vegetables or a side salad. Cheese-filled peppers wrapped in bacon are included for those craving a bit of heat. The corn is doused with cheese and Tajin seasoning.
My husband chose the Torta Cubana ($9.75) with breaded beef, shredded pork, avocado, scrambled egg, cheddar cheese, lettuce, tomato, ham and beans, all smothered in mayo and mustard.
Huevo con Tocino ($7.50) was my 14-year-old son's choice with scrambled egg, bacon, asadero cheese and jalapeños. My 17-year-old daughter ordered the Milanesa de Res torta ($9.50) with a simple filling of beef, queso fresco, beans and Mexican cream. She also ordered the pre-mixed horchata reminding us once again of our desire to try our hand at homemade horchata.
Wanting a lighter dinner, I was happy to discover the Ensalada Organica ($4.50-$7.00) with quinoa, feta cheese and strawberry-chipotle dressing. A bowl of Sopa de Frijol ($5.00) was delicious and something new for my taste buds. Think creamy pinto beans with crunchy tortilla strips and cheese sprinkled on top.
My youngest daughter chose the mac & cheese ($5.00) from the kid's menu. Of the Kraft variety, with Sopa de Frijol and watery vegetables on the side, she was happy to pass her leftovers to her brother.
We also brought along our torta familiar friend, Jorge, who ordered the Milanesa de Pollo torta ($9.50). Along with the regular fixings, this torta offered chicken and queso fresco. He liked the beans, avocado and Mexican cream combination, but thought it was a bit dry, as tortas are usually scrumptiously "messy."
Bolillo Tortas would be good for families enjoying an afternoon downtown, and who want to spend a few extra dollars on a hot sandwich. Or plan a date night at the "Horton Grand Theatre" located directly across the street and end the evening with chocolaty desserts ($5.75-$7.50). Additionally, Bolillo's has a bar and a patio area.
A lunch option may be a torta hand- delivered by the Bolillo Bike. Free delivery 11 a.m.-11 p.m. with a radius from Little Italy, to City College, to way past Petco Park!
Bolillo asks patrons to forget the mariachis and lackluster taco shops and instead opt for an experience where "architecture and art are alive." I like this take on the often-overlooked beauty of Mexican cuisine, but I have to say that I missed the mariachis!

------------------
Laura Pardo lives in San Diego, regularly frequents the corner taco shop and enjoys crossing the border for a taco.