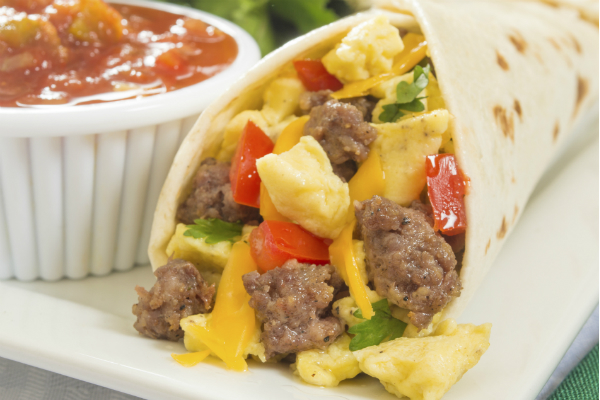 Looking for the best breakfast burrito in San Diego? We've found the best spots to get you your tortilla-wrapped morning pick-me-up. Start your search with this list of San Diego's seven finest breakfast burritos.

El Azteca Taco Shop
8306 Parkway Dr., La Mesa
These breakfast burritos are massive and you can rest assured that every inch of them is packed with flavor. Crafting what is arguably San Diego's favorite breakfast burrito, El Azteca Taco Shop is a breakfast staple.

Oscar's Mexican Seafood
703 Turquoise St., La Jolla
746 Emerald St., Pacific Beach
646 University Ave., San Diego
http://oscarsmexicanseafood.com
Don't let the name deceive you—Oscar's Mexican Seafood is great for more than just its seafood dishes. Their breakfast burrito, though not listed on the menu, is a hidden gem in the burrito world. And if you're in the mood for something else, they also offer a delicious breakfast torta.

Nico's Mexican Food
4918 Newport Ave., Point Loma
Praised for its perfectly balanced breakfast burrito, Nico's is the place to try when it comes to a savory burrito with just the right amount of everything. Their California burrito is also highly recommended – with its carne asada fries, it's a must-try.

Cojita's Mexican Grill
1092 Garnet Ave., Pacific Beach
Cojita's breakfast burritos are a steal at their reasonable prices, large portions, and fast service. Be sure to try their customer-favorite: the hash brown breakfast burrito.

Pipes Café
123 Liverpool Dr., Encinitas
http://pipescafe.com
Pipes Café's is a favorite for those who like huge, flavor-packed breakfast burritos. Regulars recommend adding avocado (if it doesn't already come with it). Breakfast is served all day.

Sarita's Taco Shop
9906 Campo Rd., Spring Valley
www.saritastacoshop.com
With eight to choose from, Sarita's Taco Shop is the place to try a variety of breakfast burritos—the most highly recommended by its fans are those that come with potatoes. Open 24/7.

La Playa Taco Shop
3973 Mission Blvd., Mission Beach
Favored by customers for its legendary breakfast burritos, La Playa Taco Shop is a morning burrito lover's dream – especially at their reasonable prices.

--------
Lorea Mendiguren is a student at Academy of Our Lady of Peace and a breakfast burrito fanatic. She interns at San Diego Family in her spare time.
Pubilshed: March 2015