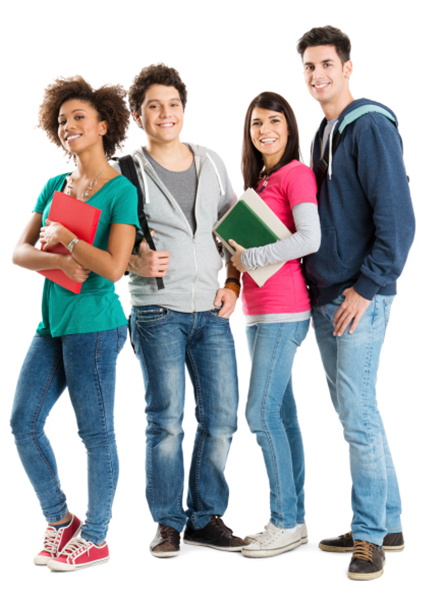 Most high school juniors and rising seniors would rather hang out at the beach than think about school this summer. But if college is a dream, summer is a great time to make it a reality. Thanks to smartphones and the internet, teens can prepare for college from the comfort of a beach chair; so don't give up your vacation plans. Here are nine tasks for college-bound teens to tackle this summer.

1. CREATE A LIST of accomplishments, awards and activities since ninth grade. The list should include sports, hobbies, volunteer work, clubs, classes and projects you enjoyed.

2. ORGANIZE THE LIST by category. Categories with the most items probably show your passions. These can help steer you toward college choices, major and career.

3. EXPLORE YOUR PASSIONS in more depth, and take a leadership role. For example, if you've volunteered with the San Diego Humane Society Dog Buddy program, start a dog-walking business and donate some of your earnings back to the San Diego Humane Society. If you've performed in high school musicals, audition for a summer show or volunteer at a local youth theater company. Check Patio Playhouse, Broadway Theater Arts Academy, California Youth Conservatory Theater or the Theater Arts School of San Diego.

4. EXPLORE MAJORS AND CAREERS THAT INTEREST YOU. This will be key in finding colleges that offer appropriate majors. High school websites are a great place to start. Take a look at Poway Unified Career Interest Tests and SD Unified La Jolla High Career Planning. Or talk to high school counselors.

5. FOCUS INWARD. What are your values? Is religion a central part of your life? Would you be happy at a big university in a bustling city or would you prefer a small college in the countryside? Visit colleges to get a feel for the differences -- even nearby colleges you may not be considering. Are football games, internships, research, Greek life and study abroad part of your college dream? Do you need to be near a beach? How do you feel about snow?

6. RESEARCH COLLEGES. Consider out-of-state colleges and colleges your family and friends have never heard of. A great place to start your search is Collegeboard.org Big Future college search. You'll find a variety of filters to narrow your search by factors most important to you. Compile a list of a dozen or so colleges and universities that fit you.

7. VISIT COLLEGE WEBSITES AND CAMPUSES (if possible). Compare majors, clubs and activities with your list of passions. Look at retention and graduation rates; enter your information into the Net Price Calculator. Aim for a final list of six to ten colleges.

8. If you're a senior, include your passions in your Common Application essay and answers to UC Personal Insight Questions (formerly the personal statement). Sample prompts are available on the Common App and UC Admissions Personal Insight Questions web pages. Your essay should show colleges you can write and more importantly, who you are. Colleges want applicants with strong grades and test scores who possess interests and personal qualities that will keep the college competitive, harmonious and diverse.

9. Finally, think about how much help you might need with college research, applications and essays. Ask parents and high school counselors for help. Another option is to hire professional guidance from an independent college consultant. Look for a consultant who has a certificate in college counseling/consulting and is a member of a professional organization such as IECA.
---
Laura Rader is the owner of Wise Ambitions College Consulting www.wiseambitions.com and helps high school students with college preparation and applications. Laura is a San Diego native and the mom of a college junior.