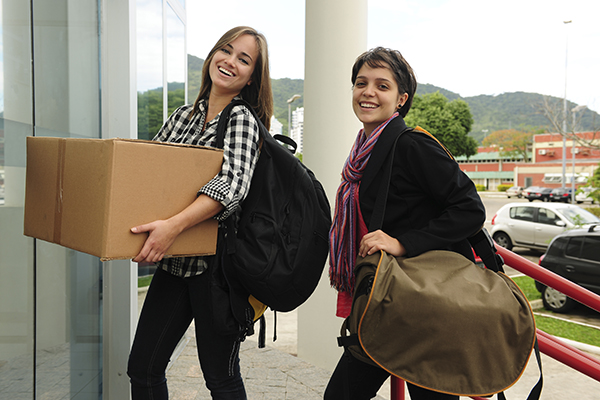 When my daughter went off to college, we packed every inch of our Suburban with obvious necessities: clothes, dorm bedding and accessories, cleaning supplies and snacks. It didn't take long to discover she needed some things we hadn't thought about. As you prepare to send your teen off to college, don't miss these important items for your teen's college packing list:
1. Health insurance card. Most college campuses have a health clinic on site to diagnose strep throat, urinary tract infections and other simple illnesses. However, prescriptions are dispensed off campus at local pharmacies. Locate the nearest one—as well as the nearest urgent care—and have the numbers handy, just in case. Make sure your college student has his own health insurance card and knows what to do. Once your kid turns 18, you can't make medical calls on his behalf.
2. Your family's medical history. Your student needs to know your family's basic medical history so he doesn't have to call home while filling out the doctor's forms.
3. The ability to cook simple meals. Most students are sick of the college cafeteria food by the second week and out of money for take-out by the third week. Help your student take advantage of the kitchen in the dorms by teaching him to make simple pastas, egg dishes or a comfort food from home.
4. Basic kitchen tools. If you don't know the condition of the dorm kitchen tools, buy a cheap pot, colander, large spoon, crockpot, can opener and whatever other items needed to make your favorite dishes.
5. Family passwords. My daughter requested our cable company username and password one night at 11 pm so she could watch "The Bachelor" on the ABC app. Many cable stations require proof that you are paying for their service in order for you to watch the programs online.
6. Amazon Prime account. Almost everything can be ordered through Amazon and shipped in two days including food, school supplies, books, clothes and toiletries. Amazon Prime Student is available for free for the first six months and then upgrades to a full membership for 50 percent normal rate.
7. Rain gear. It rains on almost every college campus at least some of the time. Don't overlook purchasing a large umbrella (big enough to cover student and backpack), rain boots and a waterproof jacket. No one wants to sit in a class in wet clothes.
8. Water filter pitcher. Individual water bottles are expensive, not good for the environment and hard to haul across campus in large cases. Arm your student with a reusable water bottle and a water filter pitcher, which filters dorm room or water fountain water, saving a ton of money and unnecessary waste.
9. Entertainment that is not electronic. Everyone needs a break from the technical world. Help your student unwind with a coloring book or subscribe to his favorite magazine. Playing card games or Frisbee is a great way to bond with new friends.
10. Checks. Much to our surprise, you cannot pay for everything on campus electronically or with cash. There were two instances my daughter's freshman year that required we overnight her blank checks. At least check with the financial department to see if there might ever be a need for checks.
11. Simple toolbox. A screwdriver, zip ties, Command strips, bungee cords and duct tape come in handy. Consider a mini air pump for blowing up balls or bike tires.
12. First aid kit. Pack a limited bag of basics such as cold medicine, pain reliever, bandages and a thermometer. As any mother can tell you, everyone gets sick after the pharmacy has closed so it is best to be prepared.
13. Mini Tupperware/plastic baggies. These are great for storing extra food from lunch, taking snacks a backpack or packing wet items in when traveling for a weekend trip.
14. Business attire. Most college students can wait until junior or senior year to pack a suit or conservative skirt. However, some class projects, presentations, formal events or inductions require nicer clothes than a hoodie and yoga pants.
15. Bank account. If your teen doesn't already have one, it's time to get a bank account. Most on-campus jobs are paid via direct deposit. My daughter's account is linked to ours so we can transfer money to her as needed.
--------
Pam Molnar is the mother of a college student and two high school students. She is both excited and sad about this time in her life.

--------