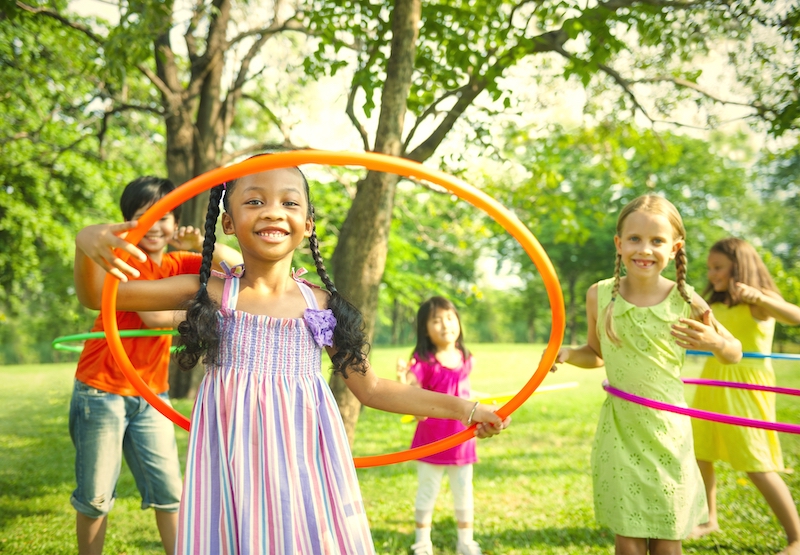 "It's summertime and the living is easy." Sam Cooke sang it and we lived it—long lazy summer days filled with simple pleasures and homemade fun. Turn off the TV, put away the video games and share these old-fashioned traditions with your children. With more than 50 activities, games, pastimes and ideas, there's bound to be something on our list that will inspire a trip down memory lane. Take your kids along and help them build wonderful memories of their own.


Run through a sprinkler.

Have a bubble gum blowing contest, then take turns reading the Bazooka comics aloud.

Play some Beach Boys music.

Organize the neighborhood into teams for a game of stickball. Okay, you can use a regular ball and bat, but pick-up games were a daily event in summers gone by. Stickball, kickball or volleyball—the point is simply to have a ball.

At the end of your rope with kids complaining they're bored? Knot a piece of string and play cat's cradle. Find Step-by-step directions and photos on If You Love to Read's website.

Still popular with kids, hula hoops are good fun and great exercise. See who can hula hoop the longest. Skip through a hula hoop like you're jumping rope. Set up an obstacle course. Create stations with different tasks such as hula for 10 spins, spin two hoops on your arms, jump through a hoop held by another person.

Spend an evening at the drive-in. The first drive-in movie theater opened in 1933. In 1954, there were approximately 3,775 drive-ins across the nation. By the 1990s, there were fewer than 600 remaining. In recent years, drive-ins have regained popularity as a family entertainment venue.
South Bay Drive-In: www.southbaydrivein.com
Santee Drive-in Theater: www.santeedriveintheatre.com

Game time! Remember Duck Duck Goose and Red Rover? Send summer fun right over!

Toss a Frisbee around.

Have fun with games on paper: Tic-tac-toe, Hangman, Dots and Boxes.

Build a tree house or fort.

Play a round of Marco Polo or water volleyball in the pool.

Make arts and crafts projects with Popsicle sticks.

Have a thumb wrestling match.

Organize a backyard carnival to raise money for a charity. Play games like coin toss, balloon stomp, pin the nose on the clown or guess how many jelly beans in a jar. Kick off your event with a neighborhood parade with bikes, wagons, scooters and strollers.

Start a collection—shells, trading cards, rocks, postcards.

Grill hot dogs for dinner, then make s'mores over the warm coals.

Shoot the duck! Your kids are probably agile enough to try this roller-skating move, but everyone can enjoy a spin around the rink.


Go bowling.

Play hopscotch.

Learn to juggle.

Chill out with icy treats. Make homemade ice pops by freezing juice or flavored drinks in a plastic freezer mold. Or try this recipe, and make Ice Cream in a Bag.

Pull out the jump rope, and give it a spin.

Before television had 999 channels, kids whiled away summer hours with just a deck of cards. Play a couple of hands of Crazy Eights, Go Fish, Concentration, Slapjack or Spoons.

Water balloons!

For a taste of old-fashioned goodness, have dinner at a diner. A few local favorites: Corvette Diner, Ruby's Diner and Classics Malt Shop.

See how fast you can win at jacks.

Set up a lemonade stand.

Nothing says summer like a leisurely bike ride. Visit iCommute for local information on trails, bike shops, clubs and events.

Lost your marbles? Find them at any toy store, and see if you still have the knack.

Walk the dog ... around the world! Get instructions for these and other easy yo-yo tricks at yoyofactory.com/tricks.
Play with bubbles! Make your own gigantic bubbles with Bubble Science.

Have a watermelon seed spitting contest.

Summer sing-alongs. Remember belting out camp favorites such as "Little Bunny Foo-Foo" and "John Jacob Jingleheimer Schmidt"? This website has a great list of classic and repeat-style camp songs.

Strike up a kazoo band.

Make and outfit your own paper dolls.

Forgot the handheld video games at home and the family's facing a long road trip? Have no fear, car games are here. Count how many different state license plates you see. Name animals in alphabetical order (antelope, bear, cougar and so forth). Following alphabetical order, watch for each letter as you pass by billboards, road signs or storefronts. The first person to get to Z wins.

Build a castle in the sun. On your next trip to the beach, pack buckets, cups, spoons, spatulas or other kitchen utensils to transform sand into a castle, a rocket ship, a car or other sculpture.

Play a game of horseshoes, croquet or bocce ball.

You're it! There are as many versions of tag as there are families in San Diego.

Try a new restaurant or ice cream spot that's been on your family's must-try list.

Gather your family and sit out on the front porch.

Camp out in your backyard.

Sway in a hammock.

Watch a sunset.

Take a Heads or Tails road trip. Every time you get to an intersection, flip a coin to see if you should turn right (heads) or left (tails).

Go fishing.

Play leapfrog.

Play charades.

Pack a picnic lunch and spend the afternoon at the park.

Set up a telescope and gaze at the night sky.

Spend a rainy summer afternoon playing board games or putting together a jigsaw puzzle.

Have a tea party.

Try to set a world record. Visit the Guinness World Records website to see what sounds fun.
Arm your family members with "squidgers" and battle to be the Tiddlywinks champion. Visit the English Tiddlywinks Association or the North American Tiddlywinks Association to learn about squidgers and other colorful Wink words like squop, gromp and carnovsky!


------------------------
Maria Connor fondly recalls engaging in most of these old-fashioned summer pastimes with her parents, brothers and sister growing up in Michigan.