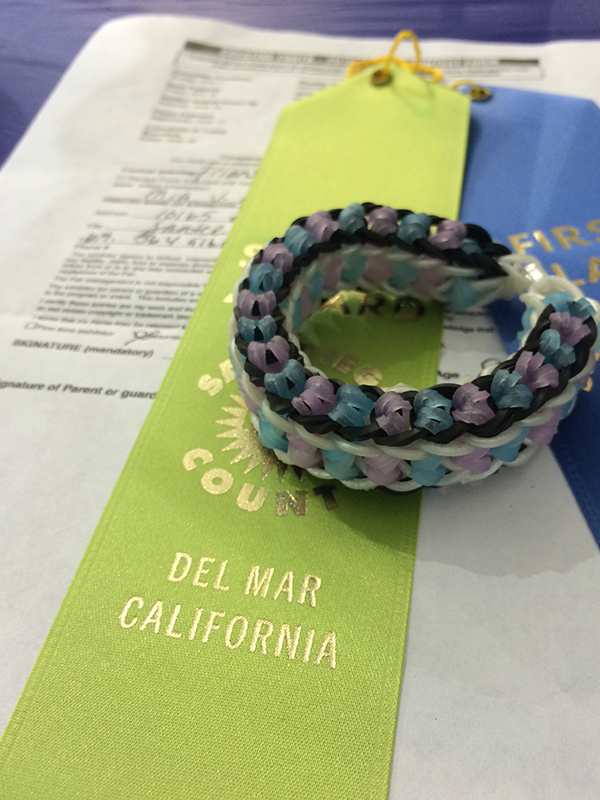 Every June, the Creative Youth exhibit at the San Diego County Fair explodes in a hurricane of color, sound and wonder, with thousands of projects created by and for San Diego children. It showcases student exhibits such as art, science projects, inventions, models, children's collections (jewelry, sewing, pottery) and cooking projects.

Teachers, kids and families work hard from March through May to create their best work. Find out how you can display children's work in the largest, award-winning county fair in North America—The San Diego County Fair.

Choose a Project
Every year, 14-year-old Sissy Sugarman maps out a plan for entering projects in the San Diego County Fair. She has been a part of the fair since she was 6, first showing chickens with the Olivenhain 4-H club. At 9, she began doing projects to display in the Creative Youth exhibit. "I try to enter a lot of projects," Sugarman says. "The more you enter, the more chance you have of earning an award."

First, Sugarman checks out the list of projects for children ages 5­–17, displayed in the Creative Youth section of the fair website (www.sdfair.com/entry). She looks for new ideas, projects that coincide with what she is learning as a homeschooler, and any projects that fit her interests. "There are so many great categories," Sugarman says. "There's a category for everybody, whether you're artsy, crafty, a writer or science-y."

The Great-Grandparents Crafts division requires kids to make something that a great-grandparent would have known how to create 100 years ago. In this wide-open category, Sugarman has earned blue ribbons two years in a row. She encourages students to enter projects they enjoy or projects that can double as a school assignment, such as science and creative writing projects.

Exhibits for Teachers and Students
The Best of K–6 Schools exhibit and the Student Showcase exhibits (grades 7–community college) showcase exemplary work of San Diego County and Baja California schools. They display all areas of the curriculum. The Best of K–6 Schools exhibit features projects that meet Common Core and Next Generation Science Standards (CCSS/NGSS) so that teachers can fulfill standards while entering class projects for display at the fair. The cost to enter an entire grade level of students, with each child receiving a free ticket to the fair in exchange for their hard work, is only $12.

Elizabeth Ballard, principal of Cadman Elementary School in Clairemont, has delivered hundreds of entries to the fair. "We introduce the idea at the beginning of the school year so all teachers are thinking about the students' entries throughout the year," Ballard says. "We are a Fine Arts School, so participating in the fair is a wonderful opportunity for students and parents to see their work displayed in a public forum. Each child gets to pick a favorite piece to enter into the exhibit."

In the Student Showcase exhibit, student work takes a step into the 21st century with displays featuring categories such as FIRST robotics, Computer-Aided Design (CAD) and Fashion Design.

"There are 110 different areas kids can enter," says Neil Bruington, Student Showcase supervisor. "Any school that wants to demonstrate anything—[even] a hands-on activity—can request to come and we'll provide a table, skirting and passes for students."

Field Trips and Free Tickets
Schools and classes can visit through the fair's new standards-based field trip program or through the Plant-Grow-Eat program (PGE). PGE provides free busing to Title I schools on a first-come, first-serve basis. Teachers can help make fair experiences a rich learning opportunity by downloading free CCSS/NGSS-linked curriculum at www.sdfair.com/school.

Each student whose work is exhibited at the fair receives a free ticket to attend the fair. Start now to plan your project and be a part of this community event.

Enter projects in the Creative Youth, Best of K-6 Schools or Student Showcase exhibits at www.sdfair.com/entry.
Register for a field trip or the Plant-Grow-Eat program at www.sdfair.com/school.
---
Cindy Jenson-Elliott is creative youth supervisor at the San Diego County Fair, as well as a teacher and children's book author.
Published March 2016