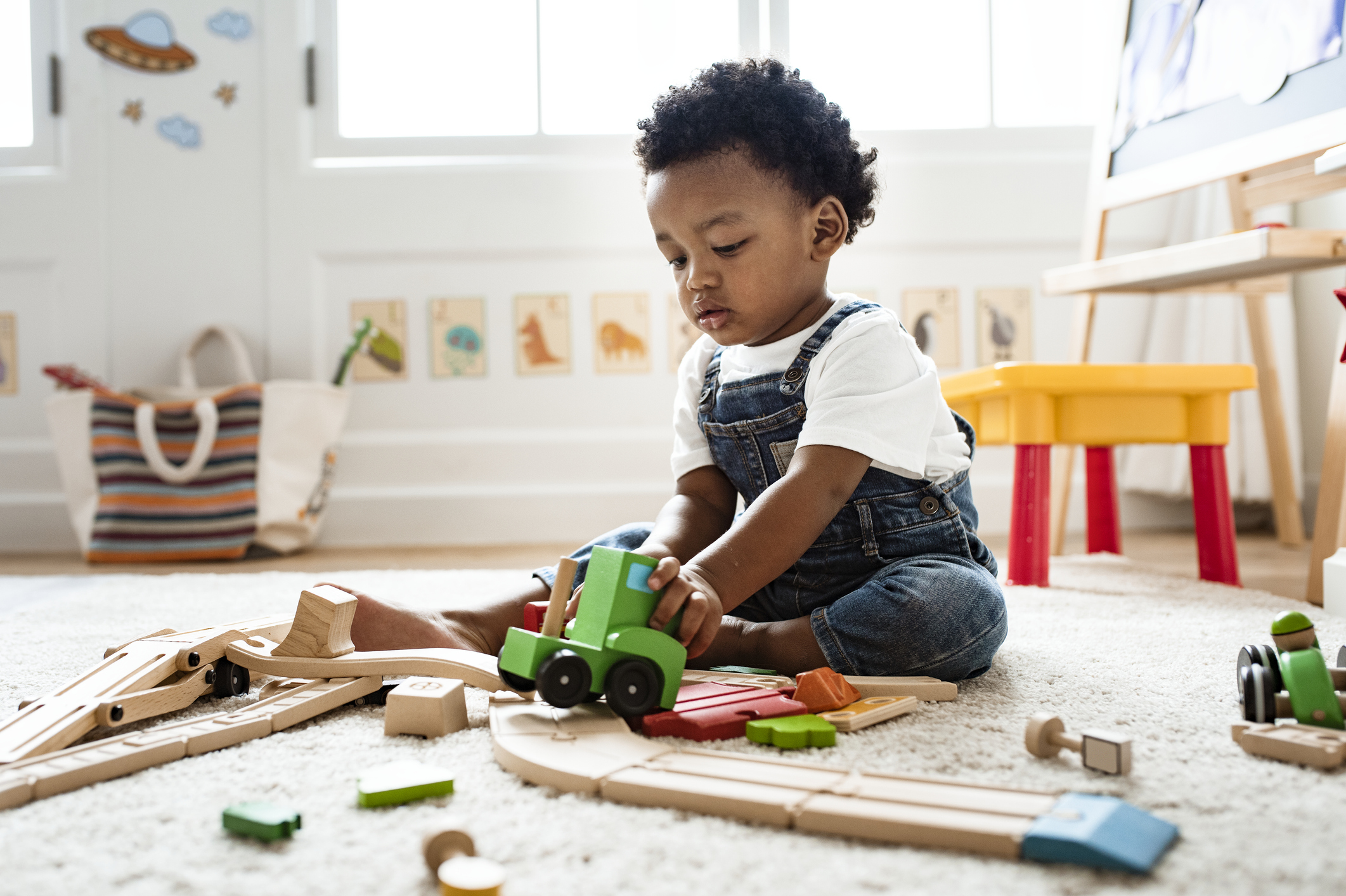 Parents! Check out these cool new toys that every baby or toddler will love.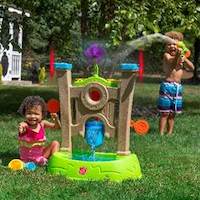 Step2 Waterpark Arcade
$54.99; 3+
Step2.com
Bring exciting arcade-themed water play to your backyard. Little ones can practice fine motor skills as they squeeze the water blaster, shooting water at each target to activate the spinners and create a big splash. Hit the center bullseye to fill up the spill bucket below – whoever makes the bucket spill into the basin is the winner.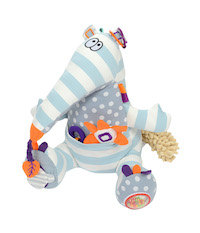 Dolce Primo Anteater
$39.99; 0+
Magformers.com
Watch as your baby explores the soft fabrics, flaps and learns new sensory and hand-eye coordination skills. Let your baby develop their sensory skills with textured fabrics, observe the fun colorful fabrics and learn to understand cause and effect through the many interesting activities in this toy.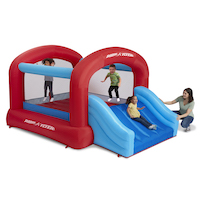 Backyard Bouncer
$299.99; 3-8 years
RadioFlyer.com
Equipped with an extra-wide slide, this inflatable bounce house provides endless entertainment and encourages active imaginative play. Durable material is long-lasting and has an extra grippy surface to prevent slipping. It also features high mesh safety walls to keep kids safe while jumping and a rear door for easy entry and exit.
Alphapals
$195; 2-6 years
AlphaPals.com
An Alphapals set is both an at-home toy and learning tool founded to help early learning challenges, and encourage children to play and learn. The set is a fun, interactive and hands-on approach helping families experience the fun side of learning. Each set is equipped with 26 plush letters that conveniently slip away into a comfy bean bag.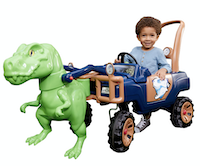 Little Tikes T-Rex Truck
$99.99; 2+
LittleTikes.com
The large T-Rex has cool design and makes realistic roaring and chomping sounds that spark kids' imaginations while they ride. Kids love being behind the wheel, while adults love the durability and comfortable design. 360-degree spinning front wheels and durable tires that are designed for both indoor and outdoor play.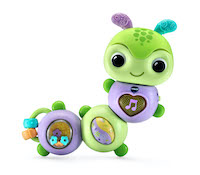 Twist & Explore Caterpillar
$9.99; 3 months+
VTechKids.com
Twist the caterpillar's body segments into new positions to pretend like it is moving. Shake the beads, spin the rings and press the light-up heart button. Pressing the light-up heart plays music and phrases. With multiple textures from rubbery antennae to nubby rings and ribbons, little fingers will have fun exploring all the ways this cute critter delights the senses.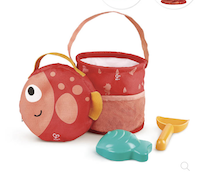 Fold & Go Beach Set
$12.99; 18 months+
Hape.com
Be fully-prepared for the summer with this adorable beach play set. The flat, easy-to-carry fish-design canvas bag contains a fold-out bucket, a small spade and a cute fish-shaped sand mold.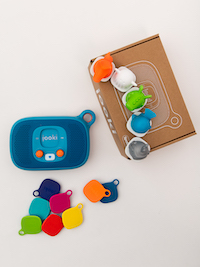 Jooki Music & Story Player
$199.99; 3+
Jooki.rocks
A smart, portable screen-free, high-quality music player that anyone can use anywhere, at any time. It enables the magic of music to be shared with the entire family, including the youngest ones. Designed to be kid-proof, it's strong and safe, and contains smart parental controls. Instead of using a screen, kids use characters in the form of figurines to choose what music is played — enabling Jooki to reduce screen time for the kids while they enjoy their music and stories.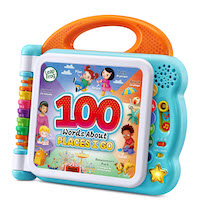 100 Words About Places I Go
$17.99; 18 months+
LeapFrog.com
Featuring age-appropriate words, this interactive book teaches about people and objects in 12 unique places in both English and Spanish. Go to the beach in any season and discover words in two languages about things to bring and surprises to find. Ten touch-sensitive locations on each page teach about words, colors and counting in the context of 12 unique places.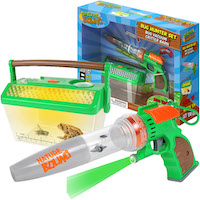 Bug Hunter Set from Nature Bound
$35.95; 3+
ThinAirBrands.com
Watch out frogs, worms, insects, and creepy crawlers. Includes the powerful but gentle motorized vacuum with detachable nose cone and bug capsule, built-in magnifier and carabiner clip, critter habitat with carrying handle and a sliding lock.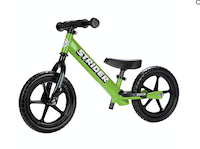 Strider 12 Sport
$129.99; 18 months+
StriderBikes.com
The 12 Sport is the perfect bike to take your child from baby steps to big strides, all without busting out a toolkit (tool-free seat and handlebar adjustment and tires that never go flat). The Strider Sport has a seat height range from 28-48 cm, which means it fits a huge range of inseam lengths. The cushy, padded seat and an additional extra-long seatpost means your child will get years out of their Strider.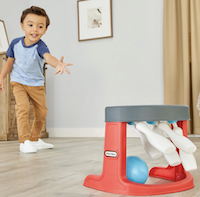 Little Tikes My First Bowling Set
$19.99; 2+
LittleTikes.com
This six pin bowling set has a console that lets kids reset their pins instantly while they play, so there's no more hassle in delicately balancing pins. The included bowling lane and two balls lets your kids play right away with no assembly. The built-in handle also makes it easy to transport so kids can play anytime, anywhere.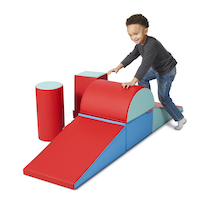 Tumble Town Foam Blocks - Candy
$149.99; 9 months-3 years
RadioFlyer.com
The stackable 6-piece set is made of a soft PU foam which is comfortable, durable, dense, stain resistant and easily wiped clean. Great for tumbling, climbing and active imaginative play. The blocks can be stacked in endless configurations, so the fun and creativity never has to stop. They are also lightweight which makes it easy for toddlers to carry.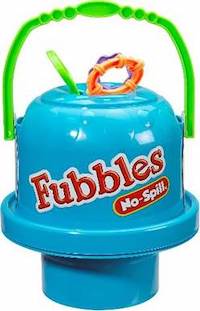 Fubbles No-Spill Big Bubble Bucket
$12.99; 18 months+
Amazon.com
Tip it upside down, knock it over..it's no spill. This bubble bucket includes three wands for multiple children to play at once and an easy to grasp handle perfectly sized for little kid's hands. Simply twist open the top and pour the solution into the bottom section of the bucket, twist on the top, and you are ready to play.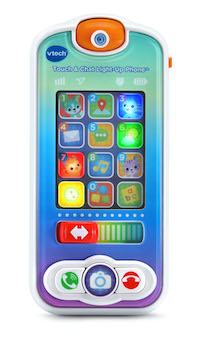 Touch & Chat Light Up Phone
$14.99; 6 months+
VTechKids.com
Start exploring animals, letters, numbers and words on a toy phone with cell phone-like features to encourage imaginative play with learning. Start in Video Call mode with three emoji graphics and two animals to video-call. Switch to Learning mode to find 12 pretend apps for your toddler to browse. Check the weather, click on a map, send play text messages and listen to music. Keep little ones engaged in play and learning with 70+ songs, melodies, sounds and phrases.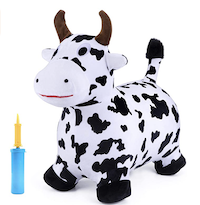 Hopping Cow
$29.99; 18 months+
Amazon.com
Elastic inflatable rubber covered with a thick layer of plush fabric, zero friction, protects your child's skin and safety during play.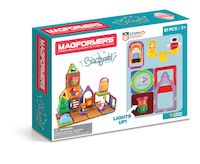 Magformers Backyard Adventure-61 pieces
$74.99; 3+
Magformers.com
Click! Connect Create! Build magnetic houses and invite all your friends to the party. Create houses and build a playground. Add your favorite characters including, Max, Maggie and Minibot.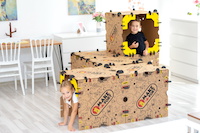 Make a Fort
$99; 4+
Makeafort.fun
Forts, mazes, puzzles, tunnels and mansions--there's no limit to what you can create. Each kit is made from recycled cardboard. The panels are super strong, and there's no need for adhesives. The panels also easily slide together, so you can use your imagination to make super cool designs. Your young artist can color the panels any way they wish.

Published: May 2021