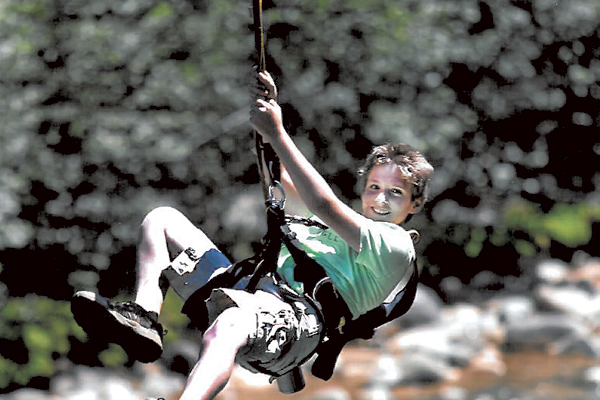 Zipline tours offer nature lovers the opportunity to fly through the treetops on a network of cables and view spectacular scenery from a new perspective. This is a one-of-a-kind experience that energizes and relaxes both body and soul, leaving you primed and ready for more.
Participation Requirements
Zipline tours are intended for people who are in reasonably good health. Minimum age varies; check the tour company's restrictions before you go. A parent or legal guardian must supervise children under age 16. Participants should weigh at least 70 pounds and no more than 250. Closed-toe footwear is required. People who are pregnant, have recurring head, neck, or muscular injuries, are under the influence of drugs that impair their ability or who suffer from an illness that may require medical attention, cannot participate.
Before heading out on a tour, there is a "pre-flight" suit-up involving harness, helmet and braking gloves, followed by orientation lessons on safety and what to expect while sailing through the trees. Participants are taught how to properly land on treetop platforms before taking off again on the next segment of a zipline journey.
An Overview
As my family and I discovered, ziplines have become an adrenaline lover's favorite activity, allowing people to enjoy a bird's eye view of the terrain while gliding effortlessly through the air at jaw-dropping speeds.
We did precisely that last summer when we went ziplining. After one short ride, we were hooked.
The words of our Catalina Island zipline guide rang in my head as I prepared to glide: "Put your hands on the knobs, step to the edge of the platform and then ease off."
We sailed through a cluster of treetops and watched as the ground quickly gave way beneath us. The zipline's downward angle propelled us with a buzzing sound that got louder as we sped up. I leaned back, stretched my legs and looked around, taking in the sunshine and the ground below. The reality of the height and speed at which I was traveling didn't hit me until I was halfway through the course. I was just settling in for the ride when, there it was—the brake rope. I grabbed it. With a slight jolt, I stepped onto a waiting platform.
The zipline experience is about as close as people can get to actually flying. We felt safe at all times. The guides kept everyone entertained with information about local wildlife and interesting stories about ziplining in the area. I would definitely recommend zipline adventuring. It is an out-of-this-world experience!
---
Zipline Adventures In and Around San Diego County
San Diego Zoo Safari Park: Flightline Safari
15500 San Pasqual Valley Rd.
Escondido
www.sdzsafaripark.org/safari/flightline-safari
619-718-3000
800-407-9534
View exotic animals as you soar high above the park.

Catalina Zip Line Eco Tour
1 Descanso Canyon Rd.
Avalon, Catalina Island
www.visitcatalinaisland.com
800-626-1496
Features five zip lines including one traveling 3,500 feet above the island town of Avalon.

Action Zipline Tours
41647 Big Bear Blvd.
Big Bear Lake
www.actionziplinetours.com
909-866-0390
Three-hour mountain zipline tour with nine high-speed runs and a suspension bridge.

Big Pines Ziplines
6047 Park Dr.
Wrightwood
bigpinesziplines.com
760-249-9991
Speed side-by-side on dual racing ziplines or free-fall rappels in the San Gabriel Mountains.
---

--------------------
Joe Zentner is a freelance writer, devoted father and avid outdoorsman. Photo provided by the author.
Updated: January 2016
Updated: July 2016