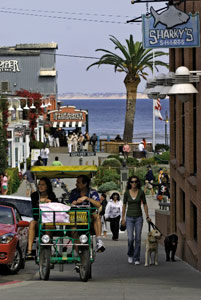 Monterey is one of those wonderful reasons to visit California's Bay Area. If you're visiting San Francisco, you can make it in a day trip, or plan to stay for several nights.
It's home to the Monterey Bay Aquarium, pristine golf courses and breathtaking natural resources. Plus, it's all set in a climate where even the most frazzled parent will stop and smell the intoxicating sea breeze rolling in from the bay.
For those traveling with kids, rest assured. Monterey is more than up to the challenge of entertaining every member of the family. My husband and I braved an overnight trip with our two girls, ages 1 and 2. There are nooks and crannies all over town that will give them ample opportunity to burn off steam.
There's no one way to "do" Monterey, but here are our recommendations, depending on how much time you have to spend:

Day Trip
The Monterey Bay Aquarium, is a natural first stop, and it's best to come early to beat the crowds. Located on the west end of Cannery Row, the aquarium has been entertaining millions of visitors since 1984 with more than 35,000 different marine animals and plants representing 550 species.
It can take two to three hours to fully explore the aquarium's nearly 200 exhibits. One of the biggest draws is the million-gallon Outer Bay exhibit, which houses an array of open-ocean animals, such as tuna, sharks and stingrays. We happened upon it just before feeding time, which draws a large crowd of people morbidly curious about the fate of the unsuspecting feeder fish casually tossed into a tank of eager predators.
What makes the aquarium particularly family-friendly is its Splash Zone, which brings welcome relief to antsy infants, toddlers and parents longing for a well-deserved time out. A waterbed play area and play structures easily entertain, while a 40-foot-long touch pool satisfies a child's need for hands-on experiences.

After the aquarium, you might be ready for lunch, and there are plenty of nautical/pirate-themed restaurants ready to ply you with their own "award-winning" version of clam chowder, often with free samples provided on the street.

If you simply need to decompress, check out the "jellyfish lamp" over the staircase of the main lobby of the Clement Monterey, the new Intercontinental Hotel located just steps away from the aquarium on Cannery Row. Created by San Francisco-based Effect Design, the soothing music and projected images of multicolored water reflections encourage families to sprawl and enjoy.

Since you're in the heart of Cannery Row, you may be curious to explore the area's sardine canning factories, which served as the setting for some of famed author John Steinbeck's novels. Today's Cannery Row, however, serves as little more than a venue for businesses seeking to cater to tourists hungry for food and useless trinkets. Through its Aquarium Adventures program, the aquarium does offer a 1.5-mile walking tour of the former sardine capital of the world for a group of six or more. It's offered by appointment only (ask about fees when you call to make your reservation). It ends at Fisherman's Wharf in front of the Monterey Maritime and History Museum, which co-sponsors the tour. The museum's seven exhibit areas highlight the history of the Ohlone Indians, Spanish explorers, World War II and, of course, Monterey's fishing business.

Before the sun dips below the horizon and it's time to head back home, an excursion down 17-Mile Drive is well worth the admission fee to enter the road's exclusive gates. (I've heard the fee is refundable if visitors spend at least $25 at any of the restaurants along the way, so be sure to ask!) A map is available by visiting www.pebblebeach.com.
This scenic road through Pacific Grove and Pebble Beach will have your head whipping back and forth between breathtaking views of the Pacific and the area's impressive mansions.

In addition to world-famous golf courses, there are lots of places to picnic and take inspirational pictures. Plus, it's home to the Lone Cypress Tree. This legally protected symbol of the Pebble Beach community clings to an outcropping of rocks and is held in place with a series of cables and screws. It couldn't fall into the sea if it wanted to, much to the delight of tourists busily angling for the best shot.

If you're visiting between November and February, fans of butterflies will want to check out the nearby Monarch Grove Sanctuary, located near 17-Mile Drive on Ridge Road in Pacific Grove. Thousands of monarch butterflies spend winters in the grove's wind-protected canopy. Docents (decked out in a variety of butterfly-themed clothing) are on hand to answer questions and set up telescopes for close-up viewing.

Overnight Trip
If you're heading for a hotel instead of the highway, Monterey has a number of options, many with spa facilities to soothe cramped muscles. We decided to stay at Casa Munras, located at 700 Munras Ave. Built around the original hacienda of Spain's last diplomat to California, we enjoyed a comfy, modern suite-style room that allowed our kids their own area to sleep and space for us to savor a bottle of wine from Monterey's nearby wine region.

If only we knew about VIP Babysitting Service, we could've been checking out a tasting room to really savor Monterey's finest! Part of Corporate Kids Events, Inc., which provides childcare for weddings, conventions and other large-scale events, VIP Babysitting provides in-room services with sitters who've been fingerprinted and prescreened. It serves mainly major hotels and local resorts. VIP Babysitting also operates a Kids Club at The Clement, complete with a climbing wall, games and other activities.

The following morning beckons with the promise of more activities. As you plan your day, make sure to visit the Dennis the Menace Playground, located at Camino El Estero and Pearl Street. First opened in 1956 through donations by Hank Ketcham, creator of the famous comic strip, it includes a large suspension bridge, numerous slides, a maze made of hedges, an adventure ship and a full-size steam engine. Plus, there's a nearby lake with paddleboats, snack bar, picnic area and youth center.

If your kids need more play time (or if it's raining), visit the 8,500-square-foot MY Museum at 425 Washington St. It features educational exhibits on beach exploration, golfing, farm life, tree house inhabitants and how a hospital works.

If time permits, board a boat at Fisherman's Wharf for a bay tour, fishing trip or whale-watching expedition, especially during the winter and spring seasons when grey whales pass by Monterey. A list of boat companies offering tours lasting around three hours is available by visiting www.montereywharf.com.

If your return home takes you through Salinas on your way to Highway 101, stop by the National Steinbeck Center. Born in Salinas in 1902, John Steinbeck is best known for his novel The Grapes of Wrath, a tale of sharecroppers during the Great Depression. The center brings Steinbeck's works to life with stage sets, films, vintage photographs and other items.

One of the best reasons to visit Monterey is its proximity to the Bay Area. If pounding the pavement with your tourist hat on isn't your thing, there's nothing wrong with packing a picnic and parking it on one of Monterey's beautiful beaches. If you simply can't get to everything, the beach is only a quick trip away.


------------
Millicent Skiles is an associate editor at Bay Area Parent.

Published: July 2009