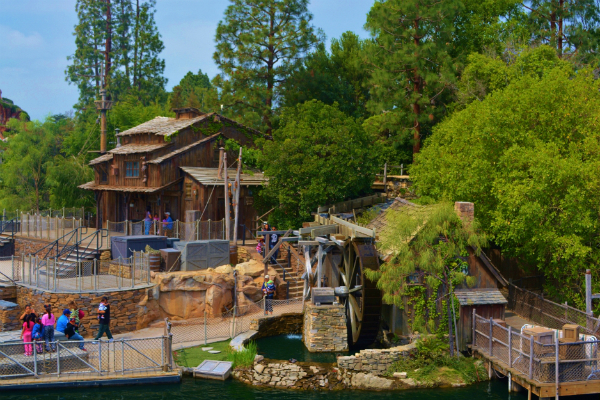 Being a Disney-devoted family, we know first-hand the wealth of fun and memorable experiences a visit to Disneyland can provide. The best way to have a good Disney visit is to plan your itinerary, time your visit, and utilize the Fast Pass system, but the crowds can still be a hindrance during peak season.

During a recent spring visit to Disneyland, we encountered impressive crowds. We zipped back and forth between attractions and the two theme parks, attempting to outsmart the masses. But there was no beating the quagmire. Taking a deep breath, we re-grouped and considered our options. What started out as a way to escape the crowds, became a fun, amazing discovery of lesser-known gems at Disneyland Park. Here is what we found:

MAIN STREET

Hear President Lincoln give a stirring speech in Great Moments with Mr. Lincoln, the first Disney animatronic Walt Disney debuted at the New York World's Fair in 1964.

Main Street Cinema. View Mickey Mouse's 1928 cartoon classic Steamboat Willie, along with other early Disney cartoons. Cinema certainly has come a long way!

Take the Disneyland Railroad on a grand full-circle tour around the park or hop on and off along the way while enjoying views of prehistoric times and Grand Canyon vistas.

Shoppers can browse or choose from a multitude of fun Disney and non-Disney merchandise in the shops on Main Street.

ADVENTURELAND

Kids will be delighted by talking birds and singing flowers in the Enchanted Tiki Room's animatronic show. You'll be humming their songs for a long time to come. Indulge in a yummy Dole Pineapple treat (at the entrance) while waiting for the next show.

Fantasize about life on a meandering, multileveled 80-foot structure while visiting Tarzan's Treehouse.

FRONTIERLAND

Davy Crockett's Explorer Canoes. Be prepared to get a little wet from an errant paddle as you canoe past Native American villages on the relaxing Rivers of America.

All aboard! Follow the same path as the canoes, but with a different perspective from the steam-powered Mark Twain Riverboat or Sailing Ship Columbia, an 18th century replica of a three-masted sailing ship.

Kids can get close to barnyard animals at the charming petting zoo tucked away in Big Thunder Ranch, a surprisingly quiet area of Frontierland.

The wildly entertaining, slapstick show at the Golden Horseshoe Saloon encourages audience participation. The crowds love it!

Take the raft over to Tom Sawyer Island and let the kids blow off energy while visiting Pirate's Lair. Caves and forts beckon to be explored. Glance across the water and see folks in the crowded park not having as much fun as you!

The Disney Gallery. Located above the Pirates of the Caribbean attraction, incredible Disney artwork on display reminds us again of the magic in Disney.

FANTASYLAND 

Mickey and the Magical Map is a 20-minute live musical show at The Fantasyland Theater. Travel with Mickey and other characters through a map celebrating the exciting world of imagination. The theater holds a lot of people and gives little feet a well-needed rest.

When Disneyland gets crowded and the wait lines long, don't get discouraged. Walt Disney said, "We keep moving forward, opening up new doors and doing new things. Curiosity keeps leading us down new paths." Your curiosity can turn a potentially disappointing Disney adventure into a journey of new discoveries!

Find more information at https://disneyland.disney.go.com.

----------
Noreen L. Kompanik is an independent travel writer, photographer and San Diego resident. She has a passion for travel, cooking and especially her family.
Published: June 2015