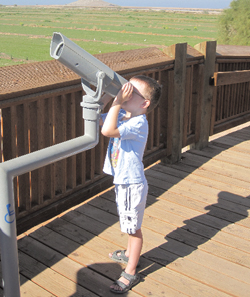 Ever since the Colorado River was diverted to create it at the beginning of the 20th century, the Salton Sea has been a strange water wonderland in the middle of the Imperial Valley desert. The best place to visit and explore the wildlife that congregate there is at the Sonny Bono Salton Sea National Wildlife Refuge, 138 miles east of San Diego.

Traveling north on state route 111 from I-8, you'll pass through the small agricultural community of Brawley. Ten miles later, still within view of the many geothermal electric plants of the area, you'll arrive at the main refuge entrance. A visitor's center is available with a ranger on hand for any questions; if you plan ahead you can even schedule a free ranger-led hike to get a fuller picture of the area.

Before you head out on the Rock Hill Trail, climb the observation tower to take a panoramic view of the 380 square miles of lake. Most days, there's little air pollution, and you can see all the way to the San Jacinto Mountains near Palm Springs. Rock Hill Trail is the main path, level until you reach the actual hill at the end. Perfect for young kids, the trail begins with several hundred yards of prime rabbit habitat before the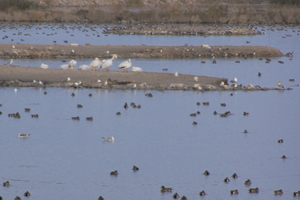 lake comes into view. On our last visit my 5-year-old son saw six rabbits nibbling on the underbrush, despite the loud exclamations of our toddler. Also be sure to note the many nests in the dead tree branches.

Before you see the Salton Sea you'll be able to smell it, so be prepared. With no outlet, the water here is becoming more and more salty over time. In addition to the salt smell there's a fishy scent, too. Off the trail, if you walk along the shore, you'll see hundreds of desiccated sargo and tilapia corpses. More than just skeletons, these fish are intact with eyes and tails but just shrunken in on themselves. My 2-year-old did not like walking over the "scary fish," so if you have squeamish ones in your group you may want to stay away from the water's edge.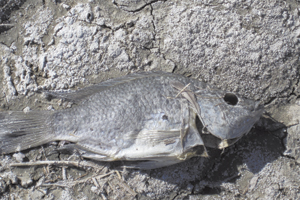 As you hike the Rock Hill Trail, you'll be surrounded on the right and left by thousands of birds and ducks of all kinds. Marbled godwits, snow geese, black-necked stilts with stick thin long legs, and yellow-footed gulls not found anywhere else in the United States. All spend some of the year at Salton Sea, and many use it as a resting ground on the way to further migratory locations. Winter is the best time for waterfowl viewing here, but even in the summer you can see wood storks, roadrunners and osprey.

With good binoculars and a little patience, you might be able to spot some of the nests where the wintering ducks are hatching their young. As the weather starts to heat up toward May, newly hatched babies will be readying to head north with parents and can be spotted practicing their swimming and diving skills.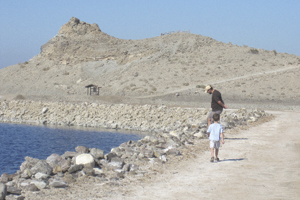 The Salton Sea is in a former volcanic area so the ground is covered with a variety of rocks for the budding geologist to study, from the shiny sharp black obsidian to deceptively light pumice stones. If you're interested in fishing, you can put in your boat and hang out a line between April and September. Fishing is not allowed from shore.

While San Diego hosts amazing Pacific Ocean shoreline activities, a trip inland to the Salton Sea can provide your family a fun day trip to explore a different kind of water ecosystem.

If You Go
Take 1-8 East to SR 111/Brawley exit. Head north on 111, turn west on SR 78 when 111 ends.
Turn right in Brawley at the Ciudad Plaza to continue north on 111. Follow National Parks sign.
Sonny Bono Salton Sea National Wildlife Refuge
906 W. Sinclair Road, Calipatria
760-348-5278
Refuge is open from sunrise to sunset. Leashed dogs allowed.

After hiking and taking in the sights at the sea, your kids will be ready for some food.

Tai San Chinese Restaurant is fast, inexpensive, family friendly, and delicious. All day Saturday and Sunday you can choose from more than ten lunch specials for less than $7. Whether you're in the mood for shark's fin soup or something a little tamer, Tai San is a good choice for lunch or dinner.
Tai San Chinese Restaurant
1133 E. Main Street, Brawley
760-344-6646
Open 7 days a week,
10:30 a.m.-10 p.m.

If you've planned ahead and brought a cooler, stop at Ramey's Meats on SR 111. This local butcher shop features top-notch beef that ships around the world to such exclusive places like Dean and Deluca's. Their steaks and carne asada are amazing, so we make sure to stock up each time we're in the area.
Ramey's Meats
4626 US Hwy 111
760-344-4420
-------------------
Eliana Osborn is a freelance writer.