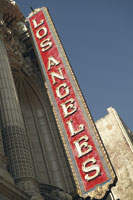 Considering a day-trip to the Los Angeles area? In addition to Hollywood's upscale boutiques and star-studded streets, LA offers a rich variety of museums, outdoor shopping experiences and other family-friendly activities. Look at stars of a different kind at Griffith Observatory, or find fun and sun on the Santa Monica Pier.
Choose from one of the following destinations—Los Angeles, Long Beach, or Santa Monica—to begin planning your visit.
Central Los Angeles
Griffith Observatory
2800 East Observatory Road
www.griffithobs.org; 213-473-0800
The revamped Samuel Oschin Planetarium theater features a new dome, star projector, digital laser projectors, seats and sound system. Grab lunch at the new Café at the End of the Universe with its space-age design and healthy menu.

Farmers Market
6333 West Third Street
www.farmersmarketla.com
Since 1934, this historic outdoor market has been a favorite with locals and visitors alike. The eclectic mix of grocers, shops and restaurants offers everything from homemade ice cream to fresh baked goods and local produce. During the summer, the Farmers Market offers children's activities on weekends and a free music series. Parking available in two nearby lots: two hours free with validated parking ticket from a Farmers Market vendor.
Los Angeles Zoo & Botanical Gardens
5333 Zoo Drive
www.lazoo.org
Ready to stretch out after a long drive? Located at the northeast corner of Griffith Park, this hilly spacious zoo offers lots of pathways for walking. Don't miss the children's zoo and new Campo Gorilla Reserve.

Travel Town Museum
5200 Zoo Drive
traveltown.org
Get hands-on with transportation history, and explore antique railroad cars and locomotives, wagons, a Japanese fighter plane from World War II and much more. Top your visit with a miniature train ride.

Good Eats in Los Angeles
American Girl Café
The Grove, 189 The Grove Drive
Gourmet lunch, afternoon tea and dinner.

Du-par's Restaurant & Bakery
Farmers Market, 6333 W. 3rd Street, Stall #210
Homestyle breakfast and comfort food.
---
Long Beach
Aquarium of the Pacific
100 Aquarium Way
www.aquariumofpacific.org; 562-590-3100
See more than 500 species from exhibits that showcase the Pacific Ocean's three regions. Buy a "Zoo Combo" ticket and visit the Los Angeles Zoo, too, for one low price.

Rancho Los Cerritos
4600 Virginia Road
www.rancholoscerritos.org; 562-570-1755
Built in 1844, this historic rancho offers a view into Southern California's early days. Bring old shoes and clothes, and participate in "Mud Mania" on Sunday, August 16, where you can make adobe bricks, play muddy tug-o-war, run mud relay races and more. Cleaning stations.
---
Santa Monica
Third Street Promenade
1920 Main Street, Suite B
(Visitor Center)
http://3rdstreetpromenade.com
310-319-6263
Download a walking map and enjoy this pedestrian-only street. Kids will delight in the ivy-covered dinosaur fountains and colorful street performers. Parents will love the selection of shops. Public restrooms located in the parking structures adjacent to the Promenade.
Santa Monica Pier
200 Santa Monica Pier, Ste. A
www.santamonicapier.org
310-458-8900
Besides stunning views of the Pacific, the Pier hosts music festivals, concerts and other events year-round. Kids will love the carousel, rides, arcade and shops.
Hungry? Enjoy the pier's numerous eateries.

Good Eats in Santa Monica
Bubba Gump Shrimp Co.
301 Santa Monica Pier, Building 9
Seafood and one-of-a-kind smoothies.

Jinky's Café
1447 2nd Street
Outdoor patio and diverse menu.

----------------
Ronni Rowland is a freelance writer and mom of two daughters, ages 9 and 12.
Updated: January 2016