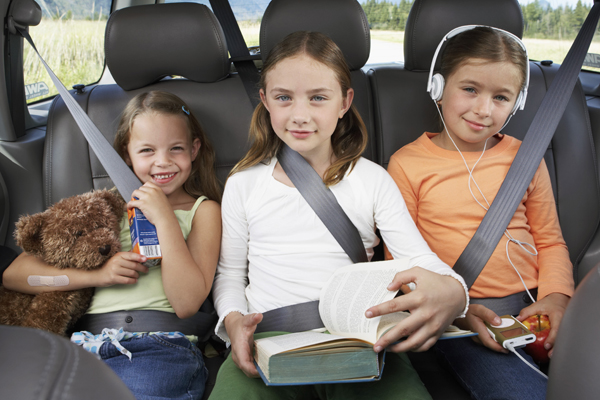 The idea of a long car ride or family road trip conjures fears of the proverbial small-fry question in an endless loop: "Are we there yet? Are we there yet?" With a little planning, families can survive a road trip and create fond memories at the same time. Here's what to bring.

Audiobooks: Listening to stories is great for all ages. Pick books with good narrators and a story long enough to engage the family for several installments. If you need ideas, your local children's librarian can offer great recommendations tailored to your kids' interests.

Art supplies: Invest in beanbag lap desks with storage areas, one for each kid. You'll avoid the territorial squabbles and kids love having their own work area. Pack the lap desks with new art supplies that won't be messy if dropped. Try square crayons, washable markers, coloring books, paper, sticker books and Wikki Stix. Plan to hold back some supplies for refilling the desks for a brighter return trip.

Magnetic games: Many games are available in a magnetic format with a travel-sized case. Take along games you know your kids will enjoy—Magnetic Bingo is great—but double check that the pieces aren't so small they can't be handled (I've played games that practically required tweezers to pick up the pieces). Try www.growingtreetoys.com.

Car travel books: A few books with conversation starters and puzzles can engage families in ways they don't at home. Elementary-aged kids will enjoy Miles of Smiles: 101 Great Car Games and Activities by Carole Terwilliger Meyers. For the older set, our family recently discovered 399 Games, Puzzles & Trivia Challenges Specifically Designed to Keep Your Brain Young by Nancy Linde. Other family faves are the Mad Lib series and National Geographic Kids' 125 Wacky Roadside Attractions. While you're at it, pack a Moon Guide travel book (libraries carry many) for the area you're visiting or try www.weirdus.com for regional legends and best kept secrets.

Word and spy games: Young kids will enjoy license plate tag, Slug Bug and I Spy. Older kids have fun with word games. We play the Four-Letter Word Game. Here's how: one person says a word containing four letters and the next person thinks of a four-letter word starting with the last letter of the previous word, and so on. Example: tack = keel = line. For younger kids, try a three-letter variation. We also love Snaps is the Name of the Game, a syllable game well suited to tweens and teens (www.ehow.com/how_2323315_play-game-snaps.html). For more on-the-go games and activities, visit sandiegofamily.com/travel/family-travel/971-unplugged-road-trips.

Handheld gadgets: Many families don't leave home without an iPad or tablet. But if you don't want your kiddo playing hours of Angry Birds, try educational geography apps such as My Big World (ages 3-5), Scott's Polar Trip (3-7), Barefoot World Atlas (elementary/middle), Google Earth (teen and up), and Got It—United States of America (elementary).

Car treats: Besides healthy snacks, which I pack individually for each child, I let my kids hit the candy aisle for a treat to start off the trip. During the trip, we look for local goodies—a fun-looking ice cream shop or a unique candy shop—and I usually have something tucked away in the car to pull out when spirits are flagging. Chewing gum or Skittles can do wonders at the right moment.

DVD player: Popping in a movie for the kids is an easy fall-back, but it also keeps kids from noticing what's outside the window. But when everyone needs a break, a movie can be just the ticket. Don't forget the headphones and consider asking friends to borrow movies your kids haven't seen, or borrowing from the library.

Stops, Stops, Stops: Building in daytime stops helps avoid burnout, especially for the little ones. If part of the road trip's purpose is the journey itself, then plan to hit a park or playground in a town you're passing through or search out a small town attraction.

Find lots of great travel tips, ideas and entertainment options at www.pinterest.com/sandiegofamily/travel-vacations-day-trips.

-----------------
Joanna Nesbit is a freelance writer.