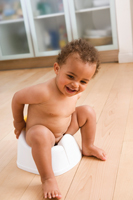 Prodding, pleading, pushing, punishing—these are the tactics parents use when toilet training their child. But according to experts, it is patience and praise that make potty training really pay off.

"The first step to successful toilet training is knowing when to begin," says Dr. Alan Greene, practicing pediatrician and author of Dr. Greene's House Calls. "Some children are eager to potty train at 20 months. Others aren't interested until well after their third birthday."

While there is no set age, what is more important is to look for signs of readiness. "The first sign that a child is ready is when is he able to recognize the urge to go," Green continues. "He must also understand how to use his muscles to hold it in and release it."

When parents begin noticing behaviors such as tugging at clothes and shifting from one foot to the other, Greene suggests asking the child if he would like to use the toilet.

That's what Karen Marrs did. "One day when my son Travis was about 2 ½ years old, I noticed him shifting from foot to foot while he was talking with me. I asked him if he had to 'go' and he nodded, so I told him to squeeze his bottom muscles together. Then I picked him up and raced to the bathroom."

But Travis didn't make it in time. "I told him I was proud of him for trying and encouraged him to let me know when he had to go again. He had several accidents after that, but before long he was using the toilet on a regular basis," Marrs continues.

"When a child has an accident, it can be very discouraging for both parties involved," says Greene. "But punishing the child only slows down the process and can make things worse."

Carrie Hearn found this to be true when she tried to potty train her daughter Christina. "I was planning to enroll her in a summer daycare program that required children to be potty trained," she recalls.

Since Hearn was in a hurry to get the process underway, she took the initiative. But what resulted was a number of accidents and much frustration. "Whenever Christina had an accident, I became frustrated and would take away privileges. This only made things worse because she realized she had control over the situation and turned it into a battle of wills."

"Oftentimes when parents push against their child's resistance, a power struggle develops," says Dr. Michael Meyerhoff, executive director for the Epicenter, Inc., a parenting information center. His advice? "Don't push and don't punish. Potty training should never become a battleground, because if it does, you will lose—everyone will lose. Wait and try again later when the child expresses the interest himself."

Resistance may also come in the form of fear, says Greene. "Some children may be afraid of the feeling of emptiness when they sit on the potty. Others may be scared that when the toilet is flushed, they'll get sucked down inside."

As amusing as these fears may seem, Greene cautions parents not to take their child's concerns lightly.

Meyerhoff agrees. "Anytime a child reacts with fear to the idea of toilet training, parents should back off. Wait a while, then introduce the subject gradually. In a relaxed atmosphere, discuss the issue with the child."

By doing so, Meyerhoff believes parents may be able to uncover any fears hidden beneath the surface. "Then you can bring them out into the open and work from there," he says.

Sometimes even when things are going fine, the process may come to a halt. "Regression often occurs whenever there is a change in the child's life," says Meyerhoff. This may be due to the absence of a close relative, death of a pet, move to a new home, or the birth of a sibling.

"One of the most common causes of regression is the birth of a new sibling," Meyerhoff continues. "When this happens, the older child may feel a loss of attention and affection, and seeing everyone fuss over the diapered newborn may lead him to believe that if he soils his pants, he will get attention too."

This was the case with Tina Owens, whose son had been successfully potty trained for six months. "When Kyle was about 3 years old, his sister was born. Almost immediately after we arrived home from the hospital, he started having accidents and refused to use the toilet," she recalls.

So Owens waited several weeks and reintroduced the toilet again. "Initially, he didn't go for the idea," she continues. "But then several days later when we were out shopping, I took him to the boy's department and showed him a pack of fun underwear. Since it had his favorite superhero character on it, he was eager to get the new underwear and try again. After that, it was a breeze."

While buying fun underwear was a great motivator for Kyle, there are other ways to encourage potty training, such as inviting the child to go with an older sibling or same-sex parent when they use the toilet. Get books or DVDs on the subject. Or use a reward system.

Both experts agree, using rewards is a good idea. But Greene points out that if a child is really ready, he won't need a reward. "The internal reward of mastering the skill will be enough," he says.

Above all, remember at this age children thrive on approval. In other words, they really want to succeed. "Toilet training can be a great achievement," Greene concludes. "Just make sure this is your child's achievement, not yours."
---------------------
Denise Morrison Yearian is the former editor of two parenting magazines and the mother of three children.