First Avenue Bar & Grille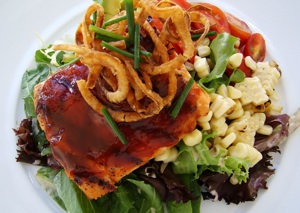 1055 First Ave., Gaslamp Quarter
www.thebristolsandiego.com/san-diego-dining.aspx
619-232-6141
Right in the middle of downtown, the Bristol Hotel is a little slice of boutique among chain lodgings. And inside the Bristol is the First Avenue Bar & Grille. First Avenue is warm and intimate, with great, subdued lighting and décor—it's a perfect date night location. Valet is free for the first hour, and there's usually street parking (metered) available.
Our party of four (plus the wee lad) didn't have to wait at all for a table, and we were quickly ushered to a comfortable booth where we could talk and look at the menu.
Stomachs rumbling, we made quick decisions on appetizers, and our waiter (efficient, personable, charming) pointed out things we'd probably like for our entrées. The appetizers came out in a reasonable amount of time, and were delicious. The house special was the Lightly Fried IPA [beer] Battered Green Beans. We also tried the Pulled Pork Sliders, Fried Calamari and the Steamed PEI Mussels. The green beans were amazing, and gone in a flash, their Meyer lemon aioli receiving high praise from everyone at the table. The calamari was fairly standard fare, though not heavily breaded (a relief). The mussels were not at all "fishy," and even the wee lad (5 years old) sampled a few. The sliders were honestly excellent—tender, lean, vinegary—and could have been a meal by themselves.
Our entrées were next. First Avenue offers a set of grilled flatbread items, but we chose to forego those, instead choosing somewhat heavier dishes. For a salad (again, a healthy portion), we shared the Chicken Cobb Chop with bacon. The salad itself was excellent, although the chicken pieces seemed a bit like chicken tenders chopped into bits. Other main courses included a Cilantro Lime Marinated Skirt Steak, Grilled Local Sea Bass, which was almost a cioppino and the Sliced Texas Beef Brisket Sandwich.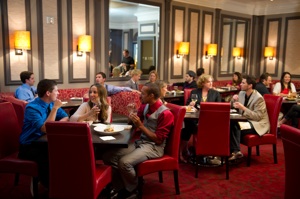 The sea bass was outstanding; the broth flavorful and not overly salted and the skirt steak was cooked perfectly (sometimes an issue with thinner cuts of beef). However the brisket sandwich was a bit fatty. Thankfully, it was a large portion, so there was plenty of brisket to choose from (even among 4.5 people).
Desserts were excellent all around. We tried the Butterscotch Pot de Crème, a homemade chocolate gelato, Dark Chocolate Cake and their signature Ice Cream Sundae with brûlé bananas. The pot de crème was thick and rich, but not overly sweet, and the gelato was just as you'd expect—eggy and smooth.
First Avenue has a Thursday Prime Rib special that includes veggies and a potato gratin as well as happy hour specials.

-----------------------------
Andy McRory, 43, is a writer and editor in North Park.
published: September 18, 2012