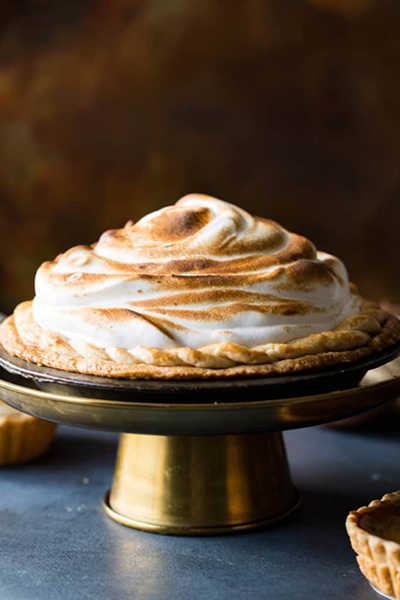 Oceanside mom and food blogger, Jackie Bruchez (aka The Seaside Baker) has turned a classic Thanksgiving side dish into a delicious pie. Make this impressive holiday pie for your next gathering or family dinner.
Ingredients
For pie
1 unbaked 9-inch pie crust
1 large sweet potato (about 1 lb.), peeled and cubed
1/3 cup butter, melted
3/4 cup sugar
3/4 cup evaporated milk
2 large eggs
½ tsp. ground cinnamon
½ tsp. ground nutmeg
1 tsp. vanilla extract
¼ tsp. salt
For marshmallow topping
3 egg whites
3/4 cup granulated sugar
½ tsp. cream of tartar
1/8 tsp. salt
½ tsp. vanilla extract
Instructions
Preheat oven to 425 degrees.


Boil sweet potato cubes for 15-20 minutes or until tender. Drain and mash until smooth. Stir in butter and set aside to cool.


Transfer room temperature sweet potato puree to a mixing bowl and add sugar, milk, eggs, nutmeg, cinnamon, salt and vanilla. Whisk the mixture on medium speed until smooth. Pour filling into unbaked pie crust.


Bake for 15 minutes. Reduce heat to 350 degrees and bake until set or a knife inserted in the center comes out clean (about 35­–40 mins. more). Cool completely; then refrigerate.


To make the topping, whisk together egg whites, sugar, cream of tartar, and salt in a glass heat-proof bowl.


Place bowl over a small pot of boiling water (making sure water doesn't touch the bottom of the bowl).


Whisk mixture constantly until sugar dissolves completely. Rub a bit of the mixture between to fingers to test. It should be smooth — no granules.


Transfer to a mixing bowl and beat on high with whisk attachment until mixture has doubled in size and is white and fluffy (about 6–8 mins.).


Stir in vanilla.


Spoon marshmallow cream onto pie. Refrigerate until set, at least one hour.


Just before serving, use a kitchen torch or place under the broiler (set on high) for 1-2 minutes until golden brown.
________
Find more fabulous recipes from Jackie Bruchez at www.theseasidebaker.com.
________